Apple Card has been officially launched, offering a new form of Mastercard credit card to users, partnered with Goldman Sachs.
It can do all sort of things other credit cards can't do. You can sign up on your iPhone, and start using it right away – anywhere worldwide.
It'll be available across your devices, and will be found in your Wallet App, with clear spending tracking and when your next payment is due.
You can also message Apple to update your Apple Card details. There is are no late, annual, international or over-balance fees. Apple says it's also committed to giving you a low interest rate with Apple Card.
Daily Cash
Apple Card also offers rewards, with Daily Cash giving you 2% cashback every time you spend you get cashback every day. If you use your Apple Card to pay for a product direct from Apple, you'll get 3% cashback.
Cash is added to your Apple Cash Card, which is also found in the Wallet app, and it can be used like any other cash.
Every purchase is verified with either Touch or Face ID, and all details of the card are stored on a secure area of your iPhone. Apple also can't see what you've spent your money on, with all processing taking place on your device and not on Apple's servers.
Apple also promises not to see your information to third parties.
An actual Apple Card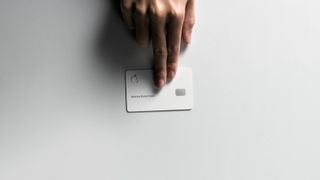 Apple Card is widely accepted around the world, but not everywhere accepts it, and for places which don't Apple will also offer you a physical card. Made of titanium, and with Apple's logo and your name laser etched on it.
There's no card number, CVV or signature on the card, which Apple says makes it more secure. If you need that information, you'll find it in the Wallet app.
Developing…