In this list of the best USB memory sticks, we look at portable USB flash drives that offer you safe and secure portable storage for your important files.
The best USB flash drives don't just offer you a quick and convenient way to transfer data from one PC to another.
The brilliant memory sticks in this guide are versatile devices that offer plenty of storage space despite their small size.
The best USB flash drives are also sturdily built, so they won't get damaged when you're carrying them about. The best USB memory sticks and flash drives also need to be dependable, so they don't fail or break, making your data vanish into thin air. This means the best flash drives feature a strong build design.
Speed is also important. Not only does this make moving large files to and from the USB flash drives quicker, but it's useful if you're using the USB flash drive for other purposes, such as running a 'live CD' operating system from it.
To help you choose which USB storage is right for you, we assembled this list of the best USB flash drives you can buy today.
If USB drives are either too expensive (for the amount of storage you're planning to use) or their capacities are just not high enough (or you tend to lose them a lot), feel free to check out our list of the best external hard drives.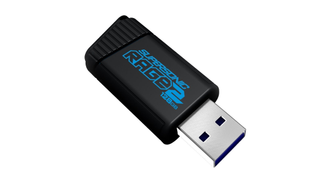 Capacity: 128GB | Interface: USB 3.0
Up to 180MB/s Read
Durable design extends the life of your drive
Rubber coated housing protects from drops, spills, daily abuse
Retractable design protects USB connector when drive not in use
If you want one of the fastest possible USB memory sticks, then the Patriot Supersonic Rage 2 is definitely the one for you. Sure, the price is high, but we were blown away with how fast the device is. If you need to move around large files quickly, then this is definitely worth the price.
It also comes with 128GB of storage space, which is a phenomenal amount of storage to carry around in your pocket. Just make sure you don't lose it!
Get it from Amazon
---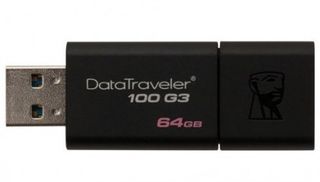 Capacity: 64GB | Interface: USB 3.0
Compliant – with USB 3.0 specifications

Dual Compatibility – USB 3.0 connectivity; backward compatible to USB 2.0

Stylish – black-on-black, sliding cap design

Ideal USB 3.0 starter storage device

Guaranteed – five-year warranty, free technical support