Update: The Gear Fit 3 is likely to actually be called the Samsung Galaxy Fit or Samsung Galaxy Fit E based on recent rumors.
The Samsung Galaxy Fit could soon arrive and it might be one of the best fitness trackers of 2019 when it does. The truth is that we don't know much about it yet, but based on the strength of the Gear Fit range, we're somewhat excited by the prospect of it.
The Samsung Gear Fit 2 Pro is currently sitting in our best fitness trackers list, and that's despite it being a conservative upgrade on the Gear Fit 2. If the Galaxy Fit (which is likely to be the Samsung Gear Fit 3 in all but name) is an upgrade worthy of a new number then it could be very impressive indeed.
You'll find all the current rumors below, along with a wish list of what we want from the wearable and some educated guesses as to what it might feature and when it might launch. We'll also add anything new to this article as soon as we hear it, so make sure to check back regularly.
Cut to the chase
What is it? Samsung's next fitness tracker
When is it out? Possibly late February
What will it cost? Likely upwards of $199 / £209 (around AU$370)
Samsung Galaxy Fit release date and price
There isn't any real release date news about the Samsung Galaxy Fit yet, but it – or rather the Samsung Galaxy Fit E – has appeared in a Bluetooth certification, which suggests it's probably coming soon.
That in turn means we might see it on February 20, as Samsung is holding an event on that date. The Samsung Galaxy S10 is expected to be the star of the show, but numerous other devices might make an appearance, including the Galaxy Fit and the Samsung Galaxy Sport (or Samsung Galaxy Watch Active as it might be called).
Alternatively, it might get announced at MWC 2019, which is a major trade show that runs from February 25-28.
As for the price, all we can do there is look at the current model. The Gear Fit 2 Pro launched for $199 / £209 (about AU$370), so there's a chance the Gear Fit 3 will have a similar price.
Samsung Galaxy Fit news and rumors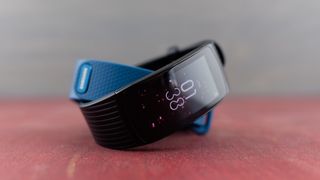 Samsung trademarked the name Galaxy Fit in May 2018, so it looks like the company will use that moniker instead of calling it the Gear Fit 3.
Nothing is certain, but that report came alongside the Samsung Galaxy Watch trademark, which turned out to be the name of Samsung's latest smartwatch, so Samsung Galaxy Fit is our best guess for the name.
That said, more recently we've seen a Bluetooth certification listing for a Samsung Galaxy Fit E. So maybe that will be the name, or maybe Samsung will launch both a Galaxy Fit and a Galaxy Fit E. That might be more likely, since the addition of the 'E' seems a bit pointless if it's the only model.
So far there aren't any other Samsung Gear Fit 3 rumors, but while we wait for more to roll in we can speculate on a few things. For example, the Samsung Galaxy Fit will probably have many of the same features as the Gear Fit 2 Pro, including a heart rate monitor, GPS and water resistance, along with a color screen.
What we want to see
While there aren't many rumors about the Galaxy Fit as yet, there are plenty of things we want from it, such as the following.
1. A simple setup
Setting up the Samsung Gear Fit 2 Pro is a clunky experience, thanks primarily to the need to download multiple apps onto your phone just to get the most out of it.
So for the Gear Fit 3 we'd like to see a simpler, more streamlined setup process that allows you to get properly up and running (literally) in a matter of minutes.
2. Better battery life
With limited usage you'll get two to three days of life out of the Gear Fit 2 Pro and just one day with heavy use, which isn't awful but certainly isn't great.
While we're used to charging our smartwatches daily, fitness trackers often manage to last a little longer, so we'd like to see an extra day or so added to the life of the Galaxy Fit.
3. A reliable barometer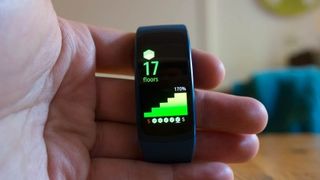 One issue we noted with the Gear Fit 2 was that water could mess with the barometer, causing it to think you've walked up many more flights of stairs than you actually have.
We're not expecting this to be an issue with the Samsung Galaxy Fit but we'll certainly be disappointed if it is.
4. A reasonable price
While the Gear Fit 2 Pro isn't wallet-weepingly expensive it did launch at a higher price than the Gear Fit 2, and that's despite only being slightly improved and landing over a year later, so there's a worry that the Gear Fit 3 could be a pricey wearable, but we hope Samsung keeps the price competitive.
5. Spotify pre-installed
It's a small point, but despite Spotify (and specifically its offline mode) being one of the best features of the Gear Fit 2 Pro, it didn't come pre-installed, even though a bunch of apps did, so we'd like to see the music streamer ready to go out of the box for the Samsung Galaxy Fit.
6. A refreshed design
The Gear Fit 2 Pro has a fairly nice design, but it's also pretty much exactly the same as the design of the Gear Fit 2, so we'd like to see Samsung freshen things up a bit for the Gear Fit 3, or even just give buyers a greater selection of colors to choose from.
7. A significant upgrade
The Gear Fit 2 Pro is an accomplished fitness tracker, but it's only a small upgrade on the Gear Fit 2, so for Samsung to stay relevant and excite us we want some big upgrades from the Galaxy Fit.
That could take the form of new sensors, more metrics, greater accuracy, improved smartwatch features or any number of other things, but we hope Samsung does something to make it stand out.