Matt Swider
You can watch the Samsung Galaxy Unpacked 2019 livestream above from 11am PT (2pm ET, 7pm GMT)
Today's the day. Samsung's Galaxy Unpacked launch event is upon us, where we expect to see the smartphone maker unleash a number of devices onto the world, with the Galaxy S10, Galaxy S10 Plus and Galaxy S10e likely to headline.
We'll be reporting live from the Bill Graham Civic Auditorium in San Francisco, California where the Samsung Galaxy Unpacked event kicks off at 11am PT (2pm ET, 7pm GMT). 
Our Samsung Galaxy S10 launch live blog has already started though, as there are plenty of rumors, leaks and speculation to whet your appetite ahead of today's Samsung Galaxy Unpacked event.
Samsung launch event live blog
Matt Swider
All times in US Pacific Time (PT)
Matt Swider
06.53 – The sun rises over the horizon in San Francisco, basking the city in its warm yellowy glow. Okay maybe not quite, it's rather overcast this morning, but as daylight breaks it means we're now just four hours away from the Galaxy S10 launch event.
It's a good time to reflect on the phones about to be replaced, so why not take a moment to re-familiarize yourself with the Galaxy S9 and Galaxy S9 Plus.
06.00 – You can register your interest in the new Samsung Galaxy phones via the firm's website, and if you're in the US you can go as far as reserving "the next Galaxy" with your preferred carrier. Orders are expected to ship on March 8.
04.30 – We potentially got a great look at the foldable Galaxy X/Galaxy Fold this morning, after official looking press renders hit the web. Read the full story here.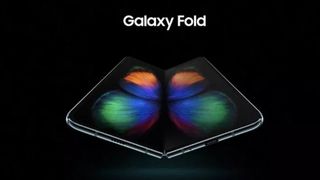 Matt Swider
03.00 – One of the big questions marks around the new Galaxy S10 handsets is pricing – how much will the new phones set you back? Comparisons will be drawn between the new S10 devices and Apple's fleet of iPhones.
Let us know where you think Samsung will pitch the Galaxy S10 price with our Twitter poll below.
Do you think the Samsung #GalaxyS10 price will be… #SamsungEvent #Unpacked2019February 20, 2019
Matt Swider
02.30 – We could see even more as well, with new wireless earphones (Galaxy Buds), a pair of fitness trackers (Galaxy Fit and Fit e) and a 5G variant of the S10 (Galaxy S10 X) all rumored to make an appearance.
Matt Swider
02.00 – Hello all! There are nine hours until Samsung's Galaxy Unpacked event, which gives you plenty of time to read up on the leaks and rumors of what to expect.