Following the yearly iPhone launch event on September 12, we still don't know much about what the next HomePod will look like. There's been speculation that the Apple HomePod 2 may actually be a compact version of the original, with the name Apple HomePod Mini being rumored.
However, with no mention of an updated HomePod at September's launch, we just don't know whether Apple are about to bring out a bite-sized HomePod Mini to counter smart speaker rivals Google and Amazon.
According to a Bloomberg report in July 2018, Apple could be looking to release the HomePod 2 in early 2019, which would make sense based on the release date of the original HomePod.
The original Apple HomePod has been on sale since February 2018 and has so far been met with mixed reviews. While many people praised it as a speaker, when it comes to its capabilities as a smart home hub, there are those who question whether it's worth its rather high price point. 
With reports claiming that sales aren't doing particularly well, the stage could be set for a HomePod Mini, and though Apple is yet to make any kind of confirmation we have heard a few whispers about it – a cheaper and smaller HomePod could be exactly what the brand needs to draw in those who have yet to be convinced.
We've already seen how well the Google Home Mini and the Amazon Echo Dot have done, so it would make sense for Apple to follow suit. Regardless of whether it's in the works or not, this is exactly what we'd like to see from the HomePod 2 or HomePod Mini if it ever comes. 
Cut to the chase
What is it? The new Apple HomePod smart speaker could either be the HomePod 2 or the rumored HomePod Mini
When is it out? With no mention at Apple's September launch event, an early 2019 release date is looking more and more likely
What will it cost? No pricing just yet but, if it is a smaller version, it's likely to be cheaper than the fully-fledged HomePod 
Apple HomePod 2 release date
Considering the Apple HomePod 2 hasn't actually been announced yet and there isn't really any kind of historical pattern when it comes to previous releases for this this product, making a guess on a release date is tricky. 
We're also not yet certain whether the new HomePod will be full-sized, or a mini version of the original. We were surprised not to hear any details at Apple's yearly iPhone launch, which kept the smart home news limited to a HomePod OS update coming on September 17, with new search features, multiple timers, and additional Siri languages.
There have been rumors this year that we could see the product released before the end of 2018 – but we're taking this information with a pinch of salt until Apple makes an official announcement.
Bearing in mind that Samsung has its own smart speaker on the way in the form of the Galaxy Home, Apple might want to make its next move sooner rather than later.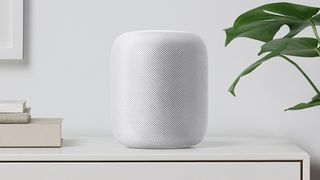 Apple HomePod 2 and Apple HomePod Mini news and rumors
There's not exactly a glut of HomePod 2 or HomePod Mini rumors out there but there have been a couple of reports worth picking up on. 
Face ID and 3D gestures
A recently filed patent by Apple suggests that the second generation smart speaker could support Face ID.
According to MacRumors, the patent describes a "countertop speaker" that could "identify users in the vicinity of the speaker using facial recognition, as well as measure the distance of users [in relation] to the speaker".
The patent also explained the countertop speaker would be kitted out with "various sensors and cameras that gather hand gestures and other three-dimensional gesture input."
Beats branding
One of the more recent rumors around a new HomePod came from a Chinese tech firm called Sina, stating that there could be a cut-price HomePod with Beats branding in the works.
We haven't seen a great deal of Beats-branded releases since Apple purchased the company in 2014, so this might be a chance for Apple to revive the name while repositioning the reportedly floundering HomePod to a brand new (perhaps younger) audience. 
According to the report, the new HomePod would cost around $199 (about £150, AU$260), which is in line with previous rumors and would go some way to combating criticisms of the speaker's high price point.  This is a report which should, however, be taken with a fistful of salt. 
The first report of a Mini HomePod
Back in March 2018, only a month after the HomePod's release, there was a report from Economic Daily that Apple was planning to release a more affordable HomePod at some point in 2018. 
It was rumored that this cheaper HomePod would launch in the US in the second half of 2018 for around $200 (around £145, AU$260), which is significantly lower than the device's current $349 / £319 / AU$499 price point. In this report it wasn't made clear how Apple was actually planning to lower the price of its speaker, but a brand new and smaller Apple HomePod Mini could be a way to do this.