There are lots of good reasons to upgrade your living room with a fantastic new soundbar, and if you have the latest 4K TV home theater setup, you really deserve top quality sound to match.
As TV displays get slimmer by the day, the answer to the best audio experience is an all-singing, all-dancing speaker system designed to give your TV's feeble speakers a much-needed boost.
The best bit is that all of the best TV soundbars won't stick out next to your shiny new slim screen like a normal stereo system would – the best soundbars are built to be just as aesthetically pleasing as they are aurally pleasing.
The majority of soundbars are made to sit in front of your screen, but they can also be wall-mounted, which means they do the heavy audio lifting instead of your TV speakers.
Slim yet powerful, soundbars are often the best solution for smaller homes and rooms that can't fit a 7.1 channel speaker system. Despite most only featuring front-facing speakers, soundbars are able to confidently project sound in a way that makes it seems as though there's booming audio coming from most directions.
If you don't choose wisely though, you can end up with a soundbar that doesn't fit with your home theater setup – or barely sounds better than your TV's built-in speakers.
Read on below for the best soundbars available to buy in 2019, whether you're after Dolby Atmos support, multi-room audio, or any variety of other advanced features alongside your soundbar's premium audio experience.
What's the best soundbar for the money?
When it comes to soundbars, there's a lot of choice. Despite being called soundBARS, they tend to come in different shapes and sizes. They also range in price from under £100/$100 to over £1,000/$1,500.
The cheaper the model you go for, the more basic the connections are likely to be. Whereas more expensive ones add superior HDMI inputs (including 4K/HDR passthrough), wireless audio streaming (e.g. Bluetooth and AirPlay), better power, more refined speaker drivers, and decoding of Blu-ray sound formats.
Of course a full surround setup is the premium solution to bad sounding televisions, but if you're short on space (as well as budget) then a soundbar offers a good compromise. More than that, these days higher-end soundbars will also include the latest and greatest audio technologies like Dolby Atmos and DTS:X. So it's not like you're getting a sub-standard experience, just a different one.
Design is also important, with some models able to sit in front of your TV on a stand while others may need a separate shelf, or to be mounted up on the wall. But whatever your budget, there are some cracking good acoustic upgrades to be had that can give your TV the sound it deserves.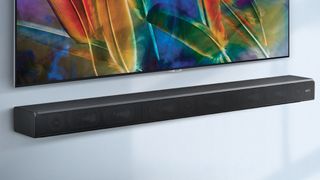 1. Samsung HW-MS650 Soundbar
Be afraid, traditional Hi-Fi speakers. Be very afraid.
Dimensions: 1060 x 78 x 130mm (W x H x D) | Speaker configuration: 3.0 | Claimed audio power: 9 x 20W | Connections: Single 4K/HDR HDMI loopthrough, one optical audio input, 3.5mm audio port, 2-way Bluetooth, Wi-Fi
Fantastically powerful sound
Physics-defying bass handling
Supports lots of sources
Slightly limited stereo effect
Not content with dominating the TV world, Samsung now seems to have its sights set on becoming the number one brand for home entertainment audio, too. All this effort has already delivered outstanding results in the shape of both the HW-K850 and, especially, HW-K950 Dolby Atmos soundbars, as well as a range of ground-breaking multi-room wireless speakers.
But, above everything stands the South Korean manufacturer's HW-MS650. No other one-body soundbar has combined so much raw power with so much clarity, scale and, especially, bass, or excelled so consistently with both films and music. It's the sort of performance that only genuine audio innovation can deliver – and with that in mind, it's well worth its $450/£599 price tag.
Read the full review: Samsung HW-MS650 Soundbar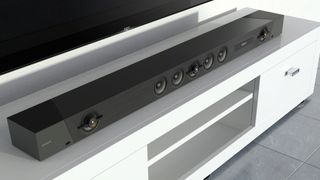 2. Sony HT-ST5000 Soundbar
An unashamedly upmarket soundbar that justifies its price tag
Dimensions: 1180 x 80 x 145 mm (W x H x D) | Speaker configuration: 7.1.2 | Claimed audio power: N/A | Connections: 3 x HDMI inputs, 1 HDMI Out (ARC), analogue audio in/out, Ethernet, optical audio in, Bluetooth, Wi-Fi
Beautiful build quality
Dolby Atmos support
Hi-res audio compatible
Frighteningly expensive
No DTS:X
The Sony HT-ST5000 is the priciest soundbar you'll find here, but for the money you'll get an exceptional piece of equipment that offers support for Dolby's spatial Atmos tech – on top of dealing exceptionally well with more conventional surround sound.
The build quality and design of the soundbar is exceptional, and its general audio performance impresses with its clarity and spatial presentation.
Still, the lofty price tag might turn some users off, and most people will get everything they need from less expensive units like the Samsung HW-MS650 above. But, if you want to have the best high-end soundbar around, the HT-ST5000 is the best soundbar you can buy today.
Read the full review: Sony HT-ST5000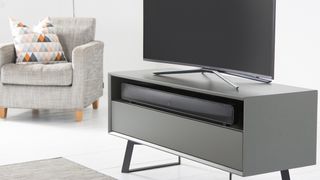 3. Q Acoustics M4 Soundbar
'If there's a better sounding soundbar on the market for less than £400/$400, we haven't heard it'
Power: 100W | Speakers: 2 | Dimensions: 1,000 x 90 x 142mm | Weight: 4.9kg | Inputs: 1 x HDMI, 1 x digital optical, 1 x 3.5mm | Outputs: N/A | Wireless: Bluetooth aptX | Subwoofer included?: Yes | Special features: N/A
Beautiful musicality
Easy to use
Stereo only
No HDMI input
The Q Acoustics M4 soundbar doesn't immediately set pulses racing with its slightly prosaic looks, 'mere' 2.1-channel sound and lack of any HDMI support. However, you only have to hear what the M4 can do with both music and movies for your doubts about it to evaporate almost instantly. In fact, it sounds so good that it starts to make the idea of trying to deliver more channels from an affordable soundbar look a bit silly.
In fact, though, it sounds so much better than pretty much any rival soundbar in the same price bracket that it's actually ridiculously good value – especially if you care about music as much as you care about movies.
Read the full review: Q Acoustics M4 Soundbar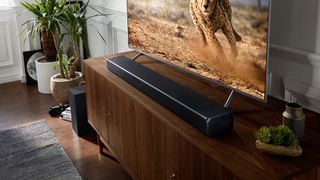 4. Samsung HW-N950
This combo of soundbar, two wireless sats & Dolby Atmos is game-changing
Power: 500W | Speakers: 9 | Dimensions: 47.6 x 3.2 x 5.1 inches | Weight: 14.7lbs | Inputs: 1 x digital optical, 1 x HDMI | Outputs: 1 x HDMI | Wireless: Bluetooth and WiFi | Subwoofer included?: Yes | Special features: Dolby Atmos
Dolby Atmos and DTS:X
Wireless satellites and sub
Basic audio calibration
The Samsung HW-N950 is something special. It's the latest flagship soundbar from the company, but the first to benefit from Samsung's acquisition of Harman Kardon – a partnership that's already paying dividends.
The HW-N950 is a whole-hearted upgrade on our previous award-winner, Samsung's HW-K950 – which long held the #6 spot on this list. Most importantly, the N950 now supports both Dolby Atmos and DTS:X, compared to the K950 which was disappointingly limited to the former.
With that in mind, the Samsung HW-N950 is simply one of the best soundbars that we have heard to date – and one of the only soundbars that really delivers a 7.1.4-channel immersive audio experience. The use of wireless rear speakers and a subwoofer, make the N950 easy to install and setup and allow the N950 to deliver object-based audio as the content creators intended, without resorting to psychoacoustic trickery.
Read the full review: Samsung HW-N950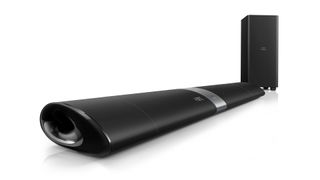 5. Philips Fidelio B5
Surround sound or portable Bluetooth – the choice is yours
Power: 120W | Speakers: 4 | Dimensions: 1,035 x 70 x 156 mm | Weight: 16kg | Inputs: Digital coaxial in, Digital optical in, HDMI 1.4 output (ARC), HDMI IN 1, HDMI IN 2, Audio in 3.5 mm jack | Wireless: Bluetooth APT-X and AAC | Subwoofer included?: Yes | Special features: N/A
Instant surround sound
Versatile Bluetooth speakers
Massive as a single bar
Weak stereo sound
The Philips Fidelio B5 is an impressive bit of kit, and it's the perfect soundbar for someone who appreciates good cinema sound but has no interest in tearing up their living room to install a 5.1 surround sound system to use only every now and then. The B5 enables you to pick and choose your movie moments, and do it on a whim. And it creates a pretty decent surround sound experience too, using both Dolby Digital 5.1 and DTS Digital Surround decoding.
The combination of convenience and good audio – the raison d'etre of the soundbar – with its transformative surround sound capabilities makes the Fidelio B5 a great option for the movie fan who can't face all the aggravation of a proper 5.1 installation.
Read the full review: Philips Fidelio B5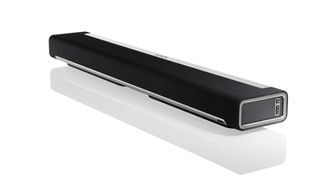 6. Sonos Playbar
Turns your multi-room audio system into wireless surround sound
Power: Not quoted | Speakers: 9 | Dimensions: 900 x 85 x 140mm | Weight: 5.4kg | Inputs: 1 x digital optical, 2 x Ethernet LAN | Outputs: N/A | Wireless: WiFi | Special features: Sonos Play:1 speakers can be connected as wireless rear speakers
Beautiful sound
Integrates with Sonos systems
Clever audio modes
Requires particular TVs
Only one input
The Sonos Playbar is a non-HDMI device that uses optical to hook up to a TV. Used simply on its own it delivers a massive sonic boost to your TV listening, but operating it does require using a smartphone or tablet app. The benefit is that it can seamlessly segue in to a Sonos wireless system, and can even act as the front three speakers in a 5.1 setup with two Play:1s acting as rears.
Unfortunately although it's optical-only setup will be great for most, it does exclude owners of TVs that lack this connector, which has pushed it a little further down this list.
Read the full review: Sonos Playbar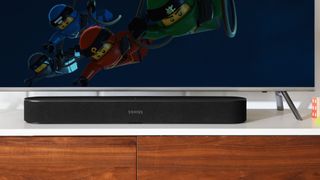 7. Sonos Beam
This is the smart soundbar we've been waiting for
Power: N/A | Speakers: 3 channels | Dimensions: 2.70 x 25.625 x 3.94 in. (68.5 x 651 x 100 mm) | Weight: 6.2 lbs (2.8 kg) | Inputs: 1 x Digital Optical-In, 1 x HDMI-in | Wireless: Sonos | Subwoofer included?: No | Special features: Amazon Alexa, Apple AirPlay 2
Great compact design
HDMI ARC compatible
Superb sound
No Dolby Atmos
The Sonos Beam is a fantastic soundbar for its price, one that takes full advantage of the Sonos ecosystem and is a joy to use (and set up, if your television has HDMI ARC). Its smaller form factor means it's a device that will sit comfortably next to a 32-inch TV but it's got enough of a footprint to not be dwarfed by a much bigger set.
The Sonos Beam doesn't offer earth-shattering bass and the lack of Dolby Atmos support will irk some, but at this price point it'd be more of a surprise if it had been included. The voice control may be Alexa-only for now, but it works well and if you have adopted some of Amazon's TV toys, it really is worth experimenting with.
Read the full review: Sonos Beam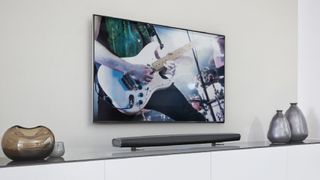 8. Denon HEOS Bar
A powerful and well-connected Playbar challenger
Power: N/A | Speakers: 3.0 | Dimensions: 2 7/8 x 43 3/8 x 5 7/8 inches; 72 x 1100 x 148 mm | Weight: 10.58 lbs; 4.8 kg | Inputs: 4K HDMI Input and HDMI Output | Wireless: Bluetooth, 802.11ac Wi-Fi | Special features: Heos Multi-Room Audio
Excellent sound quality
Handles all formats & streams
Occasional switching delay
Inaccessible USB slot
 With its nine drivers are arranged in trios for left, center and right channels and a virtual surround mode to create the illusion of having more speakers around the room, the HEOS Bar is pretty much whatever you want it to be.
Blessed with such a balanced soundscape, the HEOS Bar proved immediately adept with music, and has a consistently warm yet refined sound quality that's all its own. The fact that it lacks the opportunity to tweak the audio settings is not as important as we had feared. Music sounds superb, especially lossless tunes, from which HEOS Bar drags out a lot of detail. However, we did notice on a couple of occasions that the first half-a-second was cut-off songs.
Read the full review: Denon HEOS Bar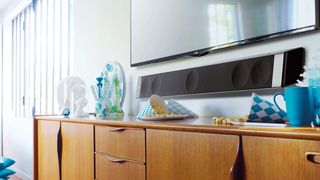 9. Focal Dimension
An impressive-sounding soundbar with a few setup faux-pas
Power: 450W | Speakers: 5 | Dimensions: 1,155 x 115 x 115mm | Weight: 5.5kg | Inputs: 1 x HDMI, 1 x digital optical, 1 x 3.5mm | Outputs: N/A | Wireless: Bluetooth aptX (via dongle) | Subwoofer included?: No | Special features: designed for big rooms
Virtual surround sound
Excellent design
Impressive bass without a sub
Limited surround experience
Cheap remote
Focal, most known for its excellent sounding speakers (and the recently released Focal Listen headphones), is late to the soundbar space, but its Focal Dimension was worth the wait. The Dimension soundbar is simply gorgeous, with its piano black accents and aluminum unibody construction.
At $1,399 (£799, AU$1,699) it's not exactly cheap, but you're paying for excellent build quality, sound and design.
Read the full review: Focal Dimension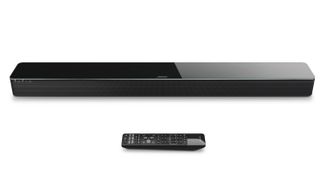 10. Bose SoundTouch 300
A beautifully made, precise sounding soundbar
Power: N/A | Speakers: 1 | Dimensions: 42 x 6.2 x 5 inches | Weight: 15.2lbs | Inputs: 1 x digital optical, 1 x HDMI, 1 x Ethernet port, 1x 3.5 mm jack for ADAPTiQ system setup, 1 x 3.5mm jack to hardwire the bass module, 1 x micro-USB connection | Outputs: 1 x HDMI output with Audio Return Channel (ARC) | Wireless: Bluetooth | Subwoofer included?: No | Special features: Multiroom
Wide, articulate sonic presentation
Gorgeous design and build quality
Potentially frustrating set up
Doesn't come with a subwoofer
Boasting high-end design, Bose's slim soundbar looks superb, and sounds above average. At 97.9cm wide, it's best partnered with larger screen sizes (50-inch+) and priced at £599/$700/AU$999, it offers great sound. There are caveats regarding usability and price, but overall it warrants a cautious two thumbs up.
It's also worth mentioning that, as this isn't a 2.1 package, there's no subwoofer supplied – although Bose will sell you a wireless Acoustimas sub and the ST300 can be partnered with the brand's Virtually Invisible (i.e. small at 10cm) 300 surround speakers. The system is also compatible with the Bose SoundTouch wireless multiroom system which includes smaller Bluetooth speakers.
Read the full review: Bose SoundTouch 300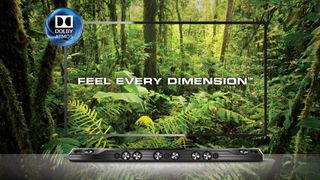 BONUS: Creative X-Fi Sonic Carrier
This 11.2.4-channel Dolby Atmos soundbar is out of our league
Power: 2,000 watts | Speakers: 17 | Dimensions: 521 x 151 x 96mm (59.9 x 5.9 x 3.8 inches, L x W x H) | Weight: 35.3 lbs | Inputs: 2 x digital optical, 3 x HDMI (ARC), 1 x Ethernet port, 1x 3.5 mm jack, two ¼" microphone connectors, two USB 2.0 type A connector for USB flash drives and HDDs, one SD card slot and three MicroSD card slots alongside | Outputs: 1 x HDMI output with Audio Return Channel (ARC) | Wireless: Bluetooth | Subwoofer included?: Yes | Special features: SuperWide X-Fi
It's an 11.2.4-channel soundbar!
Precise, nearly perfect sound
Unrivaled DSP with SuperWide X-Fi
Your neighbors will hate you
You know, it just didn't feel fair comparing the Creative X-Fi Sonic Carrier to other soundbars on this list. It'd be like comparing jet-skis to yachts.
That being said, if you have the deep pockets to afford it, the Creative X-Fi Sonic Carrier is in a different league of soundbars. It features 17 speakers set in an 11.2.4-channel or 15.2-channel configuration that can put out well over 110 dB of sound and supports Dolby Atmos right out of the box.
Is $4,000 too much to spend on a soundbar – even one as genuinely awesome as the Creative X-Fi Sonic Carrier? Probably. But is a few grand worth spending to turn your basement or garage into a club / near-cinema-quality home theater? Yeah. It is.
We've come up with a list of the best Sci-Fi movies to really put your soundbar to the test.