After the success of the Spyro Reignited Trilogy and Crash Bandicoot N. Sane Trilogy, it was only a matter of time until we got a reboot of Crash Team Racing (CTR). 
Thankfully, that remaster has already been confirmed by Activision and is set for a June 2019 release date. In an early trailer shown off for the game during December's The Game Awards, we got to see Crash and Co. take to the track with all the familiar faces returning for another go around.
After the debut trailer, Thomas Wilson Creative Director at Beenox took to the PlayStation Blog to give us additional details like the implementation of online competitive play and the return of couch co-op. 
The game is set to release in 2019, marking the original's 20-year anniversary since it came out on the original PlayStation.
Can't wait to get back behind the wheel of the zaniest kart racer of the late '90s? Here's everything we know about the Crash Team Racing (CTR) Remaster so far. 
[Update: Sony reveals exclusive content for PS4 players.]
Cut to the chase
What is it? A remaster of the Crash Bandicoot PlayStation 1 racing game
When can I play it? June 21 2019
What can I play it on? PS4, Xbox One, PC and Nintendo Switch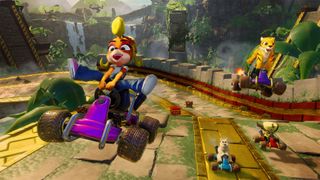 Crash Team Racing Remaster trailer
Sony has revealed PS4 players will receive exclusive retro content including Retro skins for Crash, Coco, & Cortex, Retro karts, and a Retro track.
Check out the announcement trailer below:  
Our first peek at Nitro-Fueled was with the official reveal trailer. Some familiar weapons will make their return (darn you Nitro boxes!) but new additions like kart customization could keep things interesting.
Check out the full trailer for yourself below: 
Crash Bandicoot Team Racing release date
A Crash Bandicoot Team Racing Remaster has been confirmed for June 21 2019. It will go by the name Crash Team Racing Nitro-Fueled, but it will maintain the mechanics of the original: "Whatever improvements or bells and whistles we were going to add, we needed to be authentic to the inspiration of the original experience," according to Thomas Wilson Creative Director at Beenox. "Fans will see this attention to detail shine through in every part of the game from the camera work, to the characters' quirky animations, to the lush environments you're racing in."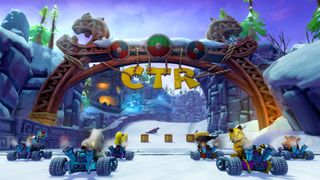 Crash Bandicoot Team Racing rumors
Could CTR Remastered be confirmed at The Game Awards 2018?
Rumors have been flying around that the Crash Team Racing Remaster may be revealed at The Game Awards 2018. Several influencers in the gaming industry have received Crash-themed items such as Crash Bandicoot cookies, while PlayStation Access' Hollie Bennett received perhaps the least subtle teaser – a pair of fuzzy orange die with a note which read: "Sliding into the Game Awards on 6/12".
So….uh….these just arrived at my house. Any ideas? 😂🤔 pic.twitter.com/x0MRYihWvgDecember 4, 2018
What is Crash Team Racing?
Crash Team Racing (or CTR) is a Crash Bandicoot-themed racing game which originally released for the first PlayStation in 1999.  
The game's main Adventure storyline sees you playing as one of 15 characters from the Crash Bandicoot series on a mission to stop the evil Nitros Oxide from destroying the planet. How do you do that? By racing, of course. Adventure mode sees racing on various tracks to win as many gems, trophies, CTR tokens, boss keys and relics as possible, allowing you to unlock new tracks and take down Oxide.
As expected, these aren't just any normal races. You can use special abilities such as speed boosts, power slides and rockets to attack fellow racers. Tracks include sewer pipes, temples and snowy mountains – all influenced by Crash Bandicoot levels. 
In addition to single-player Adventure mode, there are also Time Trial, Arcade, Versus and Battle modes to take part in.