The announcement of Doom: Eternal at E3 2018 got a lot of trigger fingers twitching. But what is it, when is it coming, and how will it expand on the well-loved franchise?
Few franchises embody the FPS genre quite like Doom. Packed to the seams with blood, hellfire, shotguns, and even more blood, id Software's ultra-violent shooter has earned legions of fans since its first game in 1993: pitching a nameless marine against hordes of demons unleashed from hell.
Now, two years after a 2016 reboot brought the franchise successfully to modern consoles, we have word of a direct sequel: Doom Eternal.
[Update: Bethesda has announced that its E3 2019 press conference will take place on Sunday 9 June, with Doom Eternal its showcase centerpiece. Read on for more info.]
The sequel is aiming to go bigger and better than ever before, introducing an enhanced Doom slayer and a host of new demons – and this time the invasion has spread further than Mars.
Cut to the chase
What is it? A fast-paced, ultra-violent shooter where you beat and shoot demons to a pulp, and the sequel to 2016's Doom
What can I play it on? PC, Xbox One, PS4 and Nintendo Switch
When can I play it? TBA
Doom Eternal release date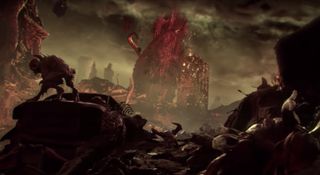 The game's Amazon listing sets Doom Eternal's release date as December 28 this year. However, that's a much quicker turnaround than 2016's Doom, which was announced at E3 a year prior to release.
It's likely that this could be a placeholder release date in lieu of any concrete information as no confirmation was given by the developer at QuakeCon 2018.
Doom Eternal trailers
QuakeCon 2018
The Doom Eternal worldwide premiere gameplay reveal of Doom Eternal took place during the QuakeCon 2018 keynote, and was our first chance to see the sequel in action.
You can check out the gameplay trailer below:
E3 2018
Doom Eternal's E3 2018 trailer had everything we love about the series, dialled up to 11. Get a glimpse of its apocalyptic vision of Earth, with a suitably thumping soundtrack and some jacked-up demons staring down the barrel of a shotgun.
Doom Eternal news and rumors
Doom Eternal will be Bethesda's E3 2019 star
Ready for an "in-depth look at Doom Eternal"? That's what the blog post accompanying the announcement of Bethesda's E3 2019 showcase promises. Kicking off at 5.30pm PDT on Sunday 9 June, the horror shooter is the first big-confirmed name at Bethesda's showcase, and will take up a large portion of the show. Here's hoping there's room for The Elder Scrolls VI and Starfield, too.
Slayer 2.0
The team has created the most powerful Doom slayer we've seen yet, with enhanced armor and an arsenal of badass new equipment, including a shoulder-mounted cannon with flamethrower, an extendable blade, and a new dash ability. In addition there's an upgraded selection of guns and mods to play with, such as the Super Shotgun's new Meat Hook attachments which pulls you into the face of enemies.
A host of new demons (and returning favorites)
Doom Eternal will see the return of classic demons such as the Pain Elemental, Archvile and Arachnotron, alongside an array of brand-new demons like the Doom Hunter and the corrupted Marauders.
Invasion
An all-new Invasion mode allows other players to invade your campaign as a demon. Likewise, you can join the demon horde yourself and invade other players' campaigns – either alone or as part of a hunting party.
There's no place like home
Instead of the previous game's isolated mining site on Mars, Doom Eternal brings the action to Earth, and it looks like there's been a lot of damage. Skulls litter the ground, creatures howl, and tendrils pull apart skyscrapers in the distance.
While Doom is traditionally known for its tight, claustrophobic level design, a more expansive map could encourage different styles of play and allow for far bigger set pieces (read: bigger demons).
We imagine Doom Eternal will continue with the same fast-paced, gun-heavy combat the series is known for. But Bethesda has promised a lot more demons to fight, and that you'll feel a lot more powerful this time around.
Could Eternal be online?
While Bethesda have clarified Doom Eternal will be a direct sequel to the previous entry, the Eternal branding makes us think there may be more of a stress on online components – especially since Bethesda's Elder Scrolls and Fallout franchises have been branching out in this direction.
Could we see an expanded online game mode with regular updates to its world-sized hellscape?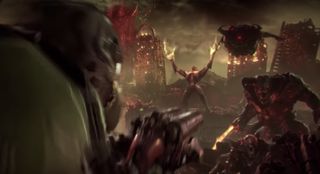 Or will we see a VR version?
The last Doom came to the HTC Vive and Playstation VR last year, albeit with some clunky navigation issues and a comparatively stripped-back three-hour story. The upcoming sequel is the perfect opportunity to build on that foundation and make a VR experience deserving of the legendary IP.
Could we see it on the Switch?
Seeing a bloodthirsty rampage like Doom Eternal on Nintendo's family-friendly Switch seems like an odd match, but Bethesda has confirmed Doom Eternal will indeed be coming to the Nintendo Switch.
Keep checking back here for all the latest Doom Eternal news 
Keep up to date with all our game coverage of E3 2018