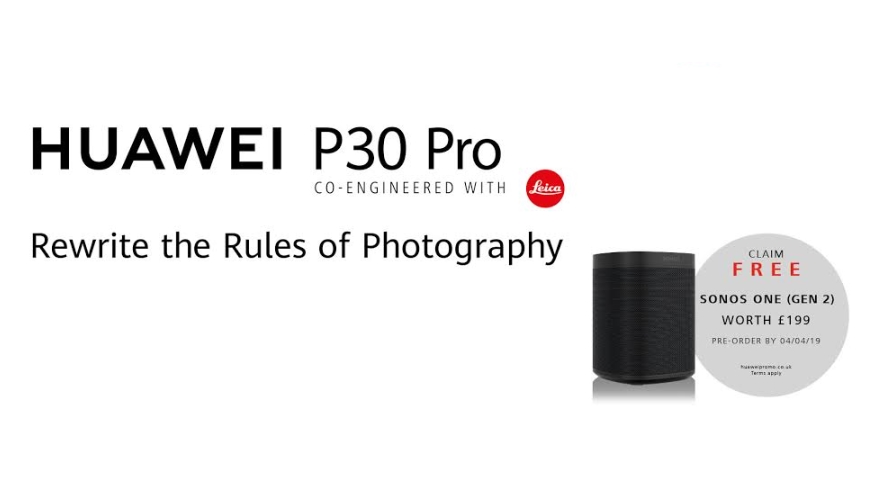 We're not quite sure when this came to be, but it almost seems customary for phone manufacturers to offer up some of the world's best technology for free when you pre-order a newly launched phone. Don't get us wrong, we love it and Huawei has reminded us of Just how great this can be with the offer of a FREE Sonos One speaker when you pre-order a P30 deal or P30 Pro deal.
Yes, here to outshine Samsung's recent phone launch, Huawei is not only dropping its brand new flagships, but also throwing in the best smart speaker on the market for no extra cost.
Combining the smarts of Amazon Alexa with the raw sound quality of Sonos, the Sonos One is about as good as speaker intelligence can get in our eyes. It has been sat at the number one spot of our best smart speakers list since its release and it is clear to see why.
A clean compact design, some of the best audio in a speaker this size, and built in Alexa all combine to make this a speaker you would proudly display in your house. Not to mention, by getting it with this pre-order you don't even have to pay for it – can't beat that kind of pricing!
So if you want the best of smart sound and the newest flagship on the market, head on over to our P30 deals or P30 Pro deals pages to see your options. 
Not bothered by free speakers or having the newest device? Check out the best mobile phone deals around