Oppo is gearing up to launch the Oppo Reno, the first phone by its new Reno sub-brand, on April 10, and newly leaked images suggest it might only have two rear cameras – that's one fewer than manyChinese smartphone competitors.
Renders leaked on a Chinese retail site, and picked up on by Mysmartprice, show the Oppo Reno in a vibrant purple color, wielding two rear cameras and a large display – and with no front-facing camera to be seen. 
This absence of a front-facing camera likely means the Oppo Reno will have a pop-up selfie camera, a design that Oppo has used before with the Oppo Find X.
The suggestion of a dual-camera setup on the rear has us wondering, however, as the latest phones from rival Chinese brands tend to have at least three cameras – the recently-launched Huawei P30 has this many, and we're expecting the upcoming OnePlus 7 to have three as well.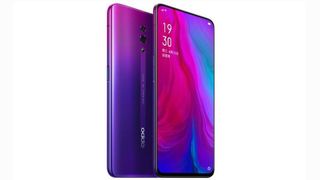 One possible explanation is that the render is of a specific model – we've heard rumor that Oppo will launch not one but five Reno smartphones – the 'Pro', 'Plus,' 'Lite', 'Zoom' and 'Youth'. These will likely all sit at different price points to appeal to different audiences, and the dual-lens we see in the render could indicate it's of a more basic model like the 'Lite' or 'Zoom'. 
Previously we'd heard that the Oppo Reno flagship will come with a 4,065mAh battery, a Snapdragon 855 chipset and a 10x optical zoom camera – whether that's the 'Pro' or 'Plus', or whether this phone has a different name, isn't clear at this time, but we're expecting everything to be made clear on April 10 when Oppo launches its new range of phones.
We'll be covering the launch of the Oppo Reno phone or phones, so stay tuned to TechRadar for all the latest news, reviews and comparison pieces.