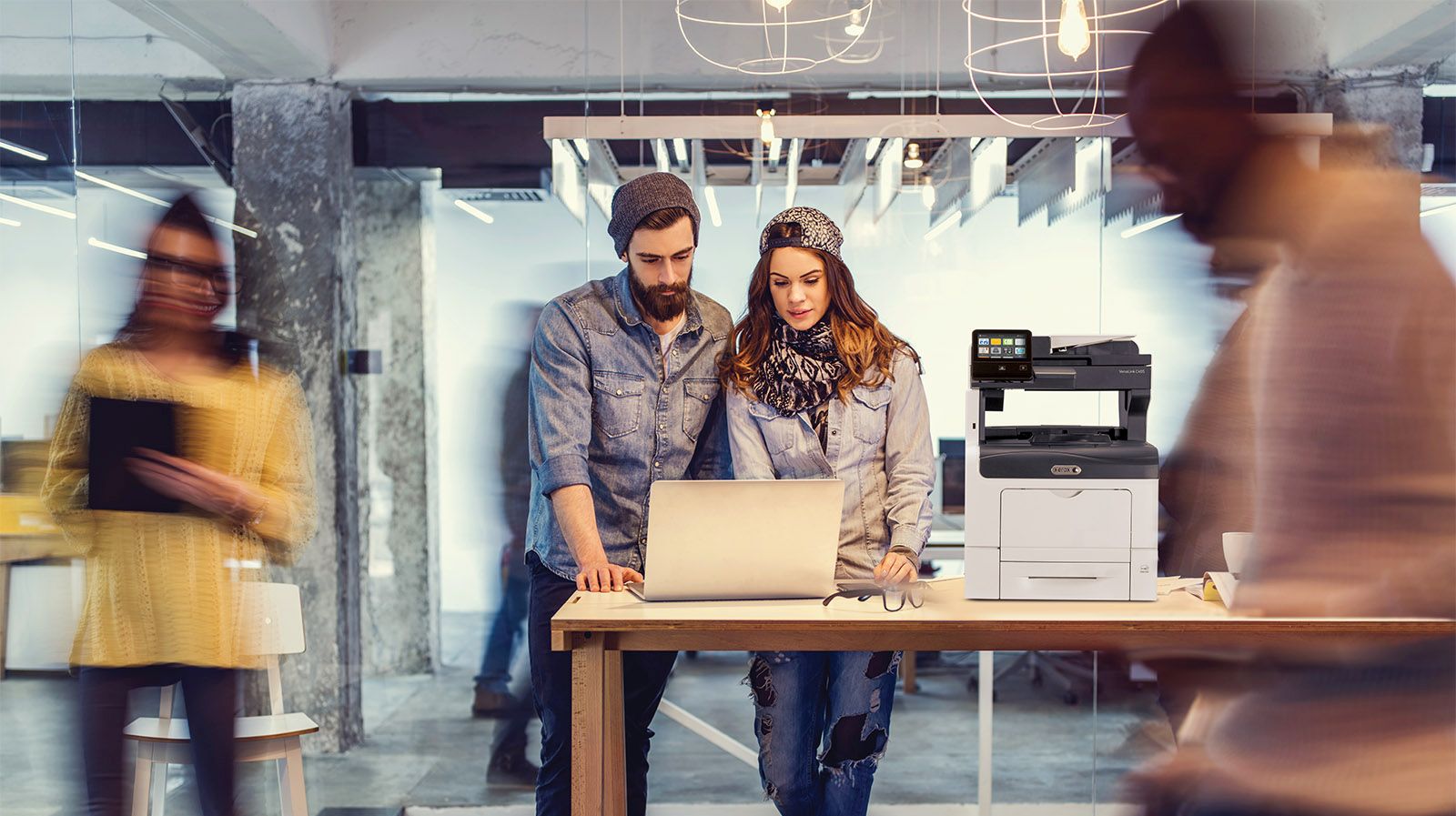 Printers are evolving fast; from the basic devices that could once only print from a personal computer, they've become multifunction devices, integrated technology hubs that can operate autonomously.
Beyond scanning and copying, they can print from multiple devices wirelessly, handle document management, seamlessly manage documents in the cloud and even keep your network secure.
Meet your new assistant
The ConnectKey technology, developed by Xerox, transforms its VersaLink printers into a smart workplace assistant that can achieve far more than rival models.
That doesn't come as a surprise given the history of innovation at Xerox, where the laser printer, Ethernet, the first prototypes of a modern PC and the graphics user interface were all invented.
ConnectKey transforms your printing experience by putting always on, connected and mobile at the very center of what it aspires to do and does so using four features:
1.  A highly intuitive user interface that mimics a familiar environment with easy to understand icons and customizable to every individual. It is so simple that even non-technical staff can create a workflow. There's even a ConnectKey simulator to experience it. 
2.  Cloud and mobile are at the very heart of what Xerox's VersaLink stands for: all platforms and sharing options should be treated equally. Not only apps for popular cloud storage services (Dropbox, OneDrive and Google Drive) are installed by default, you also have an array of native productivity-focused features like NFC pairing and the ability to convert scanned documents to text searchable versions. And you no longer need a PC to share, save, download, translate, scan and – obviously – print that content; even smartphones or tablets are optional.
3. Security built from ground up, not as an add-on. Xerox uses a holistic four-point approach to security that permeates the entire VersaLink range: all access points are protected to prevent rogue intruders, a firmware test is carried out at startup to verify the integrity of the printer, access to sensitive data and documents is controlled and monitored and data is stored securely. 
4. Customized apps to solve unique pain points across your business.  Xerox understands that no two businesses are the same. Users can access the Xerox App Gallery to locate/install apps to fit their business requirements, or custom apps can be created for unique customer needs by Xerox authorized developers. Take for example Xerox's Audio Documents which can transform hard copy printouts into MP3 files, great for listening on the go. Check the numerous other apps in the Xerox App Gallery.
Discover the VersaLink printer range
Perhaps the biggest surprise is that ConnectKey technology comes as standard in Xerox printers that cater primarily for the SMB market who often do not have dedicated IT people and for whom the plug-and-play capabilities of the VersaLink range will be a not-so-insignificant bonus.
Consider the Xerox VersaLink® C405DN A4 Color Multifunction laser printer, an MFP which was rated 4-stars by TechRadar. Other than being one of the more affordable models in this price range (with up to $280 instant savings on offer until 06/30/2019 and 1-year onsite warranty), it continues to print in mono even if the printer is out of color toners, has auto-duplex and promises to deliver an impressive 35 color pages per minute.
Plus don't forget other exclusive advantages like the free lifetime printer service with econcierge.
For the full range of Xerox ConnectKey VersaLink printers and multifunction devices, visit Xerox.com/Versalink.