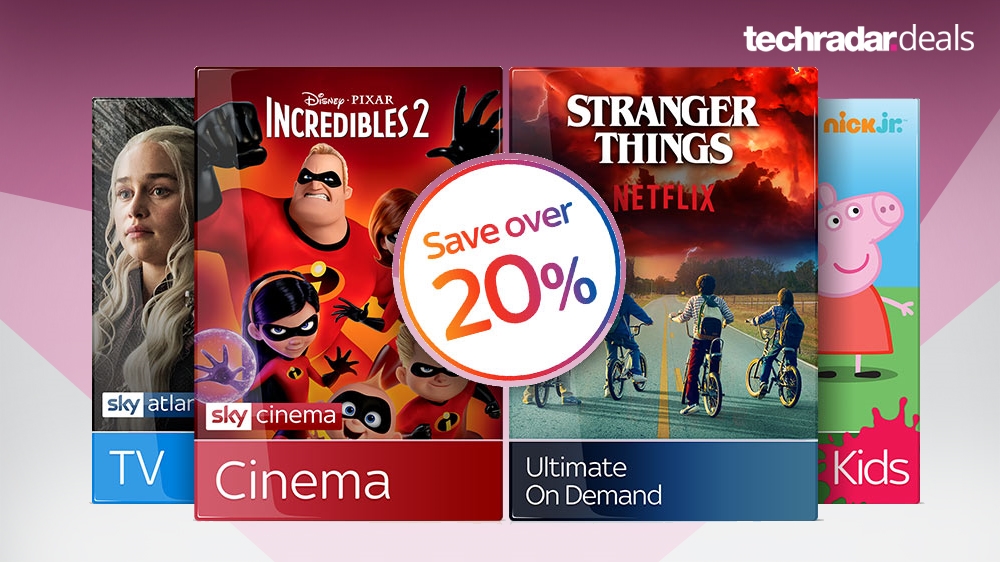 Our favourite Sky TV deal of the year is almost over, but there's just about time for you to take advantage of the excellent value on offer. You'll have to be quick though as this mega discount ends today.
It's the sort of bundle that'll make you wish weekends never had to end, such is the huge quantity and quality of content included at a discounted price with a 20% saving on those monthly fees. 
Sky Entertainment is the bundle's foundation and comes with all Sky TV packages nowadays. This includes channels like Sky Atlantic, Comedy Central, Fox, Sky One and more – so yeah, you're all set for Game of Thrones season 8 and its upcoming feature-length episodes. You also get a Sky Q box which allows you to record multiple channels simultaneously while watching another.
Sky Cinema is packed with movies you won't find on other services, plus it gets a new premiere every day. You're also getting Sky's new Ultimate on Demand bundle which includes Sky's enviable selection of box sets and a Netflix subscription (so get your old sub cancelled for this better value option!). Sky Kids is also included for free with thousands of child-friendly TV episodes. Good thing they can watch them on a tablet as you'll surely be too busy watching stuff on the TV yourself with this much content to choose from.
We've got our eye on the best Sky TV deals on a regular basis, and this is easily the best offer we've seen this year.
The best Sky TV deal for film and TV fans
As you go through the checkout process you can add optional extras, too. The most tempting of which today is the complete Sky Sports bundle (that's every Sky Sports channel in HD) for just £23 a month down from the usual £30 – saving you £136 on the usual price for 18 months of Sky Sports.
The only thing you have to worry about once you're all set up is the miserly number of hours available to you each day.