The Snapdragon 855 chipset from Qualcomm is ushering in a decade of 5G speeds and it's expected to be in a majority of the Android flagship phones launching in 2019. In fact, we've listed seven Android phones that will likely use the Snapdragon 855 chip.
The new chipset was unveiled at the Snapdragon Summit in Hawaii as an improvement to catch up to Apple's impressive A12 Bionic chips. Qualcomm is promising its chip will achieve twice the performance over an unnamed 7nm competitor – obviously referring to the iPhone XS chip.
The Snapdragon 855 chip platform goes hand-in-hand with the first 5G smartphone revealed today. This 5G phone is a reference design meant to provide a roadmap for companies to use Qualcomm's technology, though, not a commercial model. You won't be able to buy it, but it's very telling of what's to come in the future from Samsung, OnePlus and other companies.
Here's what we know on day one of the Snapdragon Summit.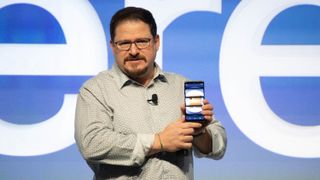 Snapdragon 855 specs: performance, video, security
The Snapdragon 855 specs promise something the Snapdragon 845 chip couldn't do: beat Apple's A12 Bionic chipset. The dirty little secret of the 845 is that it was beaten by Apple's A12 and the prior year's A11 chipset.
Qualcomm plans to right this wrong in 2019, and it's doing so with a smaller 7nm chip that will vastly improve efficiency over its 10nm chipsets. Combined with 5G, this should give us wholly faster phones, not just the feel of 'well, it's faster than last year's version.' The speed boost should be noticeable – at least, that's what Qualcomm promises.
Your camera is going to see a boost thanks to the Snapdragon 855 chipset, according to Qualcomm's early tease. It'll boast the world's first computer vision image signal processor, meaning a chip dedicated to processing your photos and videos. How? That remains to be seen, but we expect more information on it tomorrow.
Qualcomm also finally announced the launch of its 3D Sonic Sensor. The company has long been working on an in-screen fingerprint sensor solution based on ultrasonic technology.
Ultrasonic fingerprint sensors are said to be superior to the optical under-the-glass tech out there now. And Qualcomm's plans for it are finally coming to fruition in the Snapdragon 855. Its 3D Sonic Sensor will be ready to be used in phones in the first half of 2019, according to the company.
That could mean we'll see an in-screen fingerprint sensor in the next Samsung phone, which is expected to be the Samsung Galaxy S10, and several other major Android phones in 2019.
Snapdragon 855 phones list
Officially, there are no currently-announced smartphones that will utilize the new Snapdragon 855 chipset, but we're expecting to see the chip on several devices from Qualcomm partners.
The most obvious launch contender is the Samsung Galaxy S10 and the theoretical Galaxy S10 Plus. Tradition says these phones will launch at MWC 2019 in late February. The Sony Xperia XZ4 and LG G8 may be next to follow, along with the OnePlus 7, Moto Z4 and something from HTC. The ZTE Axon 10, now that the Chinese phone maker is back in business, is a likely Qualcomm Snapdragon 855 user, too.
We'll continue to update this piece as phones with the Snapdragon 855 chipsets get announced – or when rumors emerge. We usually hear something solid in January, tying into CES 2019.