If you're looking for the best cheap MacBook sale prices, you've come to the right place, as we've just updated our guide with the latest models. The decision of whether or not you should pick up a new MacBook is an easy one: does it play to your strengths? Maybe you need the lightest and most portable macOS machine out there today, one with good battery life. Or, maybe you just don't like Windows? Whatever your reason, there are plenty of deals out there to help you save on a MacBook deal.
Our exclusive price comparison tool will check the price of every readily available model of MacBook on all major retail websites, so you can be sure you're always getting the best MacBook deal. We've stopped comparing MacBook prices on some older models if they're not widely available or if they generally cost more than newer versions despite the dated tech inside. All you need to do now is work out whether it's a MacBook, a MacBook Pro or a MacBook Air that you want. We'll help though.
If you're not quite set on a MacBook (they are rather pricey), then we have some alternative options for you, along with the best prices. Take a look at our selection of best laptops for other top performing machines or our cheap laptop deals for solid buys that won't break the bank as we search for great prices all year round. If the freshest MacBook prices are what you're after though, you'll find them all below.
MacBook deals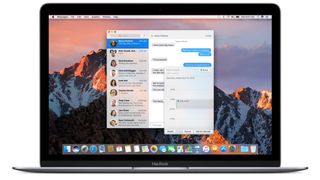 The cheapest Macbook (2017) prices
The Kaby Lake upgrade you've been waiting for?
Apple didn't release a standard MacBook in 2018, instead focusing on the Air and Pro lines instead. So this is the newest regular MacBook you can buy. The screen and compact dimensions on the 2017 MacBook are the same as the 2016 edition. But if you're weighing up the actual differences between the two MacBooks, we've gone into greater detail further down this page when we discuss each model. The main improvement though with the latest versions are the inclusion of the 7th-gen Kaby Lake processors in either i5 or i7 configurations. 2015 MacBook owners are the most likely to notice and appreciate the improvements really. Stock of the 2016 version is increasingly difficult to find nowadays too.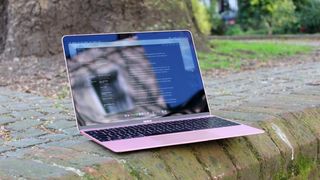 The best cheap Macbook (2016) sale prices
If you decide that Apple's mini marvel is for you, you're getting one of the best Macbooks Apple's ever made. With faster internals than the outdated 2015 model , it's capable of zipping through lesser-demanding tasks without complaining and leaves you with more confidence to get the job done. Plus, well, look at it.
MacBook Air sales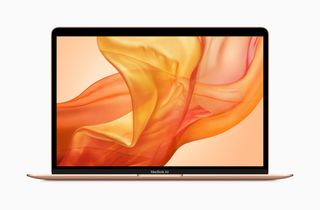 The MacBook Air 2018 now includes the excellent Retina screen display from the far more expensive MacBook Pro models is. The bezels is 50% thinner than the previous generation of MacBook Air. The keyboard is four times as stable as before and the Force Touch trackpad is 20% bigger than before too, which is great for multi-touch interactions. Audio hasn't been overlooked as thr speakers are now 25% louder and a new mic array means asking Siri for assistance is easier. Touch Id has finally come to the Air series too meaning you can login or verify purchases via a simple touch.
You now get two Thunderbolt ports, but legacy options have been removed, so you may want to consider our guides for the best USB-C adapters or the best USB-C hubs. Inside the gorgeous chassis, you get an upgraded 8th-gen dual-core processor, Intel UHD graphics and the SSDs now run 60% faster and support larger sizes than the 2017 line. We didn't expect the new MacBook Air's form factor to improve given it was already pleasingly discrete but it's now 10% smaller and a quarter of a pound lighter. The 2018 MacBook Air prices start higher than ones for the 2017 edition did, but we'll compare the latest deals for you below thanks to our engaged price comparison technology. Prices for the new MacBook Air 2018 start at $1199 / £1199 / AU$1849 for the entry level versions. So anything under that is a bonus for the newest member of the MacBook Air family.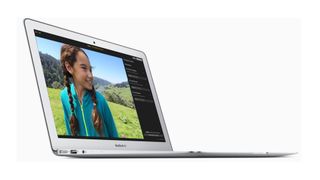 The cheapest MacBook Air (2017) sale prices
The older MacBook Air is considerably cheaper than the new one.
We have to admit, we thought Apple was done with the MacBook Air line after the Pro lineup became just as compact and almost as light. In 2017, Apple gave the 13-inch MacBook Air its first update since 2015. This meant you could get a much healthier 8GB of RAM instead of 4GB along with a processor upgrade to 1.8GHz (over 1.6GHz) making it much better at multi-tasking. Stock of this older MacBook Air will gradually run out at retailers as the 2018 model above phases it out, but while new stock is still available, you'll generally find it to be much cheaper than the latest model.
MacBook Pro prices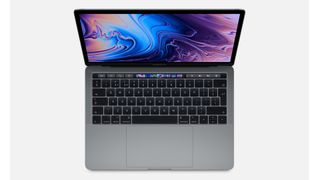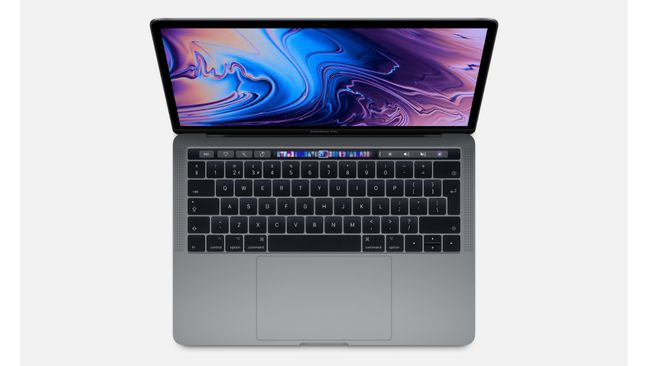 The 2018 version of the 13-inch Apple MacBook Pro is the best yet, comes with the Touch Bar as standard and features a range of improvements over the older models. The screen resolution may be the same with the excellent Retina display, but now there's True Tone technology inside that senses ambient lighting in the room or outdoors to adjust the brightness of the screen for the best possible picture. The keyboard is quieter and less 'clicky' too. You're getting the brand new 8th-gen Coffee Lake core processor and the quad-core CPUs have doubled the performance of the 2017 models. With more options for larger RAM too, options really open up for creatives and professionals with the MacBook Pro 2018.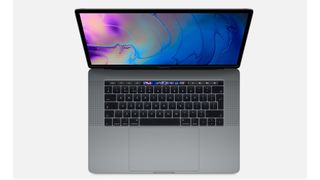 The larger 15-inch version of the 2018 MacBook Pro with the Touch Bar is generally going to cost a fair bit more than the 13-inch model, but that's not just because of the larger screen. This model packs a lot more under the hood too, with Apple providing multiple options with increased RAM, extra processing power with a six core Coffee Lake processor and larger SSD storage options. Naturally, you're getting the same improvements over the 2017 version too like the True Tone screen technology and quieter keyboard. This really is a powerhouse laptop for designers and industry creatives. If you don't need all the power though, we'd consider the cheaper 13-inch model, or maybe even one of the older versions found below if the prices are right for you.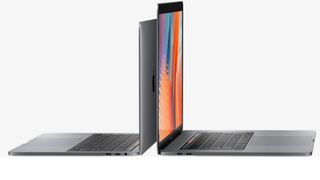 MacBook Pro (2017) 13 and 15-inch deals (with Touch Bar)
A touch above the rest?
The 2017 updates to the MacBook Pro lineup didn't change an awful lot in all honesty. The main improvement was the upgrade to Kaby Lake processors. The 7th-gen chips offer increased performance for 4K streaming and media editing. Eventually the 2016 versions will disappear at most retailers, but it's worth keeping an eye on the comparison chart below to see if there any are discounted models lingering around.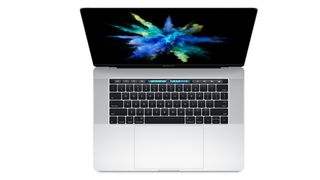 MacBook Pro (2016) 13 and 15-inch deals (with Touch Bar)
2016 was crying out for a refresh of the MacBook Pro and Apple once again came up with something rather special. In addition to the internal spec getting a long awaited upgrade and that gorgeous Retina display (available in 13-inch and 15-inch flavours), Apple introduced its long-rumoured Touch Bar technology. This mini-LED display replaces the Function keys and comes up with different touch display controls for loads of different programs. Uses so far include safari bookmarks, predictive text, search field, emojis, photo galleries or even more intensive actions like photo editing or mixing records. Simple, yet innovative.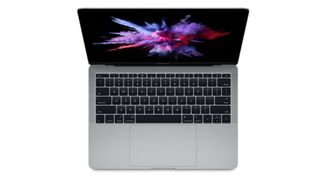 2017 MacBook Pro 13-inch deals (no Touch Bar)
The 2017 models are MacBook Air rivals with Pro spec
The older 13-inch MacBook Pros are amongst the cheaper options if you want to go Pro. These versions don't come with a Touch Bar which is something to factor in when comparing how much you'll save versus the added functionality the new tech could add to your work and computing life in general.
These are incredibly light for MacBook Pros, but they still pack an incredible punch with 2.3GHz and dual core processors ranging from i5 to i7. The trackpads are larger than older MacBook Pros too and you're getting fantastic Retina displays which still look stunning today.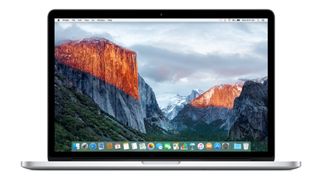 MacBook Pro 13-inch with Retina display (2015) deals
The older and smaller MacBook Pro is still a force of nature
The 2015 MacBook Pro didn't undergo a dramatic reimagining, but then there wasn't anything particularly wrong with it in the first place. Improvements to its performance meant it was better value than before, and the noticeably improved battery life makes it even more of a mobile workhorse.
MacBook Pro 15-inch with Retina display (2015) deals
Looking for something a bit bigger?
If you're looking for the larger-sized laptop experience in the MacBook range, the 2015 model 15-inch MacBook Pro with Retina display is still an impressive piece of kit and arguably worth a shout even today if you can get a good price. The Intel Core i7 2.5 GHz processor combined with 16GB of RAM will make light work of anything you can throw at it. 512GB of super fast flash storage, a new Force Touch trackpad and that incredible four million pixel-packing display make this a fantastic laptop.
Why not upgrade your storage with a cheap hard drive or SSD? See the best hard drive and SSD deals.