Free iPhone games have a reputation for being rubbish and full of IAP. But loads of superb free titles await your twitchy gaming thumbs – if you know where to look.
To save you the effort of finding them, we've compiled the best here, split into handy categories. So if you fancy an arcade blast, a brain-bending puzzle, or a thrilling racer – for free – read on.
Plus, check back weekly for our free iPhone game of the week, which you'll find below.
Free iPhone games of the week: Snow Kids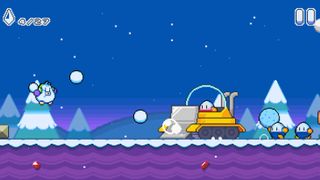 Snow Kids is a sweet-natured horizontally scrolling platform game, featuring what appears to be a chubby cartoon penguin with a penchant for lobbing snowballs. Should one hit a roaming bad guy, they're temporarily frozen, and can be booted along, potentially knocking out more enemies.
The game looks lovely – like a refined, modern take on a classic arcade game. In fact, that description is pretty apt for the game as a whole. And although it's perhaps a bit short and a little obvious (not least compared to the creator's own rather more ambitious Super Cat Tales titles), it's a breezy and fun outing, whether you're carefully timing leaps between whirling fireballs of death, or figuring out how to give a boss a serious pelting.