The HTC U11 had the hard task of attracting consumers' attention away from the vice-like grip on the phones market of the Samsung Galaxy S8 and iPhone 8. But HTC managed to create a device that rivalled those devices when they were released. A year has passed now and yet this phone is still a serious contender in the mobile phone market. 
The HTC U11 (don't forget that all important 'U') is another push from the manufacturer to keep its name as a front-running handset manufacturer. Edge Sense is the new element that the brand is pushing as its latest big innovation – as you'll see from our HTC U11 review below – it's certainly alternative. And the phone now comes with Alexa integration, too.
It's now a little cheaper, too, with monthly tariffs starting at less than £30. That's a lot cheaper than HTC U11 deals were when the handset went on sale. Check out our comparison chart to tailor-make your perfect HTC U11 deal.
See also: Samsung Galaxy S8 deals | iPhone 8 deals | Galaxy Note 8 deals | Best mobile phone deals | HTC U11 review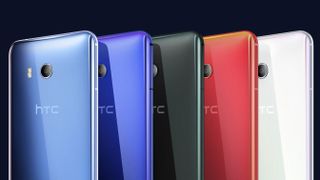 The HTC U11 is a hugely impressive phone – in a sea of wildly impressive phones. The core abilities will wow any HTC fan, but the squeezable sides haven't completely won us over.
Read our full HTC U11 review here.