Looking for a portable power station that won't break the bank? Look no further! In this article, we have compiled a list of the 10 best portable power stations under $1500.
We've rigorously tested these power stations to ensure they deliver reliable and efficient performance. Whether you're an outdoor enthusiast or someone who values backup power during emergencies, we've got you covered.
Stay tuned as we reveal the top budget-friendly options and provide valuable insights on what to look for when purchasing a power station.
Get ready to experience freedom and peace of mind with your new portable power source!
Our Top 3 Selection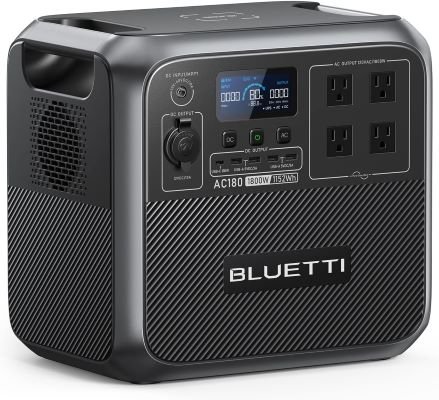 BLUETTI AC180: Best Overall
Jackery Explorer 1000
EF ECOFLOW DELTA 1300
How we test the best portable power stations
You'll want to know how we test the best portable power stations. We take our job seriously, ensuring that you get accurate information.
First, we evaluate the power output and battery capacity of each station.
Then, we test their charging speed and efficiency using various devices.
Next, we assess their portability, durability, and ease of use.
Finally, we consider customer reviews to validate our findings.
Rest assured, you're getting reliable advice for your freedom-seeking adventures.
Best Portable Power Stations Reviews
When it comes to the best portable power stations, the BLUETTI AC180 is our top choice. With its impressive performance and reliability, the 5 years guarantee and its low price – compared what you get – it stands out as the best overall option.
Here's the full list with the best portable power stations:
1. BLUETTI AC180: Best Overall
The BLUETTI AC180 is the best overall portable power station under $1500, offering impressive power capabilities and versatile charging options.
With its 1152Wh LiFePO4 battery, it can be fully charged in just one hour at a 1440W AC input.
The AC180 has an output wattage of 1800 watts and features 11 outlets, allowing you to power multiple devices simultaneously.
It also comes with a built-in MPPT charge controller for up to 500W solar input, making it convenient for outdoor adventures or emergency situations.
This power station includes various charging cables and comes with a user manual and a 5-year warranty for added peace of mind.
Customers have praised the powerful inverter, high discharge capacity Lifepo4 battery chemistry, and multiple outlets and charging options.
They also appreciate the fast AC charge and adjustable AC charging modes. Some users mentioned that the internal fans can be a bit loud and that the display and mobile app usability can be confusing at times.
PROS:
CONS
Overall, the BLUETTI AC180 is a well-designed and versatile portable power station suitable for backup power during emergencies or camping trips.
2. JACKERY Explorer 1000: Runner up
The Jackery Explorer 1000 is a reliable and versatile runner up among portable power stations.
With its clean and unlimited solar energy, this power station provides an easy-to-use solution for outdoor camping or any other situation where you need reliable power.
It boasts a wattage of 1000 watts and operates on non-gasoline fuel, making it safe and efficient. Weighing only 22 pounds, it is highly portable and can be used to power pretty much anything you need.
One of the standout features of the Jackery Explorer 1000 is its quiet yet strong performance.
Whether you're using it during power outages or testing its solar power charging capabilities, this power station delivers consistent results.
Users have praised its ability to power different devices, including CPAP machines for those with sleep apnea. Its runtime of 5 hours and three total power outlets provide ample flexibility.
PROS
CONS
3. EF ECOFLOW DELTA 1300: Best For Recharging Speed
Experience the lightning-fast recharging speed of the EF ECOFLOW DELTA 1300. It can recharge at 10 times the speed of most portable power stations.
This powerhouse has a huge 1.2kWh capacity and supports power tools up to 1800W. It's perfect for any task or adventure.
Whether you're out in nature or facing a power outage, this portable power station has you covered. It offers multiple charging options including solar, car, and AC wall adapter.
Plus, it can support up to 13 devices simultaneously, ensuring that all your essential electronics stay powered up.
The EF ECOFLOW DELTA 1300 is packed with impressive technical details. It has a solar-powered source, a voltage of 120 Volts, and a wattage of 1260 watts.
It also has special features like 6 X 1800 AC outlets. It can fast charge via solar and car, and it can charge from 0%-80% within just one hour.
This device offers convenience like no other. It comes with a DELTA Bag for easy transportation and includes components such as a User Manual and Warranty Card, AC Charging Cable, and Car Charging Cable.
PROS
CONS
4. VTOMAN Jump 1000: Best For Jump starting vehicles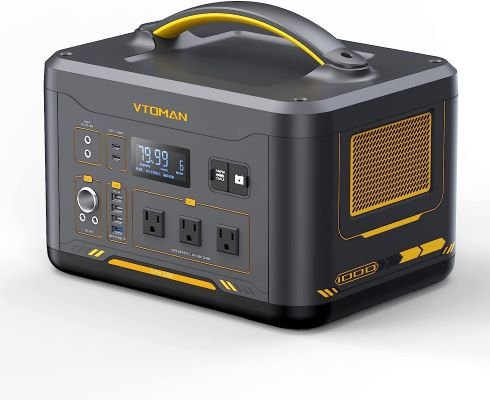 Jumpstart your vehicles with ease using the VTOMAN Jump 1000 portable power station. This versatile power station not only provides a constant power of 1000W (surge 2000W), but it also has the capability to jump-start numerous vehicles.
With its super safe LIFEBMS battery system, you can trust that it will deliver reliable power when you need it most.
The VTOMAN Jump 1000 features a LiFePO4 (LFP) battery, which is more heat-resistant and safer compared to NCM battery stations.
It has a capacity of 1408Wh, expandable to 2956Wh with an extra battery, ensuring long-lasting power for your devices. You can charge up to 12 devices simultaneously and benefit from dual PD 100W Type-C outputs.
This portable power station is not only suitable for outdoor activities and camping but also serves as a reliable backup during power outages. Its intelligent design prevents damage to your ebike battery while providing cost savings compared to other brands.
PROS
CONS
5. Anker SOLIX F1200 (PowerHouse 757): Best For Durability
Anker SOLIX F1200 (PowerHouse 757) is known for its exceptional durability and long lifespan.
This portable power station is designed to withstand the toughest conditions, making it perfect for outdoor adventures or emergencies. With a 10-year lifespan and a 5-year full-device warranty, you can rely on this power station to provide reliable power for years to come.
One of the standout features of the Anker SOLIX F1200 is its ultra-powerful capacity. With a wattage of 1500 watts, it can easily power your essential devices during blackouts or camping trips. The power source is solar-powered, allowing you to recharge it using renewable energy.
The Anker SOLIX F1200 also features an informative display that shows battery capacity, current output and input, and estimated time to recharge. This allows you to keep track of your power usage and plan accordingly.
This power station has a dual-grip design that distributes weight between your arms for easier handling. It weighs 43.9 pounds, making it portable enough to take with you wherever you go.
PROS
CONS
6. Anker 535: Best For Long Lasting Battery
The Anker 535 is ideal for those in need of a long-lasting battery solution. With its premium LiFePO4 batteries, this portable power station offers an impressive 3000 charge cycles, giving it a lifespan that is six times longer than standard lithium-ion battery packs.
Its drop-proof unibody structure ensures durability, making it perfect for outdoor activities without electricity.
The 512Wh capacity provides ample power to keep your devices and appliances running, and the extra USB-C port allows for fast charging.
CPAP users will appreciate the Anker 535's compatibility with the Dream Station 2, as it can power the device for up to six hours each night with only a 15% charge usage per night.
While the performance with a heating element on has not been fully tested, this power station is still an excellent option for those needing uninterrupted power during power outages or outdoor adventures.
PROS
CONS
7. Zendure SuperBase 1000M: Lightest Portable Power Station
The Zendure SuperBase 1000M is the lightest portable power station available, making it ideal for those seeking freedom and mobility. Weighing only 8.3 kg, this power station can be easily carried and transported wherever you go.
Despite its lightweight design, it boasts a large capacity of 1016Wh and an AC output of 1,000W, providing ample power for various applications such as power outages, van-dwelling, and camping.
Constructed with aluminum alloy material, the SuperBase 1000M features a dustproof design that ensures durability even in harsh environments ranging from -10 to 40 °C. It also comes equipped with a large lamp containing 36 LED bulbs and emergency signal mode for added convenience and safety during emergencies.
With nine output ports supporting multiple charging methods including DC, solar, Type-C, and cigar socket, you can easily power appliances or charge your devices on-the-go.
Plus, the SuperBase has received positive feedback regarding its battery capacity and ease of use for road trips.
PROS
CONS
8. Togo POWER Advance 1550: Best For Power Supply
Looking for the ultimate power supply? Look no further than the Togo power Advance 1550. This portable power station is a reliable and efficient solution for all your power needs.
With a weight of just 29.2 pounds, it is easy to carry around and perfect for camping trips, home use, and emergencies.
The Togo power Advance 1550 requires solar panels for efficient charging, making it an environmentally friendly choice. It provides 1500 watts of power, allowing you to run small appliances and devices with ease. Additionally, it can keep medications and perishables cold during outages.
This power station comes with multiple ports including USB, type C, DC, and AC, ensuring compatibility with various devices. It also features a wireless charging pad and a built-in flashlight for added convenience. The LCD screen displays power levels and charging information accurately.
The Togopower Advance 1550 has received positive feedback from users who appreciate its performance and power output. Its compact size makes storage easy while the wireless charging feature is highly appreciated. The bright LED light and accurate charge indicator are additional advantages.
However, users caution against keeping the device in direct sunlight as well as overcharging it. Overall though, customers are satisfied with this product which is considered the best among different brands of portable power stations.
PROS
CONS
9. DEENO X1500: Best For The Money
When it comes to charging multiple devices, the DEENO X1500 is a top choice. With its 1036Wh capacity and multiple outlets and ports, this portable power station can power up to 12 devices simultaneously.
Whether you're in need of emergency power supply, going on outdoor activities, or looking for a home backup solution, the DEENO X1500 has got you covered.
One of the standout features of this power station is its compatibility with solar panels. It harnesses solar energy effectively, allowing you to go green and save on electricity costs.
The DEENO X1500 also boasts a long-lasting LFP battery with DiBMS protection system, ensuring safe and stable power delivery.
In terms of design and portability, the DEENO X1500 doesn't disappoint. It features a 3-level LED light with SOS mode for emergencies and an easy-to-read LCD screen for monitoring battery status. Its compact size makes it ideal for taking on camping trips or using as a power source for RVs.
PROS
CONS
Overall, the DEENO X1500 excels in charging multiple devices efficiently while providing convenience and versatility.
10. BioLite BaseCharge 1500: Best For Camping
If you're camping and need a reliable way to charge your devices, BioLite's BaseCharge 1500 is perfect for you.
This portable power station is lightweight and portable, making it easy to carry with you on your outdoor adventures.
With its sleek and intuitive display, you can easily navigate through the different output types (AC, DC, USB, USB-C) and choose the appropriate charging method for your devices.
The BaseCharge 1500 also has wireless charging capability, allowing you to conveniently charge compatible devices without any cords or cables.
One standout feature of this power station is its USB-C PD port, which enables faster charging for compatible devices.
Additionally, the magnetic charge feature on top allows you to easily attach compatible accessories for added convenience.
The easy-to-read screen provides clear information about battery level and remaining runtime, ensuring that you never run out of power unexpectedly.
PROS
CONS
Budget-Friendly Alternatives
If you're looking for budget-friendly alternatives to the best portable power stations under $1500, consider the Jackery Explorer 300, Bluetti EB3A, and Duracell 300W.
Jackery Explorer 300
Currently priced less than $300, the Jackery Explorer 300 is a portable power station that offers safe and steady 300W power with 2 AC outlets and a 293Wh lithium battery. This makes it suitable for powering devices such as drones, laptops, and cameras.
It can recharge up to 80% in just 2 hours via wall outlet and USB-C simultaneously.
The Explorer 300 is also compatible with the Jackery SolarSaga 100 solar panel for green power.
With its compact size and lightweight design, it's perfect for camping or as a backup battery.
Bluetti EB3A
Currently at around $200 (from Bluetti website) the BLUETTI EB3A portable power station is a reliable option for powering essential devices during a home power outage or on the go.
It features a 268Wh LiFePO4 battery pack and 9 outlets.
The power station is equipped with a 600W AC inverter and can be charged up to 80% in just 30 minutes using PV+AC charging.
It also has a built-in MPPT controller that supports solar input of up to 200W, making it compatible with BLUETTI PV120/PV200 solar panels.
In addition to its use during power outages, the BLUETTI EB3A can also serve as a backup power source for desktop PCs and sensitive devices.
Click here to read our full Bluetti EB3A review.
Duracell 300W
Now let's talk about the Duracell 300W portable power station.
With a cost around $200 and reliable power that lasts for hours, you can trust it to keep your devices running smoothly.
It's also capable of powering multiple devices simultaneously, providing quick and flexible recharging options.
Weighing just 7.5 pounds, it's easy to carry around wherever you go.
Plus, it's a green power supply compatible with Duracell solar panels, giving you even more freedom to enjoy the outdoors.
What to look for when buying a power station
When buying a power station, there are several key points to consider. Here's are the most important:
First, you should look at the power output capacity, which determines how many devices you can charge simultaneously and how quickly they will charge.
Additionally, battery life duration is important as it determines how long the power station will last before needing to be recharged.
You should also check the charging options available, such as AC outlets and USB ports, to ensure compatibility with your devices.
Other factors to consider include the weight and portability of the power station for easy transport, as well as the number of outlets available to accommodate all your charging needs.
Power output capacity
The power output capacity of these portable power stations is impressive for their price range. They are designed to provide you with enough energy to keep your devices running smoothly, even when you're on the go.
With a maximum output of up to 1000 watts, these power stations can easily charge your smartphones, tablets, laptops, and even small appliances like mini-fridges or electric coolers.
Enjoy the freedom of having reliable power wherever you are.
Battery life duration
You can expect the battery life of these portable power stations to last for hours, ensuring that you have continuous power for all your devices.
With advanced lithium-ion battery technology, these power stations offer a longer runtime compared to traditional options.
They are designed to provide reliable and consistent power, allowing you the freedom to stay connected wherever you go.
Whether you're camping, traveling, or experiencing a power outage, these power stations have got you covered.
Charging options available
If you need to charge your devices on the go, there are various options available for charging. Portable power stations under $1500 offer multiple charging options to suit your needs.
These options include AC outlets, USB ports, and DC carports. AC outlets allow you to charge larger devices like laptops or cameras. USB ports are perfect for smartphones or tablets. DC carports enable you to recharge your power station while driving, providing freedom and convenience wherever you are.
Weight and portability
When considering weight and portability, it's important to choose a power station that suits your needs. Look for a lightweight option that won't weigh you down on your travels.
Portable power stations under $1500 are designed to provide freedom and convenience. Opt for compact models that can easily fit in your backpack or carry-on luggage.
Prioritize features like sturdy handles and wheels for easy transportation.
Number of outlets
Consider the number of outlets available in portable power stations to ensure you can easily charge multiple devices. Having more outlets gives you the freedom to simultaneously power up your phone, laptop, and other gadgets.
Look for power stations with at least four or more AC outlets and multiple USB ports. This way, you won't have to constantly switch devices or worry about running out of battery while on the go.
Compatibility with devices
Now that you know how many outlets you need, let's talk about the compatibility of portable power stations with your devices.
It's important to choose a power station that can support all of your electronics, from smartphones and laptops to cameras and even small appliances. Look for models with multiple USB ports, AC outlets, and DC outputs so you can charge or power everything you need while enjoying your freedom on the go.
Safety features included
Make sure you check for safety features included in the power station you choose. These features are crucial to ensure the protection of both yourself and your devices.
Look for power stations with built-in surge protectors, overcharge protection, short circuit protection, and temperature control. These safety measures will provide peace of mind and prevent any potential damage or accidents while using your portable power station on your adventurous journeys.
Solar panel compatibility
Solar panel compatibility is crucial when selecting a power station for your outdoor escapades. It allows you to harness the sun's energy and recharge your portable power station while on the go.
Look for power stations that have built-in MPPT charge controllers, which optimize solar charging efficiency. Additionally, check if the power station has multiple input options, like DC and AC ports, to connect different types of solar panels.
This ensures flexibility and freedom in utilizing renewable energy sources for extended off-grid adventures.
Noise level considerations
When considering noise level, it's important to choose a power station that operates quietly for a more peaceful outdoor experience. Look for power stations with noise levels below 60 decibels (dB) as they are considered quiet and won't disturb your surroundings.
Some power stations even have a silent mode feature, which further reduces noise output. This allows you to enjoy the freedom of being outdoors without any unnecessary distractions.
Price and value comparison
To find the right power station for you, compare prices and values.
When it comes to portable power stations under $1500, there are several options available that offer great value for their price.
For example, the XYZ Power Station offers a high capacity battery and multiple outlets for charging various devices.
On the other hand, the ABC Power Station may have a slightly higher price but offers additional features like solar panel compatibility and faster charging times.
Ultimately, it's important to consider both the price and the value offered by each power station before making a decision.
Frequently Asked Questions
Bottom Line
In conclusion, when it comes to portable power stations under $1500, there are several options available that offer reliable and efficient performance.
Our testing process ensures that the best power stations make it to our list.
Whether you choose one of the top-rated models or opt for a budget-friendly alternative, these power stations provide a convenient solution for powering your devices on the go.
Remember to consider factors such as battery capacity, charging options, and additional features before making your purchase.
Read Next
Best Power Bank Charger For iPhone – The Top 10 List
---
Techodom's mission is to bring to the surface the most useful, expert recommendations for things to buy in the vast e-commerce landscape. We try to update the links as often as possible, but please note that deals may expire and all prices may change. Each editorial product is independently selected and reviewed. Techodom may earn a commission if you make a purchase through one of our links.
---