Quick Review
Arcshell's Two-Way Radios is perhaps the best value-for-money option that is available right now. It has a long-lasting battery, a super-clear voice communication, a solid and sturdy built and can reach up to 5 miles coverage. Perfect for outdoor activities.
Product In-Stock: https://schema.org/OutOfStock
---
Welcome to our Arcshell Rechargeable Long Range Two-Way Radios Review. In this review, we present to you the pros and cons of this product as well as its most important functions.
Arcshell Rechargeable Long Range Two-Way Radios Review
If you're planning to spend some time in the backcountry, either camping, hiking or simply enjoying the outdoors, you'll still need to communicate and cell phones could be an unreliable option. It could be difficult, in fact, to find service in remote locations.
A good option to communicate effectively with the rest of the group, and also with the outside world – when you find yourself a little out of the way, are old-fashioned two-way radios. They are efficient but also affordable (satellite phones could do the work too, but they are expensive and you'll need to pay an equally expensive monthly fee), and there are hundreds of models on the market to choose from.
Read Also: Yamay Smartwatch Review
For this article, we chose the Arcshell Rechargeable Long-Range Two-way radios, a model of economical radios that can allow you to set up even a large communication group without spending too much money.
Specifications
Model: Arcshell Ar-5
Weight: 6.3 oz
Dimensions: 4.53 x 2.36 x 1.3 inches
Single Band
Single-frequency
Frequency Range: UHF 400-470 MHz
Frequency Stability: +/- 2.5 ppm
CHannel Capacity: 16 channels
Channel Spacing: 25 kHz
Battery Type: 1500 mAh Rechargeable Li-ion Battery
Operate Voltage: 3.7 V
Antenna Impedance: 50 ohms
Antenna Lenght: 4.3 inches
Plug: 110V – 240V AC Wall-wart Type A
Arcshell Two-Way Radios Pros & Cons
PROS
Affordable price
Sturdy built
Pre-programmed channels, with the possibility to set custom ones
Voice activation
Clear sound
CONS
3 watts maximum transmitting power: it reduces the radio's range.
Overlong charging time: 2.5 – 3 hours.
Arcshell Two-Way Radios Features
Design
The Arcshell radios feature a small and convenient size. With the 2.36 inches in width and 1.3 inches thickness, they can easily fit on your hand. They feel very sturdy and solid built, despite they weigh only 6.3 oz. The case is also water-resistant so that you can use them under any weather conditions.
Functions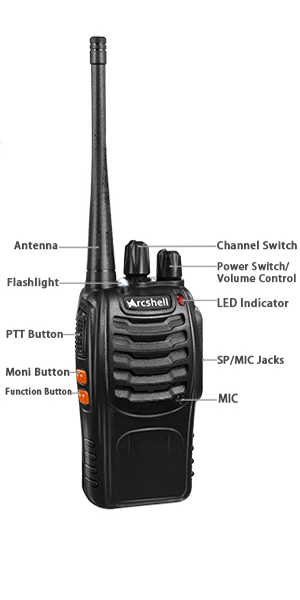 Led Indicator: it lights continuously red when transmitting, and it lights green when in reception condition.
Channel Switch: the knob between the antenna and power switch/volume control. You can rotate it to select the channel.
Power Switch and volume control: turn it clockwise to switch ON and counterclockwise to switch the device OFF. Rotate the knob to adjust the volume.
Push-to-talk button: the big button above the orange ones. Press it to speak into the microphone.
Monitor Button (orange): press and hold to hear the background noise.
Function Key (also orange): press it to activate the torch function.
Speaker and Microphone Jacks are placed on the opposite side of the radio.
Frequencies
Arcshell Rechargeable Long-Range Two-way Radios' frequency range is UHF 400-470 MHz. UHF operation ensures less chance of interference between wireless systems: UHF waves have the ability to penetrate wood, steel, and concrete, giving you the best range and performance even in urban areas.
The radios are provided with 16 pre-programmed channels (each radio will have the same frequency on each of the 16 channels); you can select the channel through a mechanical rotary switch placed on top of the radio, between the antenna and the volume controller. When you turn the knob to change the channel, a synthesized voice will tell the channel number. You can also customize the channels choosing the frequency you want within the range.
Range
Arcshell Radios' range of coverage depends on the terrain and the area where you are using your walkie-talkie. It can reach up to 5 miles in an area with obstruction, but the range would be shorter in congested areas. Since UHF can penetrate the most common materials used in buildings, the radios work great in commercial construction or around the house.
Sound quality
Each radio comes with a single earbud-style earpiece with included foam piece and a built-in microphone. The earpiece plug is a K-type of 3.5mm and 2.5 mm plug. A microphone (activate by a PTT, push-to-talk, button) is also built in the radio's body, which is also provided with built-in speakers, so the radio can basically work with or without the attached earpiece. When you plug in the earpiece, the speakers would automatically go silent.
The system provides a loud and clear sound with an earpiece attached and also while using the built-in microphone and speaker.
Battery
Each radio comes with a 1500 mAh rechargeable Li-ion battery and a charging dock. The charger features an AC wall-wart Type A plug and works in 110V – 240V. You can charge the battery alone, or charge the radio with the battery installed. The battery life is determined by transmitting time: it can last from 8 hours up to 96 hours on a single charge. It takes about 2.5 hours to fully charge, and this is probably the main downside of these radios – 2.5 hours is a long time: you probably want to have a spare, fully charged, radio with you so you can use it if yours dies.
Accessories
The Arcshell Rechargeable radios will come in a box (6.9 x 9.3 x 4.5 inches) that contains 2 Radios provided of all the accessories you'll need to properly use them. In particular, the package includes:
2x Arcshell Radios
2x 1500 mAh Li-ion batteries
2x SMA-female antennas
2x Chargers
2x Belt Clips (they require a screwdriver to install which is not included)
2x Hand straps
2x Earphones
2x User's Manuals
Frequently Asked Questions
Do the earpieces have built-in microphones?
Yes, they have a push to talk button.
How far is the range Coverage?
Up to 5 miles if no large obstacles are in the way.
Is the Frequency International? Can it work in another country?
They can work in other countries. You will just need to change the frequencies. Here are the default frequencies for all 16 channels.
1. 462.125 69.3
2. 462.225
3. 462.325
4. 462.425 103.5
5. 462.525 114.8
6. 462.625 127.3
7. 462.725 136.5
8. 462.825 162.2
9. 462.925 D025N
10. 463.025 D051N
11. 463.125 D125N
12. 463.225 D155I
13. 463.525 D465I
14. 450.225 D023N
15. 460.325
16. 469.95 203.5
Are the radios waterproof
Can the antennas be replaced for longer ones for greater coverage?
Conclusion
Arcshell Rechargeable Long-Range Two-way radios are a good quality product that comes for a really low price. They do an excellent job, especially considering how cheap they are, and users are appreciating their features claiming that these radios are a great value for money. They are very versatile: you could give them to your kids as a gift, but they are also suitable for security teams, construction teams, kitchen and hotel staff, event communications, road trips while driving in different cars, camping, hunting, and more… They can work worldwide since they work on radio waves, and you can add as many radios as you want to the group.
Related Products
More Product Reviews
Welcome to our Creative SXFI Air Headphones Review. In today's review we are talking about Creative's SXFI Air Headphones that are making waves among the gaming amd movie-fans industries. Creative has long been known…