TL;DR: Going through the article below you will find the Top 10 Best mini projectors for iPhone that cost under $100. That is projectors that connect to iPhone devices (smartphones, tablets).
If you are in hurry and you want to skip things, note that the best mini projector for iPhone is CiBest Video Projector. With a total score of 4.4 out of 5 on Amazon from over 2K reviews, 1080p, 4500 Lux LED and Stereo Speakers this beast gives great value to your money.
If you want a second option to check, the Elephas Mini Projector is a great option as well.
Your phone is the keeper of your life. Within its rectangular confines are important documents and emails, all of your favorite songs, and, most importantly, the moments you capture through photos and videos that document your day to day.
Sharing your memories and important moments with friends or even just watching a movie together off of your phone can be tricky as gathering them all around your phone is not exactly comfortable or entirely feasible.
A projector for iPhone smartphones is a quick fix for this issue, but often, they can be quite large and bulky and difficult to take with you. Not only this, but projectors tend to cost a pretty penny in order to get a high-quality one.
A mini projector is a solution to this issue that allows you to carry a projector with you anywhere you go that is ready to use at a moment's notice. With a small projector for iPhone, you can show off all of your favorite files in your phone without breaking the bank to do it.
There are many iPhone projectors on the market, so we've taken the liberty of researching the best mini projector for iPhone that won't break the bank.
Best Mini Projectors for iPhone
CiBest Video Projector – Best Overall
Where most iPhone movie projectors will get the job done and show the image on the projection screen, few of them do so with such crystal clear clarity as the CiBest Video Projector manages to.
This mini projector shines 80 percent brighter than similar projectors and features support for vibrant and clear 1080p visuals. You can project onto various surfaces at different distances in order to set the size of the video to whatever you like.
Because of its clarity and brightness, it can be enjoyed both outdoors and indoors without being difficult to see. Its size of 7.87 inches by 5.5 inches by 2.7 inches works with its weight of only 2.25 pounds to make it a great portable projector for iPhone.
---
TOPVISION Projector
Easily project anything that is currently on your smartphone's screen onto any wall or surface with the TOPVISION Projector. It connects easily to your laptop or iPhone using a USB cord, making it more convenient than the products that require an HDMI port.
This unit has been upgraded past the competition with 3600 lux brightness, making it brighter than the average projector. Because of the environmentally friendly lamp, the life of it is equivalent to more than 50,000 hours, letting you enjoy all of the benefits of a home theater by way of portable projectors for as long as 30 years without the need to change the bulb. Small and compact, it is easy to tote around with you wherever you go.
---
ELEPHAS 2020 Mini Projector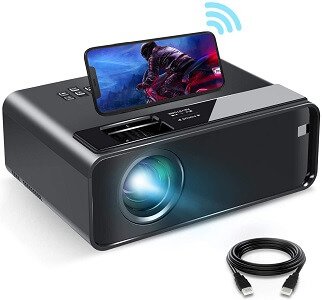 Enjoy a more immersive experience watching movies with the family when you choose the ELEPHAS 2020 Mini Projector. This projector is unique in its wireless support that allows you to connect it to the iPhone through the connection of your WIFI, though you can also choose to connect it using a simple cable line.
It runs at full HD 1080p performance that can shine onto a surface to create a "screen" as large as 200 inches, while still being small enough that you can take it with you anywhere. Its small, portable size does not diminish its quality, and it will surprise you with the immersive, loud audio that comes out of its built-in speakers.
Elephas 2020 Edition is one of the best mini projectors for iPhone your money can buy.
---
Crosstour Mini Wifi Projector
Enjoy all of the cinematic excellence that you've come to expect from using a digital projector with your iPhone instead using the Crosstour Mini Wifi Projector.
This projector features identical screen mirroring that leaves no detail forgotten, allowing you to connect it to your iPhone and project whatever is on the screen onto any surface or wall.
It features a stunning resolution of 1080p that runs at 3500 lumens brightness to truly show every detail. Because of its ability to connect to the phone using Wifi or a simple USB cord, you won't have to worry about fumbling around with HDMI cords or having to get together any additional equipment in order to use this portable projector.
---
Crenova Mini Projector
Enjoy a home cinema experience that rivals that of a movie theater with the help of the Crenova Mini Projector. This mini projector features a futuristic design that will give any space a more professional appearance when you use it to play any of your favorite videos.
You can connect it to the iPhone with ease either through a USB-C cord or an HDMI cable, whichever one is most convenient for you.
Regardless, you can enjoy a 1080p full HD viewing experience with crystal clear visuals rivaled only by its high quality, immersive sound.
This is due to the built-in speaker of this portable projector that provides you with brighter, clearer sound without the need to connect an additional speaker.
---
PVO Portable Projector – Smallest iPhone Projector
With its modern appearance, simple boxy design and compact nature, the PVO Portable Projector is one of the best mini projectors for iPhone that will allow you to load up and watch a movie with friends and family no matter where you are.
The mini projector is able to project an image as large as 150 inches, giving you a large screen with which to enjoy every detail. It is capable of delivering 1080p full HD video in order to improve upon the color saturation and brightness that some other similar projectors tend to lack.
Because of its tiny size, it can be carried anywhere just by putting it in your pocket, making it truly portable in nature.
---
VicTsing Wifi Projector
Share your favorite videos with the whole family with the help of this VicTsing Wifi Projector. It is designed to be as effortless as possible to use, thanks to its wireless connection that can connect it to your iPhone over Wifi. This way, you don't have to worry about fighting with HDMI or even USB cords in order to get it connected.
It runs at a brightness of 4200 lux, which is up to 60 percent brighter than some similar portable projectors.
Because of the built-in Bluetooth chip, you can even connect a Bluetooth speaker to provide immersive sound to a large group or just a pair of Bluetooth speakers to enjoy the video on your own.
---
WiMiUS Mini Projector
With its convenient wireless connection, the WiMiUS Mini Projector is a simple to set up projector for iPhone that you can begin using straight away.
It allows you to effortlessly and easily share any video from the iPhone with screen mirroring that displays whatever file you load up down to the finest detail due to its 1080p full HD capabilities.
The video projector allows you to project your media onto a space as large as 200 inches, making it ideal for large groups of people to all watch together.
Because of its size and shape, this projector is easily portable, letting you carry it anywhere you want to gather for a movie both in indoor and outdoor spaces.
---
APEMAN Portable LCD Video Projector
With the APEMAN Portable LCD Video Projector, you and your family can enjoy 1080p full HD videos projected onto any convenient surface, wall or ceiling.
The projector allows you to control the size, aspect ratio and resolution of the projected image with the help of the remote control that it comes equipped with, letting you achieve a perfectly square image at any angle.
It features an efficient cooling system that will prevent it from overheating, no matter how long you plan to use it.
Measuring only 7.8 inches by 7.5 inches by 6 inches in size, this projector for iPhone is remarkably easy to take with you, its portable nature affording you access to a movie night anytime, anywhere.
---
Weton 4200Lux Portable Mini Video Projector
Modern in its look, feel and functionality, the Weton 4200Lux Portable Mini Video Projector is a premium mini projector for iPhones that provides you with a moviegoing experience outdoors and indoors alike.
Its bright 1080p full HD display allows for crystal clear video to be projected onto any surface to cover a space as large as 200 inches, making it ideal for gatherings and for watching solo all the same.
With the built-in speaker, you won't have to worry about connecting any additional equipment to the mini projector; instead, it provides you with immersive loud, clear sound that will enhance the movie-watching experience. Its weight of only three pounds and its compact size make it easily portable.
---
Conclusion
With so many types of mini projectors to use with your iPhone, finding the best mini projector for iPhone for your unique needs that remains within your price range can be tough. In this article, we have put together a list of the 10 best mini projectors for iPhone under $100 to make the shopping process simpler for you.
After reading through this article, you should be able to get a good idea about which of the iPhone compatible projectors will work best for you so you can purchase it straight away. Help your friends and family find the best mini projectors for iPhone by sharing this article with them.
---
Techodom's mission is to bring to the surface the most useful, expert recommendations for things to buy in the vast e-commerce landscape. We try to update the links as often as possible, but please note that deals may expire and all prices may change. Each editorial product is independently selected and reviewed. Techodom may earn a commission if you make a purchase through one of our links.
---