What you don't know about your apple laptop battery!
Having a good battery on your laptop is essential; in fact, it is one of the features anyone should check out before buying a PC. Apple laptops have been known for their Good battery life spans over time. But as much we know on average, a MacBook air (sometimes macbook pro too) will last 12hours on a full charge without connection to the internet; But do you know they are still things you don't know about the apple laptop battery?
In this post, I will be sharing just two essential tips you don't know about your apple battery that will go a long way, increasing your battery life.
Tip 1: Battery Charge Cycles
All Apple laptops come with a charge cycle. The least is 500 charge count, and the max is 1000 count.
A​ cycle count​ means using all of your​ battery's​ power to zero and then fully recharging it to 100% for example, you charge to 100% that is one cycle count. And you drain the battery and restore, making it a two-cycle count.
On frequent occasions, every recharge does not equal a full cycle count because you might not drain your battery to 0 %. Let's take for instance, you recharged to 100%, and you used it to 50% and then recharged again, that's just a half-cycle count. When you reciprocate the first charge pattern by using your battery up to 50% again and you restore it again, then you only complete one charge cycle.
So, the more you drain your battery and recharge your battery, the more your cycle counts go down. According to "apple inc," after you have reached your 500/1000 cycle counts depending on your model, you are advised to replace the battery.
Check your battery cycle count.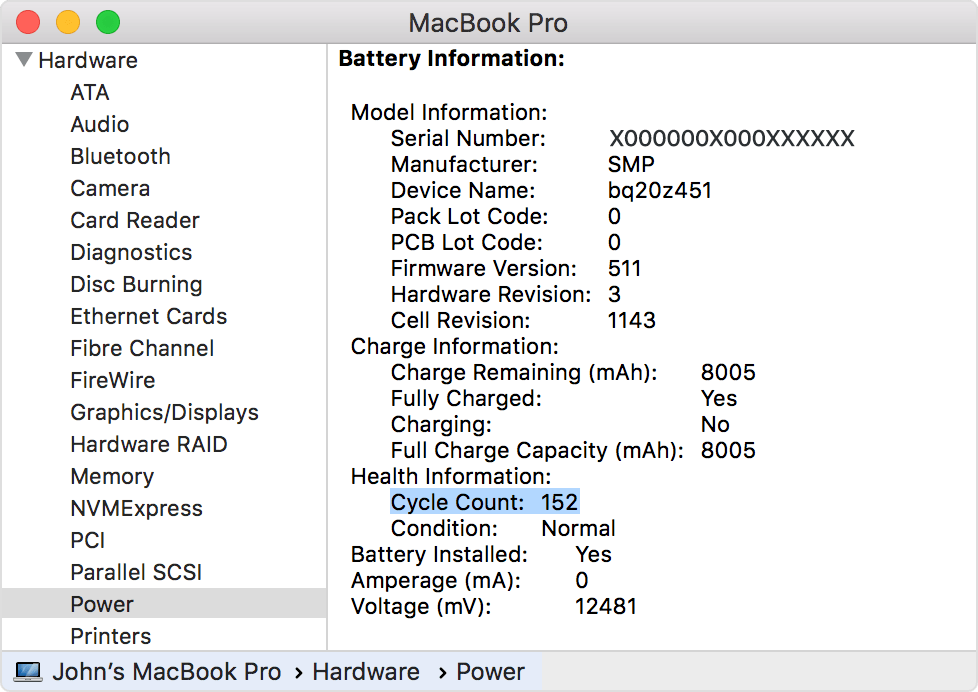 Then, you can​ check the condition of your MacBook's battery.
Standard:​ The battery is functioning normally.
Replace Soon:​ The battery is functioning normally but holds less charge than when it was new.
Replace Now:​ The battery is functioning normally but holds significantly less charge than when it was new.
Service Battery:​ The battery isn't functioning normally, and you may or may not notice a change in its behaviour or the amount of charge it holds.
Tip 2: How do I increase my battery life by reducing recharge time?
This topic has been contentious among apple users over time. I was also confused until I sent a message to apple support, and I got a positive response. The argument is "Should I plug my apple laptop into the power source for long? Does it reduce my battery life"?
When you plug your apple laptop into the power source, no matter how long, you are not using your battery; you are using the power source. According to apple, it is advisable to discharge your battery twice a month for long-lasting battery life.
It means plugging into the power source while using your apple laptop is very much recommended; with this, you are not using from your battery, and your battery cycle is not counting since the power comes from the AC plug.
So, I suggest you cultivate the habit of using your AC plug power source anytime you are working with your Apple laptop. Then you can discharge twice every month.
My calculation;​
Cycle count: 1000
Power supply: constant
2discharge and recharge monthly: 2cycle count
12months x 2 = 24cycle counts
1000/24 = 41years
That means you have 41years to use all your battery counts before replacing the battery. As we know, the power supply everywhere is not constant; so the 41years is just an assumption. With these few tips, you should know how long your battery will last depending on your recharge and discharge habits monthly.
---
Techodom's mission is to bring to the surface the most useful, expert recommendations for things to buy in the vast e-commerce landscape. We try to update the links as often as possible, but please note that deals may expire and all prices may change. Each editorial product is independently selected and reviewed. Techodom may earn a commission if you make a purchase through one of our links.
---