We all know how hard it is to find cool stuff to gif for a white elephant event. Do not fear though! Our shopping Junkies devoured the internet and found 11 Bizarre White Elephant Gifts Under $30 that will transform you into the king or queen of the game.
🤩 Get cashback when shopping from Amazon, Burger Kind & Netflix using this FREE application.
White elephant gifting gives people the chance to purchase some really strange, funny gifts with the ultimate goal of getting a few chuckles in during a holiday party. Check the White Elephant gift exchange rules here.
With a focus being on bizarre gifts instead of useful ones, this type of gift exchange encourages people to think of the weirdest, most random gifts they can for their recipient.
Oftentimes, when you do find a nice gift idea, the price is so high that you are put off from purchasing it, no matter how perfect it might be.
If you're stumped for ideas on what to get for your upcoming white elephant gift exchange, look no further than this article. We have compiled a list of 11 wonderfully strange best white elephant gift ideas to choose from without breaking the bank.
Check Also: 5 New Useful Gadgets You'll Fall in Love This Year
Best White Elephant Gifts Under $30
A funny gift that also manages to be practical, the World's Smallest Vacuum is sure to get a chuckle out of anyone who opens it. If the recipient is an office worker, they can use this tiny little vacuum to get their desk clean from crumbs and the like.
When they turn it on, they can spread the joy by making their coworkers laugh when they lay eyes on the vacuum for the first time. It can easily be kept charged by plugging it into a USB port or a charging adapter.
Check Price and Reviews on Amazon
---
With the Fred THE DAILY MOOD Desk Flipchart, the recipient can let the rest of the office know how they're feeling on any given day, giving them a clue on whether or they should engage with them.
This flipbook comes with 47 moods to flip through, each one with its own bold and vivid smiley face that reflects that mood.
On the flip side, there is a snarky definition waiting to be read, sample sentences to help define it, and interesting facts about the mood. The gift box it comes with makes it ready to gift straight away.
Check Price & Reviews on Amazon
---
Everyone likes to keep their toes snug on a chilly day, so this Pair of artistic socks will definitely serve a purpose while making them smile. The socks are one of a kind with their designs that take after famous art pieces, such as The Scream, Starry Night, and the Mona Lisa.
They are as comfortable as they are warm, fashioned out of 80 percent cotton, 15 percent acrylic, and five percent spandex to provide the perfect fit for almost any size of a foot.
Their thin nature makes them appropriate for wearing with dress shoes, allowing your coworkers to wear them to work for a little laugh.
Check Price & Reviews on Amazon
---
For the beard-growers in your office, the Peleg Design Mr. Razor is a funny, cute, and still useful gift. It features a man with a beret and a thick black mustache who can attach to the wall to keep their razor attached and ready to go.
It uses a suction cup to attach to the wall and to tiles and mirrors as well, helping to declutter showers and sink spaces at the same time.
It measures only 3.3 inches by 3.4 inches by 2.3 inches in order to take up as little space as possible and is compatible with any standard razor.
Check Price & Reviews on Amazon
---
Put a little joy into someone's day to day by gifting them the Wacky Waving Inflatable Tube Guy. This white elephant gift can sit on their desk at work and be turned on to cheer them up on a stressful day while also attracting the attention of their coworkers at the same time.
All they have to do is press the button to send the wacky waving inflatable arm-waving tube guy into motion for as long as they'd like. Its compact nature allows it to easily fit on any desk.
Check Price & Reviews on Amazon
---
Whenever a cat is finished getting pet by their owners, they always seem to turn, walk away and show them their butts. It's a trait that every cat lover knows well, and it has become something of a running joke among such people.
These Kikkerland Cat Butt Magnets will make an excellent gift for cat lovers in your office and is sure to make them laugh every time they put one on their refrigerator or smiling cabinet. There are six cats in this magnet pack, each of a different breed.
Check Price & Reviews on Amazon
---
If someone in your office loves goats or just loves to cause a little mischief, they'll love this Screaming Goat as their white elephant gift. This goat demands attention as it screams and bleats, and it will sound with the simple push of a button.
The goat sits on a tree stump that will balance well on any office desk and waits for you to wake it up so it can start yelling. It comes with a fun, 32-page illustrated pocket guide that will give some fun trivia and facts about the farm animal to further entertain.
Check Price & Reviews on Amazon
---
Everyone experiences a slow day at the office now and then. With The Farting Animals Coloring Book as a white elephant gift, you can help your coworkers pass the time, stave off boredom and get a few laughs in during the day.
This coloring book features pages upon pages of animals to color, each one with little fart clouds behind them.
Animals included in this book are dogs, meerkats, hippos, horses, kittens, pandas, and more, so they'll never get bored of the selection. Its paperback nature allows them to take it home to continue the fun there.
Check Price & Reviews on Amazon
---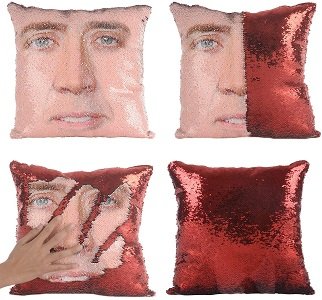 Nicolas Cage has become something of a walking meme these days, and it is one that everyone seems to get a laugh at. By gifting this  Nicolas Cage Mermaid Pillow, you can take your coworkers off guard with his face. At first, it appears to just be a typical throw pillow with a sparkly exterior.
The magic happens when they run their hands over it to pull back the glittery scales and expose Nic Cage's face. The throw cushion measures around 16 inches by 16 inches and fits on any sofa comfortably. It makes a great addition to the break room at work.
Check Price & Reviews on Amazon
---
Everyone enjoys a good waffle now and then, and the Mini waffle maker makes it an easy process to enjoy a quick bite. This mini waffle maker creates waffles in the shape of a heart, making the treatment of this breakfast food even sweeter.
It weighs only one pound and can be just as easily used at home as it can at work, making it a gift that the whole office can potentially enjoy. All you have to do is plug it in and let it go thanks to its plug-and-play technology.
Check Price & Reviews on Amazon
---
Last but not least, the Burritos Blanket makes a great choice for the cozy nap-lovers in the white elephant gift exchange. When all wrapped up in a blanket, people tend to call themselves a blanket burrito, but with this product, they can actually turn themselves into one.
This blanket is fashioned out of ultra-soft, warm fleece and is made to look like a flour tortilla. It has realistic details that make it even funnier when you see someone wrapped up snugly inside of it.
Check Price & Reviews on Amazon
---
Finding a fun white elephant gift has never been easier than it is with our list above. We've laid out 11 of the best white elephant gifts under $30 for you to get some inspiration.
If you enjoyed reading our article on the best white elephant gifts under $30, feel free to share it with your friends on social media.
---
Read Next