TL;DR: In this article, we present a list of 12 of the Best Air Purifiers for smoke under $100. For those of you who are in a hurry, the best air purifier that cost under $100 is the PureZone Air Purifier – by Pure Enrichment Technologies. This 3-in-1 Air Purifier can eliminate smoke odours in minutes and with its built in UV-C Light can also eliminate viruses and other harmful particles.
Smoke can be a nasty thing to have to float around your house. Whether the smoke comes from the grill wafting in through the exterior window or is something that comes from within from cigarette smoke, the unpleasant aromas can linger and attach themselves to carpeting, furniture, upholstery and more where it sticks and causes the house to stink. Smoke is a problem that many people have to deal with in their homes.
This might be something you can tolerate on your own after a while, but when your guests come over, it's definitely something that they are going to notice, even if they are too polite to say something to you about it.
READ ALSO: BenQ E-Reading Led Desk Lamp Review
One of the best ways to get rid of the smell of smoke in the air is by using an air purifier for smoke. These appliances can help filter out the smell of smoke and leave your home cleaner, fresher and easier to breathe in.
Most air purifiers for this purpose are quite expensive, however, and can sometimes cost the consumer well over $500. Fortunately, we've done the work for you of researching the best air purifier for fire smoke or cigarette smoke that can be yours for under $100.
Best Air Purifiers For Smoke Under $100
1. Germ Guardian True HEPA Filter Air Purifier
The Germ Guardian True HEPA Filter Air Purifier is a cheap air purifier that does not sacrifice quality for its low price.
It has a four-in-one purifying capability that helps to not only get rid of the smell of smoke but also can eliminate up to 99.97 percent of dust, harmful germs, pet dander, mold spores and so much more.
It works by trapping smoke particles and other allergens in the high quality HEPA filter, while the activated charcoal in the filter helps to get rid of the odors efficiently and on contact to immediately make the space more comfortable.
2. PARTU HEPA – Best Compact Air Purifier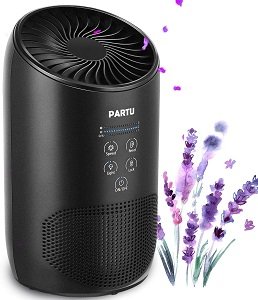 For those who need an air purifier that doesn't take up a lot of space and can be used in apartments, the PARTU HEPA Air Purifier is a good choice.
This compact, yet powerful air filter not only helps to remove the smell of smoke through its powerful activated charcoal system in the filter, but you can also add in a drop or two of essential oil to help push out a better smelling burst of air with every use.
It has a sleek design and a black color that fits right into any existing style of decor that might be present.
3. KOIOS Air Purifier – Lower Power Consumption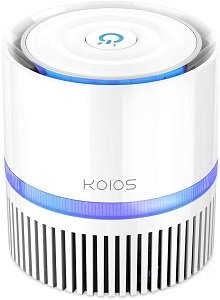 You can eliminate the smell of smoke while also removing allergens from the air with KOIOS Air Purifier. This low-cost air purifier features a low-profile, sleek white modern design that fits into any space easily without clashing or turning it into an eyesore.
Thanks to the activated carbon filter, the smell of smoke is eliminated on contact, so that only fresh air is pushed back out into the environment. Not only is the initial cost to purchase the air purifier cheap, but its lower power consumption also allows it to be economical to run all day long.
4. Pure Enrichment PureZone – 3-in-1 Air Purifier
With the Pure Enrichment PureZone 3-in-1 Air Purifier, you can get the smell of smoke out of the room while also eliminating other harmful particles from circulating in the space.
This air purifier runs the air first through the prefilter that gets out larger particulates, an activated carbon filter that removes smoke and allergens, and finally, the true HEPA filter that leaves air cleaner and easier to breathe.
It uses no ozone generators or ionizers, which helps keep your environment even safer. Thanks to the built-in UV-C light, it may also kill illness-causing organisms.
5. LEVOIT Air Purifier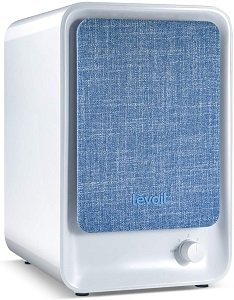 Sleep better at night while also freshening your home due to the smell of smoke with the LEVOIT Air Purifier.
This small, subtle purifier may look unsuspecting but works powerfully to remove the smell of smoke as well as other allergens in the air.
It has a large coverage area, able to cover 161 square feet as it runs and cleans 50 cubic feet of air per minute in normal mode.
The low-operating decibel of 32dB allows it to comfortably run all day long without it being loud and distracting, keeping your air cleaner and without the smell of smoke for longer.
6. Germ Guardian Air Purifier
Guardian Technologies GermGuardian Air Purifier is known for its unique filter that works extra hard to get rid of the smell of smoke and other odors in the home brought about by various factors such as pets.
The filter features high levels of activated charcoal that is able to trap in the smoke particles to cleanse them and filter them out.
The appliance has the capability to remove smells from cooking fumes as well as household cleaning chemicals and reduces up to 99.97 percent of smoke particles, mold spores, dust, pet dander and beyond as small as .3 microns.
7. LEVOIT H13 True HEPA Filter Air Purifiers
The LEVOIT H13 True HEPA Filter Air Purifier is another cheap air purifier that gets rid of smoke and its subsequent aromas with ease.
It uses a high-powered activated charcoal filter to get the job done, and this filter also filters out other allergens like dander and dust.
It runs at a very low decibel of 25dB, making it comfortable to run all day long without it being loud and annoying. During this time, it will circulate air through the space four times per hour in order to achieve maximum air purification throughout the day and night.
8. AZEUS High CADR Air Purifier
With its sleek, futuristic design, the AZEUS High CADR Air Purifier is a cheap air purifier that looks quite expensive and will suit any modern taste.
The air purifier is able to circulate the air in the room 4.5 times every hour, so that the smell of smoke has absolutely no chance of lingering, especially if you're smoking cigarettes in the home throughout the day.
It can cover as much as 376 square feet, making it ideal for larger offices and rooms. Because of the low decibel of only 25dB, it won't disturb you as you go about your day.
9. Eureka Instant Clear 26′ NEA120 Purifier
With the Eureka Instant Clear 26′ NEA120 Purifier, you get a low-cost air purifier that will not only serve your needs by ridding the space of the smell of smoke but will also create a healthier overall environment by the way of filtering out viruses, bacteria, mold spores and beyond.
It has three fan speed settings that can be used to control the flow of the air through a space as large as 222 square feet, and the low volume is whisper soft at only 32 decibels to ensure that while it runs, it still promotes a peaceful environment.
10. BISSELL MYair Purifier
The BISSELL MYair Purifier is ideal for removing the smell of smoke from the home, thanks to the emphasis on the carbon filter that it contains.
The three-in-one filter sends all air, including the smoke, through three layers before pushing it back out again, ensuring that all of the smoke particles are captured and filtered through without fail.
It has a sleek cylindrical appearance that fits in well with any modern decor in the home and won't cause an eyesore. Because of the low, whisper-quiet volume, it will uphold your house's peace and quiet.
11. VEVA 8000 Elite Pro Series Air Purifier
The VEVA 8000 Elite Pro Series Air Purifier is one of the best cheap air purifier options you can get when it comes to smoke purification.
It has a premium activated charcoal filter that is especially useful at removing smoke particles while also working to remove other allergens in the air like pet dander, dust and even mold spores.
It has three fan speeds to choose from depending on your preferences, and the lowest setting is super quiet and soft as not to disturb the quiet of your space while you use it.
12. TREDY HEPA Air Purifier
The TREDY HEPA Air Purifier is designed to eliminate the odors and impurities from the air in your home without becoming an eyesore, as made clear by its modern, sleek, white cylindrical appearance that can be positioned easily anywhere in the house.
It features a 360-degree filtration system that is able to eliminate smoke, dander, dust and other particles, whether they are odor-causing or not, doing this by sending the air through four different levels of filtration in order to remove 99.97 percent of all particles that are as small as .3 microns.
---
We hope you enjoyed our Best Air Purifiers For Smoke Under $100 article. If you want to eliminate the unpleasant odor of smoke from your house then this narrowed-down list will help you choose the best air purifier for smoke that better suits your needs – and most importantly, that will not cost you an arm and a leg.