If you are looking for the best binoculars for hunting under $100 – you have found the right page (good job Google). Check our recommendations below and remember: There's no need to burn your pocket if you want to be considered a professional hunter.
Get cashback when shopping from Amazon, Burger Kind & Netflix using this FREE application.
An excellent binocular while hunting could be the difference between having meat on the table or roaming around the woods. Today, we will share with you the best hunting binoculars under $100. They are affordable and can also be a good purchase if you start as a hunter.
You don't necessarily need the most expensive binoculars to hunt successfully. However, there are essential features you should look out for when buying a binocular for tracking that we will share in this article.
The products listed below are some of the Best Binoculars for hunting under $100. We carefully analyzed many of them before narrowing them down to the absolute twelve best binoculars for hunting.
Related: Top 10 BEST Dog GPS Trackers under $100
Best Binoculars for Hunting Under $100
The AOMEKIE 10×50 is a military-grade hunting binocular that has an IPX7 water resistance rating making it suitable for hunting in rainy conditions.
In addition, we have a rugged rubber coating making it comfortable to hold in hand. It will also survive in any situation because it is ruggedly built.
There is an internal range finder and directional compass with an illumination switch that indicates the animal's size and its orientation.
The nitrogen gas inside the binocular eliminates fogging and mold on the internal lens surfaces.
The AOMEKIE 10×50 helps you see even in extreme weather conditions and high humidity. There is a large 23mm lens inside the binocular, and it prevents eye fatigue and dizziness while using the lens. It also has a wide field of view.
The objective lens is 50mm, and it helps with clarity in low light conditions like dusk and dawn. It also provides maximum brightness of what you are viewing. The BAK4 prism feature in the binocular lets you see every little detail of the animal you are viewing.
The Eyeskey bird-watching binocular is one of the best binoculars for hunting under $100. It is water-resistant, and it also has nitrogen filled in the optical tubes; this prevents fogging in extreme weather conditions.
In addition, we have an ocular rain guard that covers the eyecups and prevents dust and rain from filling the binocular while it's hanging on your neck.
The binocular is made of fully multi-coated glass materials and a phase-corrected prism to produce bright and clear views with accurate colors. It has an 8x magnification that brings subjects to a close without sacrificing the field of view or exit pupil. In addition, it comes with a 42mm lens that works well in low light conditions like dusk and dawn.
The binocular is lightweight and durable, with a chassis protected by textured armor. There is also a center focus wheel that lets you control your focus. You can also twist up the eyecups, and it is mountable on a tripod if you want to use it hands-free.
The Celestron – Outland Binocular is made of a rugged rubber coating giving it a firm grip and protection from all outdoor elements. It has a twist eyecup that can be adjusted and an extensive focus knob for precise focusing.
The eyecup can be positioned for use with or without glasses. It also has dry nitrogen gas, making it suitable for use under extreme weather conditions without the lens's internal fogging.
The BaK4 prisms coated optics help generate high resolution and high contrast views with enhanced color fidelity. A built-in adapter lets you mount the binocular in a tripod. The Binocular is not just suitable for hunting, and it is used for bird viewing and hiking activities.
RELATED: Best Military Grade Flashlights Under 100 USD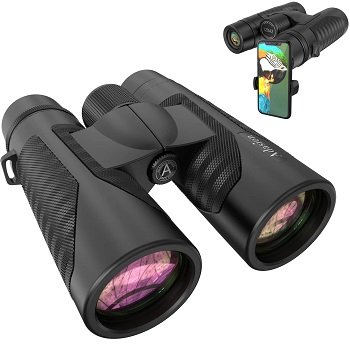 The Adaison HD binocular is fog proof, but it can only resist soft water but it cannot be used in heavy rain. So it would be best if you left it to dry up anytime it comes in contact with water.
The lens is fully multi-coated, and you get a clear viewing experience using the binoculars. We have an 18mm large eyepiece with 12x magnification to bring the image closer to you.
There is also a large 16.5mm large BAK4 prism that utilizes the 42mm lens to bring more light into the lens and a color-accurate viewing experience. You also get a smartphone adapter to record everything you see.
The binocular is suitable for hunting and watching sporting events. It is made of rubber, and it weighs 560g making it easy to hold. You get an excellent grip without slipping out of your hand, and it also has a large field of view.
The Tanaview 10×50 binoculars come with a 10x magnification, a 50mm lens, and a wide field of view. It focuses on your target from one thousand yards away.
The lens is fully multi-coated; it also uses the premium BaK4 prism, which improves low-light and color accuracy.
It is simply one of the best binoculars for hunting under $100 because of its compact build quality. It is waterproof, durable, and lightweight. The binoculars can be folded in half when it's not in use. It also has a complete rubber design with standard military ruggedness.
It has a steady grip that lets you focus accurately, and it's also shock-resistant. Using the dioptric adjustment ring and strap mount, you can also adjust the lens. It is one of the most affordable hunting binoculars on this list.
The Bushnell PowerView Binoculars have the BK-7 prism glass that provides efficient light for a bright viewing experience.
It is built inside a rugged rubber housing for durability and excellent grip; it can be used anywhere, anytime. The PowerView also features multi-coated optics to increase light transmission to the lens.
We have a 50mm lens onboard and a 10X magnifier to bring you closer to what you are viewing. You can fold down the binoculars, and it focuses well with or without glasses. It is suitable for multiple use cases, including hunting and sporting events viewing.
We already know this is a waterproof binocular for hunting, as the name implies. It is a hundred percent waterproof with its IPX7 waterproof rating, and there is nitrogen added inside the binocular to prevent fogging.
Moreover, it is suitable for use under rugged and extreme conditions because of its build and compact factor. We have multi-coated optics and premium Bak4 prisms that deliver clear and bright images.
There is a focus nob at the center for quickly adjusting the eyecups, and it can be used by people who wear glasses. The 17mm eyecup is large enough to prevent eye fatigue during usage.
We also have a 42mm lens and 10x magnification to bring the object closer to you while viewing. The field of view is fantastic even from a thousand yards out.
The ACULON A30 is a compact and durable binocular. It can be folded in half and fitted in a pocket. It weighs less than 10 ounces with a rubber build and rugged military look. It is perfect for hunting in different weather situations.
A fast and smooth central focus is known with dual-hinge for further stabilization. In addition, you can fine-tune vision imbalances with the diopter control on the right eyepiece.
We have multi-coated lenses that let you get ultra-clear images from the hunting binocular. In addition, the weight of the binocular makes it perfect for carrying around while hunting.
The Coridicare binocular is one of the best binoculars for hunting under $100 because of its features.
Firstly, it is IPX7 certified, making it suitable for use under any rainy condition. We also have nitrogen filled in to prevent the binoculars from the fog.
The ring o sealing also prevents dust from getting into the binoculars.
The binocular is made of rubber with a BAK4 prism that allows more light and provides a better viewing experience. In addition, a green FMC anti-reflective coating reduces the reflected light in the objective lens and improves light transmission. The binocular also comes with a smartphone mount compatible with almost any phone.
The eyecups can be twisted up and down to adjust them to the most suitable position for your eyes. Those who wear glasses can reduce eye fatigue and keep the eyecups perfectly fit their eyeglass. The 42mm lens has 12x magnification and a wide field of view, bringing objects closer to you from a long distance.
The Huntsman outdoor binocular was explicitly designed for hunting, and it comes with a 42mm objective front kens and 10x magnification.
The large lens allows more light to pass through the lens and get more transparent viewing from a distance.
You also get an additional BaK4 glass that helps high definition visuals. It is also fog proof because of the nitrogen present inside the Binoculars. You can lean on the binocular to get closer views of animals on a tree or in shadows.
The binocular is made of rubber, and it has a protective coating that is slip-resistant and a grip that proves excellent handling. It is waterproof and suitable for usage under different weather conditions.
There is a focus knob at the center that is used to adjust the position of the eyecups. This allows you to use it regardless of the status of your eyes, and it also enables glass wearers to use It comfortably.
You also get a one-year warranty and 30 days money-back guarantee when you buy the binoculars.
The Hontry Binoculars are completely waterproof with an IPX6 water resistance rating. So it will not get affected by fog even if you completely submerge it into water.
The binoculars have a 42mm objective lens and a BAK4 prism to provide a clear and colorful image, and the 8x magnifier does an impressive job of bringing objects closer from far. It also has a wide field of view at 362ft at 1093 yards.
They are made of rubber, suitable for rough and challenging environments. Apart from hunting, it can be used for hiking, sports watching, and travel. It can also be mounted on a tripod.
The Blackhawk binoculars have a high-quality synthetic build, and it is one of the best binoculars under $100.
It rocks a camouflage look and is suitable for outdoor activities regardless of weather conditions.
We have a 42mm lens with a 10x magnifier bringing the object you are looking at closer. The eyecup is 17mm wide, and it protects you from any eye fatigue while using the binocular. You can also twist up the eyecup for more comfort.
It is waterproof, and the O ring sealing further protects the binoculars from fog and dust. In addition, there are fully coated BAK4 prisms that deliver a better viewing experience. Handling is easy because of the textured finish on the binoculars.
Rounding Up
There are many hunting binoculars available under $100, but you have to avoid buying trash stuff that will make you regret your choice. Listed above are the best hunting binoculars under $100, and we extensively researched them before putting them together.
We hope this will help you in making a better purchase decision. If you have any questions, leave them in the comment section below.
If you enjoyed reading our Best Binoculars for Hunting Under $100 guide, feel free to share it with your fellow hunters and let them know that they don't need to spend an arm and a leg to get their hands on quality hunting binoculars.
---
Techodom's mission is to bring to the surface the most useful, expert recommendations for things to buy in the vast e-commerce landscape. We try to update the links as often as possible, but please note that deals may expire and all prices may change. Each editorial product is independently selected and reviewed. Techodom may earn a commission if you make a purchase through one of our links.
---