Are you in the market for a new pair of binoculars? Look no further than AliExpress, where you can find high-quality binoculars at affordable prices.
Not only that, but many sellers on AliExpress also offer US shipping options, so you can receive your new binoculars quickly and conveniently.
But with so many options available on AliExpress, how do you know which ones are the best? In this article, we'll explore eight of the best binoculars available on AliExpress with US shipping options.
We'll also give you some tips on what to look for when buying binoculars to ensure that you get the right pair for your needs.
So whether you're an avid birdwatcher or just need a good pair of binoculars for outdoor activities, keep reading to find your perfect match.
Key Takeaways
Best Binoculars on AliExpress
If you're looking for the best binoculars on AliExpress with US shipping, there are a few options to consider.
Best Head Mounted Binoculars
Product Specs:
Power Supply: Normal
Clarity: 1080P
Technology: Infrared
Model Number: NV8000
Certification: CE,FCC,RoHS,UL,KC
Photo Resolution: 3M(2048×1536) ,2M(1600×1200),1M(1280×960),VGA(640×480)
Video Resolution: 1080P (1920x1080P@30FPS), 960P (1280×960@30FPS),VGA (640×480@30FPS)
Sensor: 3MP starlight sensor
IR LED: 3W,850nm high power IR,7 levels of IR brightness adjustment
Experience the ultimate night vision for hunting with the LEEDOAR NV8000 Infrared Night Vision Binoculars – the best head mounted binoculars on AliExpress!
These binoculars provide clear images and videos in high definition with its 3MP starlight sensor and 4x digital zoom. Its 3W, 850nm high power IR and 7 levels of IR brightness adjustment make it possible to see up to 300 meters away in complete darkness.
The NV8000 is waterproof with an IP54 rating and can operate in temperatures as low as -20°C to +50°C. It also includes a lithium battery that can last up to several hours on a single charge. These features make it perfect for any outdoor activity like camping or tactical missions, but especially for hunting at night.
So why settle for anything less when you can have the best? Get your hands on the NV8000 Infrared Night Vision Binoculars now!
Pros:
Cons:
Price: The NV8000 Infrared Night Vision Binoculars costs currently at $143.97
Best Overall
Despite their heavier weight, users will appreciate the added features of the APEXEL 10X50 Marine Binoculars.
They have a built-in compass and rangefinder, making them a worthwhile investment for outdoor activities.
With 10x magnification and 50mm objective lens, you'll be able to see far-off objects in crisp detail with a field of view of 396 feet at 1000 yards. The high refractive index BAK4 Porro Prism eliminates stray light and improves color reproduction to an impressive 99.99%.
Additionally, the Green FMC anti-reflective coating reduces reflected light in the objective lens, improving image brightness and sharpness.
These binoculars are waterproof and fog proof thanks to their nitrogen-filled design that is O-ring sealed for complete protection against water damage.
They even float on water, so if you accidentally drop them while boating or during any water-related activity, they won't sink!
The non-slip rubber armor also absorbs shock preventing damage from accidental drops or bumps.
Users can easily adjust the distance without glasses using ±5 diopter left and right diopter rings for a better viewing experience. However, if you're wearing glasses, the eyecups can be easily folded for comfortable use.
Pros:
Cons:
Price: $170.35 (50% off) $85.17
Best Waterproof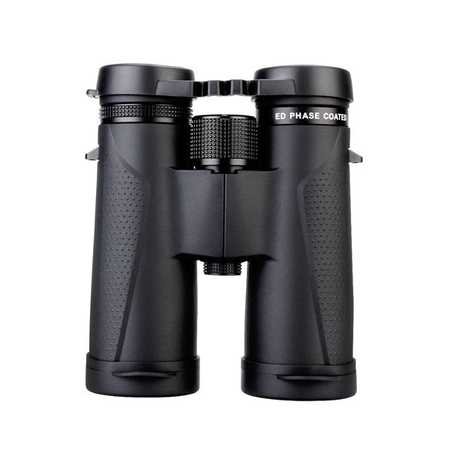 PRODUCT SPECS:
Field of View: 409ft/1000yds; 326ft/1000yds
Eyepiece diameter: 21mm
Prism Description: BAK4
Water Resistance Level: IPX7
Objective Lens Diameter: 32mm/42mm
Lens Coating Description: FMC
Magnification: 8x/10x
Get ready to take your outdoor activities to the next level with the waterproof SVBONY SV202 binoculars! These high-quality binoculars are designed to withstand harsh outdoor environments, making them ideal for any adventure.
The Extra-Low Dispersion ED Glass reduces chromatic aberration, producing a cleaner and brighter image than standard binoculars. With unparalleled resolution, contrast, and color fidelity, you'll experience no ghosting, blurring, or focus issues.
The SVBONY SV202 Binoculars are fully waterproof and anti-fog, ensuring they stay dry even in the wettest of conditions. They're O-ring sealed and nitrogen purged to protect from moisture and dust entering the system.
Designed for wildlife enthusiasts, these binoculars optimize viewing comfort by allowing easy natural adjustment of torsion rubber eyecups and knurls on the focus ring. The multi-coated lenses provide brightness and vivid HD colors while reducing light randomly reflected within the binoculars.
Overall, these binoculars offer an incredible viewing experience that will exceed your expectations.
PROS:
CONS:
PRICE: The price for these binoculars is currently $139, down from $230.75
Best Value For Money Option
You'll feel like you've hit the jackpot when you discover the APEXEL 10x42A binoculars, offering incredible value for your money and a powerful viewing experience that will leave you in awe. With its fixed focus design, these binoculars are perfect for viewing fast-moving targets without needing to constantly adjust the focus.
The focal length is set at a distance of up to 80ft away, making it ideal for outdoor activities such as hunting, camping, hiking or tourism.
With its high contrast optics features such as BAK4 Prism and FMC Full Multi-Layer Coating glass lens, these binoculars can reduce glare and deliver bright vision even in weak light conditions.
The large 42mm objective lens and 10x magnification offer an impressive real visual experience with a wide viewing angle of 5.8Ã which brings you 304ft/1000yds high definition and large view.
Additionally, they have twist-up eye cups that can eliminate stray light to provide comfort for those who wear glasses.
Pros:
Cons:
Price: US $47.19 (52% off)
Best For Outdoor Fans
Product Specs:
Magnification: 8x / 10x
Eyepiece Diameter: 24mm / 21mm
Objective Diameter: 42mm
Optical Coating: SMC super multi-coated
Lens Material: ED glass lens
Prism Material: BAK4 prism with dimension 20, ridge ratios, semi-five prism reflecting surface plated electrolyte membrane, refractive surface plating SMC super wide film.
Field of View: 141m@1000m / 423ft@1000yds (8x), 114m@1000m /342ft@1000yds (10x)
Exit Pupil Diameter: 5.3mm
Eye Relief: 17.5mm
View Angle: 8°/6.5°
Close Focus Distance: 2m/2.5m
Size: 123 x 51 x 150 mm
Weight: 690g
Experience the ultimate outdoor viewing with SAGA's Dual ED Lens Binocular – immerse yourself in nature like never before!
Whether you're camping, hunting or bird watching, these binoculars will take your experience to the next level.
The high-quality dual ED lens and ultra-wideband coating provide brighter imaging, better color difference and low dispersion, resulting in incredible color reduction ability.
The magnesium alloy metal structure ensures durability while being light enough to carry on all your adventures.
Plus, the IPX7 waterproof anti-fog feature means you can use them in any weather conditions without worrying about damage.
Pros:
Cons:
Price: US $146.69 (25% off)
Best For Bird Watching
Immerse yourself in the world of bird watching with SVBONY's powerful SV47 binoculars and witness the beauty of nature like never before. These binoculars are perfect for bird watchers, outdoor enthusiasts, and anyone who loves to explore the great outdoors.
The SV47 is IPX7 waterproof with filling nitrogen, making it durable and reliable even in harsh weather conditions. Plus, its skin made of rubber not only protects the product effectively but also holds the handle comfortably at the same time.
With its pure optical fully multi-coated lens and BAK4 Prism, you'll experience clear images with no distortion or blurriness. The SV47 has a wide angle large field of vision that allows your eyes to take in more details than ever before. The eye relief can reach 20.4mm and kilometer field of view up to 110m, which means you won't miss any important sightings while out exploring.
Additionally, multiple gears and twist-up eyecups make these binoculars suitable for people with different visions, including myopic users who don't need to remove their glasses to enjoy easy observations.
Pros:
Cons:
Price: $62.39 $119.99 (48% off)
Most Affordable
Get ready to explore the great outdoors with the affordable APEXEL High Clarity Telescope 60X60 Binoculars. These binoculars are perfect for outdoor hunting and sightseeing, offering high power BAK4 optics and a magnification of 60x.
With a field of view of 8mftat/160000m, these binoculars provide clear and crisp images from distances ranging between 5-3000m. Made from durable plastic material, these binoculars are colored in black and come with rubber skin sheath which ensures ease-of-use even during wet conditions as it is waterproof.
The built-in coordinates allow for easy navigation while the night vision support feature makes these binoculars ideal for use during low light conditions. Additionally, APEXEL High Clarity Telescope 60X60 Binoculars come with a lens cap and an eyepiece cap that protects the lenses from dust or scratches.
Pros:
Cons:
Price: The APEXEL High Clarity Telescope 60X60 Binoculars are available on AliExpress at just $18.89 (currently on discount).
Best For Long Range Zoom
You'll love how the BORWOLF 20-60X70 binoculars bring distant objects into clear focus with their high magnification and large objective diameter. With a zoom range of 20x to 60x, you'll be able to see faraway scenery, wildlife, and even stars with ease.
The binoculars come equipped with a large BAK-4 prism and FMC fully multi-coated lens elements that ensure superior light transmission and brightness for clear images. Additionally, the sealing properties make them waterproof, fog-proof, and dust-proof.
The rubber armor with stripes not only makes them comfortable to use but also increases friction to prevent slipping out of your hand. Their rubber finish also provides shock resistance to protect against accidental bumps or drops.
The eyepiece caliber is 15mm while the objective diameter is 70mm, providing a large field of view (68M/1000M) that's perfect for hiking, hunting, climbing, bird watching, or watching wildlife and scenery.
Pros:
Cons:
Price: $139 USD $65.33
What to Look For When Buying Binoculars
When selecting binoculars, there are several important factors to consider. First, magnification and objective lens diameter play a key role in the quality of your images.
Additionally, lens quality and field of view are also critical. Finally, don't forget to consider weight as this can affect your comfort and ease of use.
By carefully evaluating each of these factors, you can find the perfect pair of binoculars to suit your needs.
Magnification
With the right magnification, you'll feel like you're right in the middle of all the action. Magnification is one of the most important factors to consider when buying binoculars. It determines how close and detailed your subject will appear.
The higher the magnification, the closer your subject will appear, but keep in mind that high magnifications also mean a narrower field of view and more difficulty in stabilizing your image.
When it comes to choosing a magnification level, it's best to consider what you'll be using your binoculars for. For bird watching or other wildlife observations, a 8x or 10x magnification should suffice. For stargazing and astronomy purposes, a higher 12x to 15x magnification might be necessary to see celestial objects clearly.
Keep in mind that too much magnification can lead to blurry images due to hand shake or atmospheric conditions. So choose wisely based on your needs and intended use.
Objective Lens Diameter
Don't worry if you're concerned about the weight of your binoculars, because a smaller objective lens diameter can still provide good image quality and make for a more lightweight option.
The objective lens diameter refers to the size of the lenses on the front of the binoculars, which gather light and allow you to see a brighter, clearer image.
While larger objective lenses may offer better low-light performance and resolution, they also tend to be heavier and bulkier.
A smaller objective lens diameter, on the other hand, can make your binoculars more portable and easier to handle. They're also usually less expensive than their larger counterparts.
If you plan on using your binoculars for daytime activities such as birdwatching or sports events, then a smaller objective lens diameter may be all that you need. Ultimately, it's important to consider your specific needs before making a purchase decision.
Lens Quality
To truly enhance your viewing experience, you'll want to invest in binoculars with high-quality lenses.
The quality of the lens determines the clarity, brightness, and color accuracy of what you see through the binoculars.
When shopping for binoculars on AliExpress with US shipping, it's important to pay attention to the lens specifications.
Field of View
You'll be amazed at the difference in your viewing experience when you invest in binoculars with a wider field of view. Having a broader perspective allows you to take in more of the surrounding landscape, giving you a greater appreciation for nature and its stunning beauty.
Binoculars with a wide field of view are especially useful when birdwatching or observing wildlife, as they allow you to easily track fast-moving animals without having to constantly adjust your focus. When it comes to field of view, it's important to consider both the magnification and objective lens size.
Higher magnification may seem appealing, but it often results in a narrower field of view. On the other hand, larger objective lenses can provide a wider field of view, but they also add weight and bulkiness to the binoculars. Finding the right balance between these factors is crucial for optimal viewing pleasure.
Overall, investing in binoculars with an ample field of view will enhance your outdoor adventures and leave you feeling more connected to nature than ever before.
Weight
Now that we've talked about the importance of field of view when choosing binoculars, let's move on to another crucial factor: weight.
The weight of your binoculars can greatly affect your overall experience and comfort while using them.
When it comes to weight, you want to find a balance between something that's light enough to carry around for extended periods of time, but heavy enough to provide stability and durability.
Generally speaking, compact binoculars will be lighter than full-size ones, making them a great option for outdoor activities like hiking and bird watching.
However, keep in mind that lightweight binoculars may not have as many features or as high-quality optics as heavier models.
It's important to assess your needs and preferences before making a decision based solely on weight.
Overall, finding the right balance between weight and performance is key when searching for the best binoculars on AliExpress with US shipping.
Waterproofing Level
Finding the right balance between weight and performance is crucial, but don't forget to consider the waterproofing level of your binoculars for those unexpected rainstorms or water activities.
A good waterproofing level ensures that your binoculars remain functional in wet conditions.
When choosing your binoculars, it's important to pay attention to the different levels of waterproofing available.
To help you make an informed decision, here's a table showcasing the various levels of waterproofing codes:
| Waterproof Rating | Description |
| --- | --- |
| IPX0 | No protection |
| IPX1-3 | Protection against dripping water, light rain and spraying water |
| IPX4-6 | Protection against splashing water, heavy rain and temporary immersion in water |
| IPX7-8 | Protection against continuous immersion in water |
Make sure you know what type of activities you'll be using your binoculars for so that you can choose the appropriate waterproof level.
For instance, if you're going to be using them on a boat or near a body of water, then you might want to opt for a higher level of waterproofing such as IPX7 or above.
On the other hand, if you're only planning on using them during dry weather conditions, then a lower rating like IPX1-3 may suffice.
Ultimately, the choice is yours and depends on how much protection you need for your particular situation.
Bottom Line
Congratulations, you're now ready to choose the best binoculars on AliExpress!
Remember, when looking for the perfect pair of binoculars, you need to consider a few key factors such as magnification power, objective lens size, and overall build quality.
Now that we've highlighted some of the best options available on AliExpress with US shipping, it's time to make your choice.
Whether you're an avid birdwatcher or just love exploring the great outdoors, investing in a high-quality pair of binoculars is essential for enhancing your experience.
So don't wait any longer — head over to AliExpress now and discover what these top-rated binoculars can offer you!
Read Next
---
Techodom's mission is to bring to the surface the most useful, expert recommendations for things to buy in the vast e-commerce landscape. We try to update the links as often as possible, but please note that deals may expire and all prices may change. Each editorial product is independently selected and reviewed. Techodom may earn a commission if you make a purchase through one of our links.
---