In this review, I'll share my experience with the Hooga HG1000 Red Light Therapy Device and highlight its pros and cons.
I'll also discuss its features and benefits, how red light therapy works, and provide some background information about the company behind the product.
Whether you're new to red light therapy or have tried other devices before, this review will help you make an informed decision before investing in the Hooga HG1000.
(Use coupon code EXTRA12 at checkout for 12% OFF Your order)
I've always been curious about red light therapy and its benefits, so I decided to try out the Hooga HG1000 Red Light Therapy Device.
After using it for a few weeks, I can confidently say that this product is worth considering if you're looking for a non-invasive and natural way to improve your skin, relieve pain, reduce inflammation, or enhance your sleep quality.
Key Takeaways
Hooga Red Light Therapy Review
If you're considering purchasing the Hooga Red Light Therapy Device, this review will provide you with valuable information about its features and benefits.
As someone who's used this device for several months now, I can attest to its effectiveness and durability.
What I Like
Proven Wavelengths
One of the standout features of the Hooga HG1000 is its proven wavelengths. The mid 600 and mid 800 nm range wavelengths are known to be beneficial to the human body.
This device emits two specific wavelengths, 660nm (Red) and 850nm (NIR) in equal proportions. While red light is best for skin treatments, NIR is better for deep tissue treatments.
High Irradiance
Another feature that sets the Hooga HG1000 apart from other red light therapy devices on the market is its high irradiance.
The gold standard in red light therapy is 100mw/cm2 at the surface of the device, and this device delivers an irradiance higher than that at the surface.
Even when using it from a distance as far as 24 inches away, treatment times are quick and effective due to its powerful output.
Customized treatments
Customized treatments are also possible with this device thanks to its two power switches. One switch turns on the 150 red emitting LEDs while another turns on the 150 NIR LEDS.
Quiet internal fans
Additionally, there are five whisper quiet internal fans that dissipate heat and ensure that overheating doesn't occur during use.
What I don't like
Cord
The cord could be longer and might require an extension cord. In my experience, I had to use an extension cord to place it where I wanted it in my room. It's not a huge deal breaker, but it would have been more convenient if the cord was longer.
Warm's up fast
Additionally, this device gets pretty warm during use but won't burn you. It comes equipped with five whisper-quiet internal fans that dissipate heat and ensure that the unit does not overheat.
However, these fans turn off immediately after turning off the device and might benefit from running on a thirty-second delay to cool down before shutting completely off.
Features
The Hooga device comes equipped with powerful features that make it stand out in the market. Here are some of its most notable features:
Customizable Power Switches: The Hooga HG1500 has two power switches that allow you to customize your treatment experience. You can turn on the 150 red (660nm) emitting LEDs or the 150 NIR (850nm) LEDs, depending on your needs and preferences. With this feature, you have more control over your therapy sessions.
High Irradiance Levels: The gold standard in red light therapy is 100mw/cm² at the surface of the device, and the Hooga HG1500 delivers an irradiance higher than that. This means that you can enjoy quick and effective treatment times even when you're as far as 24 inches away from the panel. Plus, its beam angle of 60 degrees ensures that a wider area is covered during each session.
Five Whisper-Quiet Fans: The Hooga HG1500 also comes with five whisper-quiet internal fans that dissipate heat during use to ensure that it does not overheat. This means you can enjoy longer therapy sessions without worrying about discomfort or potential damage to the device itself.
Long Lifespan: Because it uses power-efficient LEDs, the Hooga HG1500 has a lifespan of over 50,000 hours, so you won't need to replace it for years to come! And if anything goes wrong within two years of purchase (excluding misuse), there's a warranty in place for added peace of mind.
Overall, these features make the Hooga Red Light Therapy Device an excellent investment for anyone looking to improve their skin health, reduce inflammation and pain, or improve their sleep quality.
With customizable power switches, high irradiance levels, whisper-quiet fans, and a long lifespan all backed by a solid warranty, this device offers everything one could want in a red light therapy panel.
What is Red Light Therapy / How it works
Red light therapy is a non-invasive treatment that uses low-level wavelengths of red or near-infrared light.
These wavelengths penetrate deep into the skin, where they promote healing, reduce inflammation, and increase blood flow.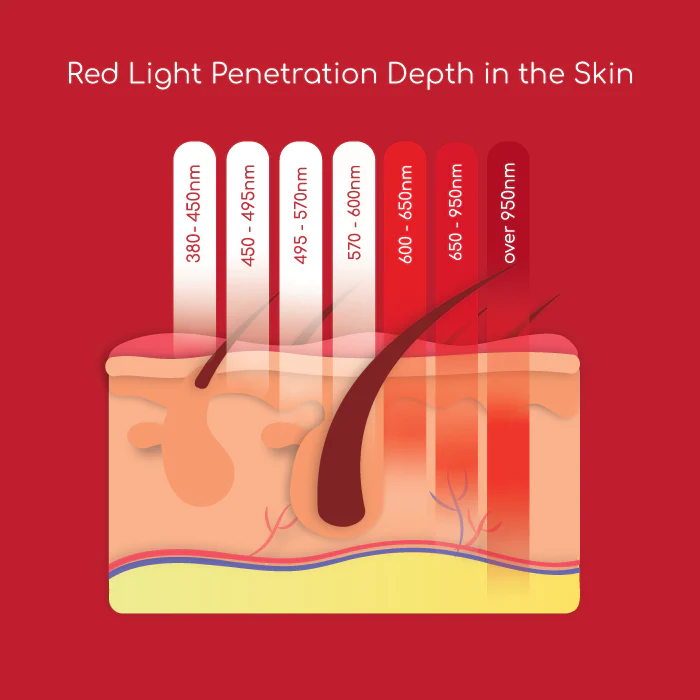 Red light therapy works by stimulating cellular metabolism and increasing production of ATP, which is the energy currency used by cells.
This increased energy production leads to improved cell function, which in turn promotes healing and regeneration.
The use of red light therapy has been shown to be effective in treating a variety of conditions including acne, psoriasis, eczema, chronic pain, muscle soreness, and even depression.
The two specific wavelengths emitted by the Hooga HG1500 device (660nm and 850nm) have been shown to be particularly effective in promoting healing and reducing inflammation.
The 660nm wavelength is best for skin treatments such as reducing fine lines and wrinkles, while the 850nm wavelength is better for deeper tissue treatments like joint pain relief or muscle recovery.
Additionally, this device delivers an irradiance higher than 100mw/cm2 at its surface, making it highly efficient in delivering quick results.
Overall, red light therapy is a safe and effective method for improving your overall health without any harmful side effects.
With regular use of the Hooga HG1500 device, you may start seeing improvements within just a few weeks!
About The Company
Hooga is a reputable company with a strong commitment to quality and customer satisfaction.
The team at Hooga understands the importance of using safe and effective products when it comes to your health. That's why they have taken great care in designing their devices to ensure they deliver maximum benefits without any negative side effects.
Their dedication to research and development has led them to create one of the most advanced red light therapy devices on the market. When you purchase a Hooga product, you can rest assured that you're making an investment in your health.
The HG1500 device is made from top-quality materials and is designed to last for many years.
Plus, with their 30-day full refund policy and two-year warranty, you can buy with confidence knowing that if you're not completely satisfied with your purchase, you can get your money back or have it repaired free of charge.
Hooga is a leader in the red light therapy industry thanks to their commitment to quality, safety, and effectiveness. Their dedication to research and development has resulted in some of the most advanced devices on the market today.
Whether you're looking for relief from pain or inflammation or want to improve your skin health and sleep quality, Hooga has a product that's right for you.
Frequently Asked Questions
Conclusion
In conclusion, after trying out the Hooga HG1500 Red Light Therapy Device, I can confidently say that it's a worthwhile investment. It's great for improving skin, alleviating pain and inflammation, and enhancing sleep quality. The device is versatile and easy to use, with customizable settings and adjustable timers.
While the price may seem steep compared to other red light therapy devices, the Hooga HG1500's superior build quality and effectiveness make it well worth the investment in the long run.
Some users may find it inconvenient that they need to be near the device during treatments. However, this is a minor drawback considering all its benefits.
Hooga HG1000
Hooga red light therapy device is an excellent product with plenty of benefits like high irradiance, quick and effective treatment times even at distances as far as 24 inches and low EMF output. Although there are some minor drawbacks - overall feedback from users has been positive so far based on customer reviews available online!
Product Brand: Hooga
Pros
Excellent Quality
2-Year Warranty
Read Next
---
Techodom's mission is to bring to the surface the most useful, expert recommendations for things to buy in the vast e-commerce landscape. We try to update the links as often as possible, but please note that deals may expire and all prices may change. Each editorial product is independently selected and reviewed. Techodom may earn a commission if you make a purchase through one of our links.
---