Your dad has everything, and you don't know what to get him for Father's Day.
You want to give your dad a gift that he'll love and use, but you don't want to get him another tie or toolset.
Why not give your dad a wooden gift? It is unique, and it will definitely be something that he will love and cherish for years to come.
Wood is a natural material that is both beautiful and durable. It can be used to make a variety of products, from furniture to tools. Best of all, woodworking is a skill that can be passed down from generation to generation.
If you're looking for the perfect Father's Day gift, consider giving your dad a wooden gift. Our selection of the best wooden gifts for dad, includes everything from cutting boards to watches. We even have wooden sunglasses! Whatever your dad's interests may be, we have the perfect wooden gift for him.
Best Wooden Gifts For Dad
Wireless Charger Power Bank – Walnut Wood
Looking for a powerful and stylish wireless charger to gift your dad this year? Look no further than this Wireless Charger Power Bank made with Walnut Wood! This device features a sleek aluminum and walnut wood design, and outputs 10W of power to quickly charge your devices. With 10000mAh of capacity, this charger can keep your devices powered up all day long. Plus, it comes with CE, ROHS, FCC,UL certifications for peace of mind.
OTTO Wooden Watch
Introducing the OTTO WOOD WATCH! This unique and stylish watch is made of wood, and has a cool automatic self-wind feature. The Hollow-carved design is perfect for any fashionista dad, and the color-blocking wood combination makes this watch stand out from the rest.
Plus, the buckle clasp ensures that it will stay securely on your wrist. One of the best wooden gifts to give your beloved father.
Custom Wooden Business Card Holder
The perfect way for your dad to keep his business and credit cards organized and in style! This wooden card holder is made of beautiful cherry wood, with a minimalist design that will look great on any desk and any pocket.
It's also multifunctional, allowing you to store money, ID cards, and even business cards. And if you need to personalize it, no problem – the shop can carve anything you want on it!
Wooden Keychain Mayan Calendar
Well, that's a unique wooden present for fathers day. These engraved wood keychains are made from cherry wood, they come with a stainless steel key ring and make the perfect addition to any keychain collection.
These keychains are finished and sealed for protection, making them perfect for everyday use. If you don't like the design, note that they have a ton of designs available and they even allow you to upload and add your own photo, so make sure you check it our if you like the idea of a wooden keychain.
Custom wooden smartphone case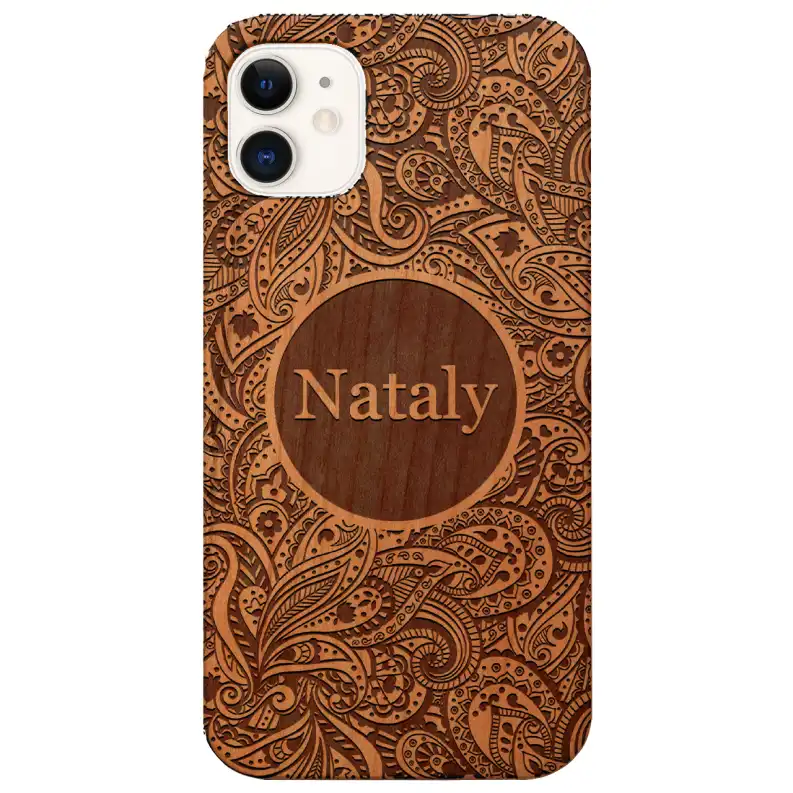 This wooden smartphone case is one of the best wooden gifts for dad this year. With this wooden smartphone case, your dad can add a touch of personality and individuality to his smartphone device.
The case can be customized with your own text, so your father can show off his unique style. Simply enter the appropriate text into the custom text field, and they'll prepare a mock up for you to approve.
If you like it, they do it. If not, they'll make necessary changes until you're happy with it. Their handling time is 1-2 business days, and shipping times vary depending on the method you choose.
Cluebox: Davy Jones' Locker – Escape Room
If you believe your father is a smart person who likes riddles and mystery, why not giving him a wooden gift that will excite and challenge him. Meet Cluebox: Davy Jones' Locker is the perfect game for your woody loving father!
This Escape Room in a box will keep him entertained and engaged from start to finish as he solves one puzzle after another. There is nothing random about this game, everything depends on logical decisions – so let him put on his thinking cap and get ready for some serious fun!
Topiom Wooden Rowing Machine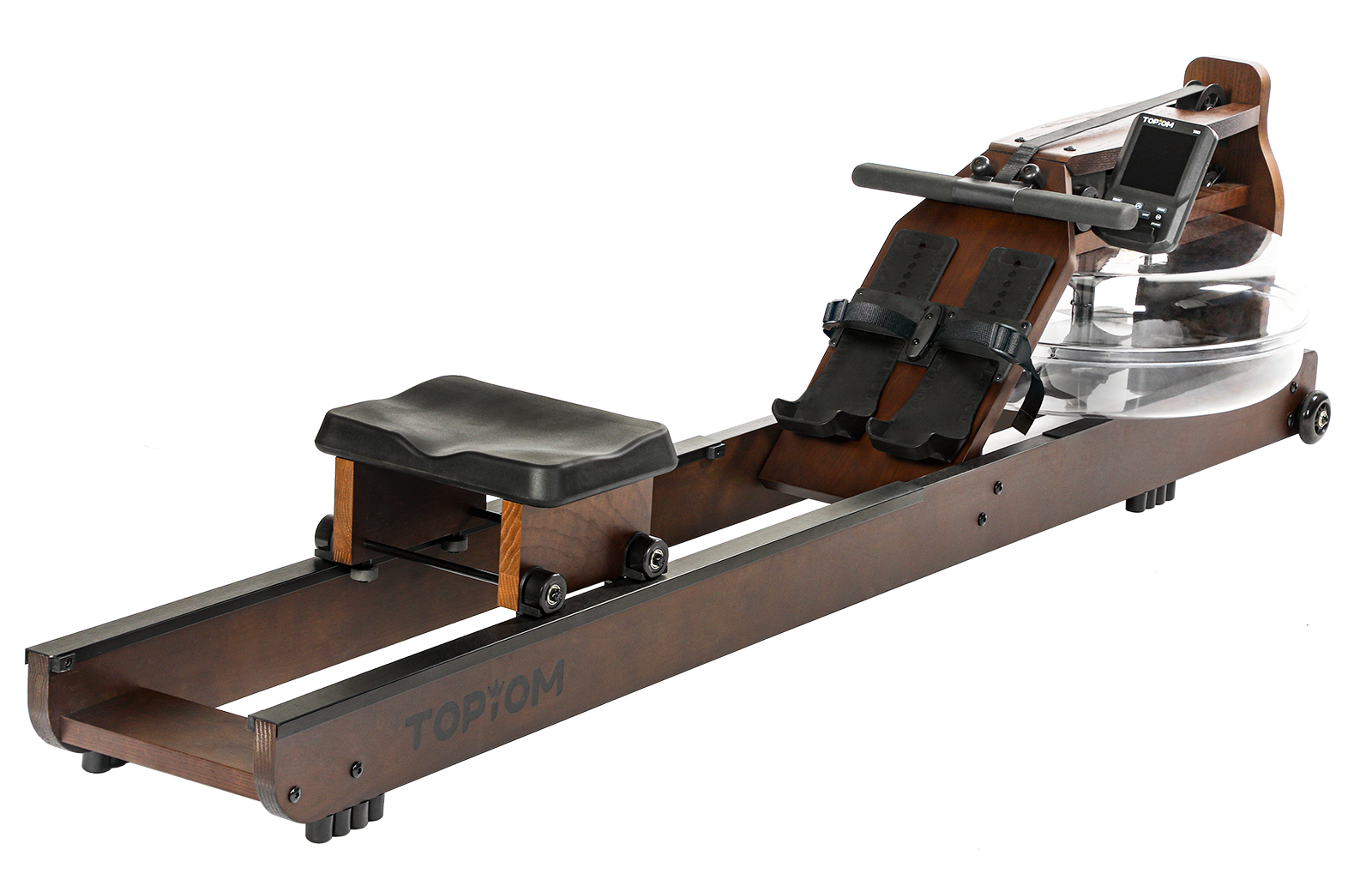 Has you dad put on a bit of weight? Do you care about his overall health? Well, rowing is a great option – it burns more calories per hour than other aerobic exercises, and uses 84% of the body's musculature.
This wooden water rowing machine by Topiom provides an incredibly realistic experience, making it a popular choice among people who want to keep fit and healthy. Let daddy tone up his body with this machine today!
Sandalwood Foldable Comb
This Sandalwood Foldable Wood Comb for Mustache, Hair and Beard is one of the best wooden gifts for your father – whether he has a mustache, a beard or just his hair.
It is perfect for keeping his hair and beard looking neat and stylish. Made from natural sandalwood, this comb never discharges static during use, and it also smells great thanks to the natural sandalwood fragrance it emits. Plus, the green sandalwood comb has its own unique wood grain that makes it a one-of-a-kind accessory – since no two sandalwood trees are identical.
OTTO Wooden Wristwatch
That's the second wooden watch we're recommending. The reason is because wooden watches are stylish, fathers love them and are all time modern and trendy. Plus this one has this square shape that's making it so… "manly".
This timepiece is crafted with precision and care, using only the finest materials.
The wooden strap is comfortable to wear and looks great with any outfit. The face of the watch is made from real wood, making each one truly one-of-a-kind. And the best part? The OTTO Wood Watch is powered by a battery that will never need to be replaced.
With its stylish good looks and timeless design, the OTTO Wood Watch is perfect for any occasion.
Wooden Digital Alarm Clock
This beautiful wooden alarm clock is made of wood, with a LED time display. It features 3 alarm settings, humidity and temperature detection, and a wood made electric clock for your bedroom or bedside table.
It's the perfect way to keep track of time and wake up in the morning. The Digital Alarm Clock is also a great gift for your dad due to it woody style.
Just A Simple Wooden Box
This is a Simple Wooden Box – the perfect way to store precious belongings! All men need something like this. I surely would. This simple design wooden box is handcrafted from premium wood, making it durable and long lasting.
The smooth surface is perfect for engraving or personalization, making it a truly unique gift for your dad this year. The box comes with a removable lid, making it easy to access his items.
Personalized Wooden Coasters
Personalized Wooden Coasters is the perfect gift for your dad – especially if he loves to drink a whiskey or two now and then. This unique and thoughtful gift is customized with your special message, making it a one-of-a-kind present that will be cherished for years to come.
These beautiful coasters are made of natural wood, with a smooth finish that is both elegant and durable. They are laser engraved with your personal message, meaning that the text will never fade or wear away.
Wooden Docking Station
This wooden docking station is perfect for the modern dad. Not only does it serve as a charging dock for his devices, but it doubles as a stylish nightstand organizer.
The walnut wood finish is beautiful and timeless, while the RFID blocking leather wallet ensures his cards and cash are safe and sound. This makes the perfect gift for any dad or husband!
3D Wood World Map
This 3D Wood World Map makes a great addition to any home or office! The map is made of wood and comes in a variety of colors, so you can choose the one that best suits your style. It's perfect for world travelers or anyone who loves maps.
Personalized Cutting Board
This beautiful, personalized cutting board is the perfect gift for the dad who loves to cook.
Made in the USA from hard maple wood, this board can be engraved with any text you choose. Your father's name or his favorite baseball team's logo would look great on it, or you could choose to personalize it with a heartfelt message.
No matter what you choose to do with it, this cutting board is sure to be treasured for years to come.
Cloudfield Wooden Sunglasses
Looking for a new pair of shades that will have everyone talking? Check out the Cloudfield Wooden Sunglasses!
These stylish sunnies are made with a bamboo wooden frame and polarized lenses, meaning your father will not only look good wearing them, but he'll also be protected from harmful UV rays.
Plus, with a double layer of UV blocking coating, you can be sure his eyes will be safe while he's out enjoying the sun.
Handcarved Wood American Flag
If your father is a patriot then he'll be astonished by this handcarved wooden American flag.
This beautiful, handcarved wood American flag is the perfect way to show his patriotism and love for his country!
It comes in three sizes—large, x-large, or jumbo—so you can choose the perfect one for his home. The rustic, handmade design makes it a unique and special addition to his décor.
Wooden Ice Bucket
Remember we talked about the dad who loves to drink a whiskey or two? This wooden ice bucket would be a stylish way to keep his drinks cold.
Handcrafted from solid wood, this bucket features a food-grade coating that seals the wood and helps keep ice sanitary. The included lid makes it easy to store and transport his drinks, while the bold design ensures he'll make a statement at his next party.
Wine Storage Stand
So why not let him brag a little bit about his wine collection. Well, this wine storage solution is both stylish and functional.
This elegant wine storage stand is made of solid wood and can hold up to 72 bottles of wine, making it perfect for any wine lover.
The stackable modular design will allow your father to customize the wine storage to fit his needs, while the wobble-free construction will prevent his wine from being damaged.
Plus, the free standing design means he can place this wine rack anywhere in his house.
Final Take
Father's Day is coming up soon, and we hope this guide has helped you find the perfect wooden gift for dad.
If not, don't worry! Just drop a couple of ideas in the comments section below and our shopping hounds will scavenge the world wide web to find and recommended the best wooden gifts for your beloved father.
Whatever you choose, we wish you happy shopping and a very happy Father's Day.
Check these product lists as well
---
Techodom's mission is to bring to the surface the most useful, expert recommendations for things to buy in the vast e-commerce landscape. We try to update the links as often as possible, but please note that deals may expire and all prices may change. Each editorial product is independently selected and reviewed. Techodom may earn a commission if you make a purchase through one of our links.
---