In most people's lives, there is always at least one person you find difficult to buy gifts for. Either they have specific interests and tastes that are difficult to find a gift for, or they already seem to have everything, making it impossible to choose what the best gift may be. Well, in this article we will show you some of the best gifts for parents who already have everything.
This is especially true when it comes to one's parents. Finding a gift that you know both of them will love can be quite the task, as they are two different people with two different personalities and two sets of interests.
If you're struggling to find a good gift that you can be sure both of your parents will enjoy, look no further. In this article, we'll take a look at some of the best tech gifts for parents available today, so you can give them a gift with confidence. Take a look below and find the one that best suits them.
Best Gifts for Parents Who Already Have Everything
For a fun activity that your parents can enjoy together, gift them the Bonsai Tree Seed Starter Kit. This kit comes with everything they need to grow and care for their own bonsai tree including the necessary potting soil, pruning scissors, pots, markers, and four types of seeds to choose from.
With these seeds, your parents can enjoy the diversity of growing Picea Pungens Glauca San Juan or Colorado Blue Spruce; Jacaranda Mimosifolia or Brazilian Rosewood; Delonix Regia or Flame Tree; and Picea Mariana or Black Spruce. These starter kits for the bonsai trees are 100 percent non-GMO and have been grown in the United States in an effort to ensure quality.
Check Price & Reviews on Amazon
---
For parents who love to enjoy a nice glass of wine, the Sagaform Wine Carafe with Oak Stopper makes an excellent gift. No matter their preferences when it comes to wine, this carafe will allow it to aerate perfectly to enhance the flavor, thanks to its unique shape.
The shape also makes it a beautiful addition to any liquor cabinet or bar as it is remarkably modern and attractive. The sphere of a cork stopper adds the final elegant touch to the carafe. The carafe can hold up to 67 ounces of wine and is safe to wash in the dishwasher.
Check Price & Reviews on Amazon
---
Owlet Home – Pet Camera with Treat Dispenser
If your parents own a dog then it highly unlikely to have this accessory. Plus, it will untie their hands and help them stop thinking about their baby dog when they're out of home for a long time.
And yes, I am talking about Owlet's pet camera with treat dispenser.
The product is – apart from super-useful – super easy to use as well. Just plug it to a power outlet, download the app from the app store or google play and pair the devices. As simple as that.
Now, your parents can enjoy their baby dog and treat it, even if they're out of the home. This gift will give them great flexibility and peace of mind about their lovely pet.
Check Price & Reviews on Amazon
---
If your parents' idea of a good time is firing up the grill and cooking up delicious steaks and burgers, this FreshJax Grilling Spice Gift Set will make the perfect gift. In this set comes a selection of grill spices including peppered habanero, fresh bay, citrus pepper, smoky southwest, and a unique blend of spices known as Grill Master.
The ingredients used in the spices are all certified organic and kosher while also being totally gluten free, allowing them to fit in safely with most dietary lifestyles. The easy on-and-off lids make it easy to season meat in seconds.
Check Price & Reviews on Amazon
---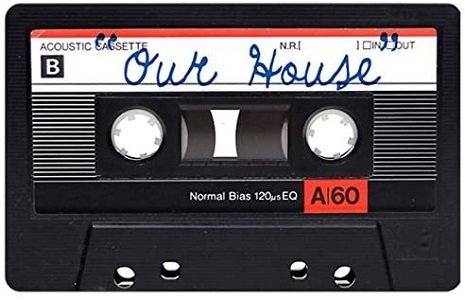 When guests arrive at your parents' house, they will immediately be greeted by their vibrant personalities before they even open the door when you gift them the AU Funny Door Mats. This particular mat is great for music-loving parents with its old-school cassette-style design and the words "Our House" in a handwritten-style script that takes its name from the classic song of the same title.
The mat features a non-skid bottom to keep it from sliding around and bunching up to keep it looking its best. When it comes time to clean it, your parents can just toss it in the washing machine on gentle. It measures 18 inches by 27 inches in size.
Check Price & Reviews on Amazon
---
Collecting wine corks is a hobby for many people as it allows them to save a token from a night spent enjoying wine with loved ones. If your parents enjoy collecting corks from their favorite bottles of wine, consider the Monogram Wine Cork Holder as a gift. This wine cork holder comes in the shape of an S, making it a nice choice for families with a surname beginning with S.
The holder is crafted out of premium materials that will outlast years of use so that the collecting never has to stop. Your parents can choose to set it on a tabletop or hang it on the wall as decor.
Check Price & Reviews on Amazon
---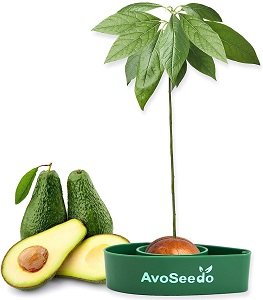 For lovers of delicious avocados, the AvoSeedo Avocado Tree Growing Kit allows your parents to grow their very own. The kit comes with everything they need to grow their own avocado tree, so they'll always have the delicious fruit close at hand.
They can work together to start, plant, and care for the tree as it grows and then reaps the rewards when it begins to produce. It can be grown indoors, so if your parents are older and do not want to tend to a garden outdoors, they can enjoy the convenience of just placing it in the house. The kit will serve as a gift that keeps on giving.
Check Price & Reviews on Amazon
---
With the Wake-Up Light, you can encourage healthier habits and a better night's sleep for your parents. This light will naturally wake them up in the morning by simulating sunrise in a gentle and soothing manner 10 to 60 minutes before the alarm actually goes off. Your parents can choose from a total of seven colors to give them a warm light that will urge them awake most comfortably.
Not only can it be used to wake them up, but it can function as a reading light, night light or atmospheric light. They can also enjoy the radio functionality to soothe them with music or simply let them listen to the morning news after they wake up.
Check Price & Reviews on Amazon
---
If your parents love to sit in the garden and watch the birds come to eat out of their bird feeders, they will love this adorable Birdhouse Key Ring. The keyring features a little yellow bird tucked away inside of a brown wooden birdhouse peeking its head out.
From its feet hang the keyring upon which they can attach their keys and then grab it on the way out of the door. The yellow bird flies out of the house with them and can be used as a safety whistle while they are on the go. With a bright yellow color and dedicated housing, they'll never lose their car key again.
Check Price & Reviews on Amazon
---
As a kid, coloring books were a universal way to entertain and soothe, and that's something that hasn't stopped being true just because those kids got older. If your parents love to color on long flights or just to relax at home but don't want to color in children's books, they'll love the Calm the F*ck Down—especially if they've got a great sense of humor.
This coloring book is quite colorful indeed with its swear words on the page, making it a funny and useful stress-relief source. The lightweight paperback design makes it easy to tuck into carry-on bags so that they can easily take them on trips.
Check Price & Reviews on Amazon
---
Treat your parents to the relaxation they deserve by gifting them the EAshuhe Neck and Shoulder Massager. This one-of-a-kind neck massager uses shiatsu technology and 3D balls that rotate to provide a deep tissue massage along the neck but can also be moved around the body to provide relief from tension anywhere.
The heat technology works with the rotating balls to soothe and comfort tired muscles in minutes for a relaxing massage at the end of the day. Because of its portable, hands-free nature, it can be taken with them to the office or even on a long car trip to keep them comfortable.
Check Price & Reviews on Amazon
---
If all else fails and you simply cannot decide what it is you want to get your parents, you can always opt for an Amazon gift card. By gifting them this card, they will be able to purchase something for themselves to enjoy, and in this way, you can be sure whatever they get from you is something they are going to love.
The gift cards come in amounts including $25, $50, $75, and $100 with the option of adding a custom amount. You can put your name on the card as well as a little message for them to read once they receive it. You can also save it for a birthday or anniversary by scheduling the card to arrive on a certain date.
Check Price & Reviews on Amazon
---
Final Thoughts When shopping for your parents, you can cut down on hours of searching for the best gift for the pair by browsing our list above. We've listed 12 popular tech gifts for parents that they are sure to love to make the process of shopping easier for you.
---
Read Next
---
Techodom's mission is to bring to the surface the most useful, expert recommendations for things to buy in the vast e-commerce landscape. We try to update the links as often as possible, but please note that deals may expire and all prices may change. Each editorial product is independently selected and reviewed. Techodom may earn a commission if you make a purchase through one of our links.
---