A quality ice-crushing blender is key to making delicious milkshakes, smoothies, ice cream and beyond, making it an instrumental appliance in any kitchen.
In this article we are going to show you the best ice crushing blender – based on our own research – as well as 14 other best ice-crushing blenders under $100, to offer you more choices.
The blenders we recommend below, have all the benefits of a high-quality and usually expensive blender, but without running your bank account dry.
So If you are ready for the best ice crushing blender – scroll further down.
Best Ice Crushing Blender Under 100
For those of you of being in a hurry, the best ice crushing blender under 100 USD is the 4800rm Blender by 365+ Life Store on AliExpress.
This Ice crushing "monster" features a 2200 Watt Blending motor -which is the biggest by far of other blenders that cost under 100 dollars.,
It also features a 6 preset menu program with LCD screen, where you can adjust the speed and the timer.
What's most important is the automatic overheating protection system to ensure the motor longevity.
As for its jar note that it is unbreakable, made with food grade BPA free plastic and it can store up to 2 Liters of material. It also has a comfortable grip rubber handle.
Most importantly, this "beast" features 3 layers of a total of 8 titanium blades. Again, I haven't seen a blender under the 100 USD mark, has 8 blades.
If you are from the USA note that this ice crushing blender is available from AliExpress' USA warehouse, so you'll have the product delivered to you in less than a week.
Below are 14 more best Ice crushing blenders under 100 US dollars to choose from. Remember all the blenders we recommend below our powerful enough to break ice and cost under one hundred dollars.
The Homgeek 1400W Grinder Blender features six blades that efficiently break through ice, fruit and any other ingredients you include. This powerful high-speed blender can create smoothies in seconds, so you can spend more time on other aspects of food prep.
With the pulse function and two speeds, you can customize how the blender operates depending on what you're currently making. Anti-skid pads keep the blender from slipping around.
Features of the Homgeek 1400W Grinder Blender
The Ninja BL610 Professional is a pro-quality countertop blender that runs on 1000 watts of power to promise quick and efficient blending.
Thanks to the 72-ounce size, it can create frozen drinks, milkshakes and smoothies for many people at once.
The Total Crushing Technology uses high-powered blades to crush easily through ice, vegetables and fruit in mere seconds. When you're done, you can easily clean the BPA-free pitcher in the dishwasher.
Features of the Ninja BL610 Professional
The Oster Blender Pro 1200 is a smart blender that has seven speeds to work with depending on the project at hand. With three preprogrammed settings, you can create the most common blender drinks with a push of a button.
Dual direction blade technology allows for swift grinding by pushing the ingredients right into the blade for more efficient blending. It is complete with a six-cup capacity glass pitcher that withstands thermal shock and is easy to clean.
Features of the Oster Blender Pro 1200
Whip up all of your favorite blender creations in seconds using the Ninja BL660 Professional Countertop Blender. The blender runs on 1100 watts that power the three speeds and pulse functionality. The pitcher holds 72 ounces of ingredients the heavy-duty motor can crush to a silky texture in only seconds. The product comes with two, 15-ounce Nutri Ninja cups that you can fill with the smoothie and take on the go.
Features of the Ninja BL660 Professional Countertop Blender
Using a hardened stainless steel blade, the WantJoin Professional Blender crushes ice with its powerful 30,000 RPM, leaving you with the perfect texture in seconds. Speed controls allow you to achieve different textures with a timer-controlled function that won't over blend. It is safe to wash in the dishwasher, making cleanup a breeze.
Features of the WantJoin Professional Blender
With the GAVASTO Blender, you can enjoy professional-quality smoothies and blended creations right at home. This ice-crushing smoothie features an 1800-watt high-powered motor that drives six-prong titanium steel blades to effectively whip ice into a smooth texture. Thanks to the extra wide 3.5-inch blades, the ingredients flow right down into them to promote swifter blending.
Features of the GAVASTO Blender
The Amaste Blender is a high-quality home blender that works with both hot and cold ingredients. It is particularly well suited for crushing ice, thanks to the built-in pulse and eight speed options that all pulverize ice in seconds. It features a 64-ounce pitcher that can hold plenty of ingredients at once, allowing you to make smoothies in larger batches.
Features of the Amaste Blender
Powered by 1800 watts, the KTMAII Countertop Blender is a high-powered countertop blender that cuts through ice and crushes it immediately. It features three presets built right in as well as variable speed control, so you can choose exactly how the product blends and to what texture. Six hardened stainless steel blades are capable of withstanding even the firmest of ingredients, meaning ice is no challenge for it at all.
Features of the KTMAII Countertop Blender
A total of 1200 watts powers the NutriBullet ZNBF30400Z, a premium blender that offers three precision speeds and a pulse function for easy crushing. The 64-ounce pitcher holds ample ingredients for creating large batches of smoothies at once. Using stainless steel blades and a BPA-free pitcher, all of the parts are durable and easy to clean. The pitcher is strong enough to be cleaned in the dishwasher.
Features of the NutriBullet ZNBF30400Z Blender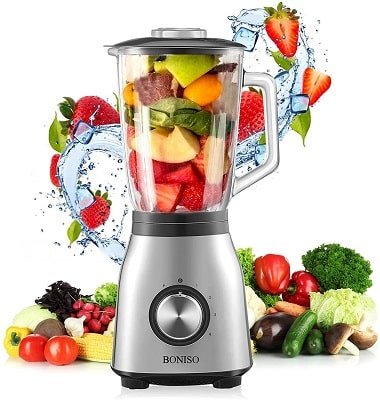 Perfect for smaller jobs, the BONISO Countertop Blender is a 50.7-ounce blender that gets the single-serve jobs done well. The blender features four speed options and a pulse function, so you can crush ice right away. Ultra-durable stainless steel extractor blades smooth ingredients to the perfect consistency in no time. The 1.5-liter large capacity jar is made of durable BPA-free glass, and it rests on a base equipped with anti-slip pads.
Features of the BONISO Countertop Blender
The Lumme Countertop Blender is a two-in-one countertop blender that can make smoothies, milkshakes and beyond. This 50-ounce blender crushes ice in seconds, thanks to the high-quality blades, generating creamy smoothies in seconds. The BPA-free pitcher is durable enough to be cleaned in the dishwasher, saving you time on cleanup. It comes complete with a 16-ounce personal bottle as well as a to-go lid.
Features of the Lumme Countertop Blender
With six stainless steel blades powered by the 1600 watt motor, this Anthter Blender 1600W crushes ice virtually instantly. It features variable speed control using the knob on the front as well as preprogrammed settings you can use to make your favorite drinks with one touch. The safety lock on the underside of the mixer pairs with the non-slip rubber feet on the bottom to make using it as safe as possible.
Features of the Anthter Blender 1600W
Create delicious drinks in seconds with the Healthmaster Elite JLA-8. This blender uses a food emulsifier to liquefy veggies and fruits and crush ice in mere seconds. It features a stainless steel uni-body blade compete with four sharp serrated blades to cut through even the toughest of ingredients. The BPA-free pitcher is safe to wash in the dishwasher.
Features of the Healthmaster Elite JLA-8
The PakOne Blender is an ultra-large blender that can hold as much as 2.2 liters, making it ideal for a family's worth of smoothies. It runs on a high-powered 1800-watt motor that can turn the blades up to 26,000 RPM, effectively and efficiently crushing ice and solid ingredients alike. Variable speed controls allow you to adjust the speed for each creation using the knob on the front.
Features of the PakOne Blender
Final Take
With an ice-crushing blender, the possibilities for frozen treats are virtually endless. Above, we've listed the 15 best ice crushing blenders under $100, giving you access to inexpensive but high-quality ice crushing blenders for your next smoothie or milkshake.
If you have a great experience with a model that is not listed above and you would like to recommend it, feel free to comment below. Our editors will consider if it worth adding it to our list wit h the best ice crushing blenders.