---
Welcome to our Polaroid Snap Instant Digital Camera Review. In this review, we share the product's specifications and we analyze its most important features.
Polaroid Snap Instant Digital Camera Review – Table of Contents
The market of cameras seems to be oriented on adding more and more megapixels to resolutions, more power to the lens, more features to cameras' software.
But, as the world of photography goes on so fast, some are watching back with a bit of nostalgia.
Polaroids were once fascinating because you could see the picture you had just taken. Today, with digital cameras on our phones, this is no longer something that has an appeal to us.
But holding a photo in our hands, waiting for it to become clear on the paper, attaching it to the wall or inside our journal, this is something we have long forgotten.
Bringing past and present together, the Polaroid Snap Instant Digital Camera brings us back in time with the convenience and compactness of digital technology.
We tested and reviewed the Polaroid Snap Instant Digital camera for you and we want to share our thought in this article.
👍 Read Also: Akaso Brave 4 Review
Polaroid Snap Instant Digital Camera Review Video
Before we dive deeper into Polaroid Snap's features, you might want to see this review video we've found on YouTube (it's the best out there).
Specifications
Dimensions: 1 x 4.7 x 3 inches
Weight: 13.4 ounces
Image sensor: 10MP 1 /3.2'' CMOS
Lens: 3.44 mm f/2.8 (25.8mm equivalent)
Memory slot. MicroSD cards up to 32GB
Print size: 2 x 3 inches
Print Speed: less than a minute
Battery: built-in rechargeable Li-ion battery
Maximum Paper load: 10 sheets.
Manufacturer: Polaroid
Main features
Compact Design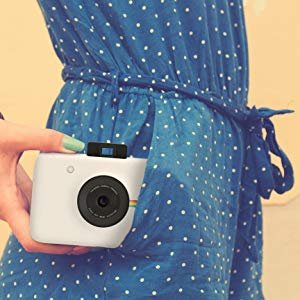 Those who can remember the old Polaroids will appreciate the Polaroid Snap's new compact design. Old Polaroids were voluminous and uncomfortable, but with its convenient dimensions (1 x 4.7 x 3 inches) this new Polaroid Snap will comfortably fit in your pocket. It is also very lightweight, designed to be comfortably carried around.
The overall size and design are just as compact and lightweight as our smartphones.
Picture Quality
When it comes to deep resolution and optical tools, the Polaroid Snap can't compete with the highest resolution cameras.
The Polaroid Snap features a 10 MP Image Sensor while most of the cameras built on our smartphones go from 15MP to almost 100MP!
Competing with such digital cameras isn't the purpose of the Polaroid Snap – its main aim is to offer a vintage experience of taking pictures.
This doesn't mean the Polaroid Snap takes ugly pictures! The pictures have a good resolution and very good colors. Since the camera is built to print 2 x 3 inches images, the 10MP sensor is more than enough to provide high-quality pictures.
Paper
The Polaroid Snap prints 2 x 3 inches images. The print is very quick: it requires less than a minute. You can load your Polaroid Snap with a maximum of 10 sheets – this is not much, especially because we are used to taking as many pictures as we want with our phones or cameras.
If you're on the beach with your family you're probably going to take more than 10 pictures… On the other hand, you can reload the sheets on your camera easily and quickly (there is no need for any tool), plus, the paper case had been probably kept small to keep the design compact.
Vintage photography experience
Taking pictures with the Polaroid Snap is different in many aspects. Most of us take pictures with our smartphone so we are used to looking on a screen.
The Polaroid Snap features no screen, and you need to look inside the pop-up viewfinder. It is the same gesture that was done with old analog cameras and that professional photographers do even today with their digital reflexes.
Plus and foremost, the Polaroid Snap allows you to print the picture you just take and hold it in your hands. We've lost this habit of taking pictures in our hands, attaching them to the walls or putting them inside picture frames, but these are experiences worth taking and the Polaroid Snap allows you to enjoy them.
Color Option
You can take beautiful color pictures with the Polaroid Snap. To enhance the vintage experience, though, you also have the possibility to choose between black and white and sepia tone color palettes. You can also add the classic Polaroid border to your print by just pressing a button.
Read Also: 100 Things to buy with $100 (or less)
Ease of use
The Polaroid Snap is designed to be very simple. There are no complicated menus – you can choose between options by simply pressing a single button.
To turn the camera on, you can press the power button and then punch the viewfinder down to turn it off. You can choose between the three color options available with the button on the top left of the camera, and there's also a simple 10-second timer.
Still a digital camera
Even though it allows you to print your pictures as soon as you take them, the Polaroid Snap is still a digital camera, which means that it saves a digital copy of any picture taken on a digital memory. It features a MicroSD slot that can host a flash memory of a maximum of 32GB.
No need to recharge the ink
The Polaroid Snap can print images but it doesn't work as a printer. It uses the Zink zero-ink paper which is embedded with cyan, yellow and magenta dye crystals. You can't see the crystal to the naked eyes, but when the print is made, heat activates them so they change into the appropriate colors. That's why the Polaroid Snap doesn't require ink recharges.
Battery
The Polaroid Snap is powered by a built-in rechargeable Li-ion polymer battery that can be charged through the USB port on the side.
Included in the package
When purchasing the Polaroid Snap you also receive the Micro-USB cable for recharging the battery, a magnetic lens cap, and a wrist strap. Paper sheets are not included so make sure to buy some separately.
Similar Products
Polaroid is not the only company who is targeting the digital instant photo cameras niche. Its competitors – Kodak and Fujifilm – are also in this market. Below are some similar models to Polaroid Snap.
Final Thoughts
This is not the camera for those who want dozens of megapixels resolutions on their photos. The Polaroid Snap Instant Digital Camera is made to offer a different experience of taking pictures. The new technologies are used to bring us back to the past.
Sometimes making presents is not easy at all, but the Polaroid Snap would be perfect as a gift for anyone: photography passionates, friends, parents, and children too.
We hope you enjoyed our Polaroid Snap Instant Digital Camera Review. What are your thoughts about this digital camera? Do you agree that photographs in the past were more fun? Share your thoughts in the comment section below.
Related products
More Reviews
---
Techodom's mission is to bring to the surface the most useful, expert recommendations for things to buy in the vast e-commerce landscape. We try to update the links as often as possible, but please note that deals may expire and all prices may change. Each editorial product is independently selected and reviewed. Techodom may earn a commission if you make a purchase through one of our links.
---