ℹ️ Techodom is reader-supported. When you buy through links on our site, we may earn an affiliate commission without any surcharge to you.
Welcome to our unbiased Samsung S20 Ultra Vs iPhone 11 Pro Max article. When we talk about the top players of the smartphone arena, it has to be Apple and Samsung. These two brands are right now dominating the market with some mind-blowing features and specs in their handsets.
Get 💰 by simply shopping on Amazon, Sephora, Burger King, Uber, Spotify, Starbucks, and hundreds of offline and online merchants with this app.
The Samsung s20 Ultra and the Apple iPhone 11 Pro Max 64GB are two such smartphones that are a notch higher than any of their counterparts. Be it camera, performance, speed, processors, or display; these two are here to blow your minds.
The Samsung s20 has a 6.9inch display with 108 megapixels camera, 30x optical zoom, 5000 mAh battery, and a whooping 120hz refresh. The iPhone 11 max pro is 6.5 inch with triple rear cameras, 3D Face scanning, faster processor with the security of Apple.
Read Also: Best Selfie Drone Under 100 Dollars For 2020
Samsung S20 Ultra Vs iPhone 11 Pro Max
Let us look into the specifications provided by both these phones.
Design and Display.
The iPhone 11 has a 6.5inch LCD screen while the Samsung s20 has a 6.9inch AMOLED display. This makes the presentation of the Samsung s20 sharp and smooth. Due to the high contrast, the colors look more vibrant and eye-pleasing. It also has a higher resolution and more pixel density, which means better details on the screen.
Both the phones have a brilliant display, and if you watch pictures or video, the differences are very slight.
The Samsung s20 can refresh a frame 120 times, whereas the iPhone 11 can refresh only 60 times per second. This makes playing interactive games and browsing more appealing on the s20. But using such a high refresh rate also drains the battery in the s20.
The Galaxy s20 has a small notch for the camera, while the iPhone has a more prominent notch for the camera and sensors for face identification.
The display in the s20 is sharper than the iPhone 11, given the high refresh rate, but it wouldn't be advisable to use such a setting for everyday purposes.
Camera
Now, camera specifications are always given top priority by users, and when the bar has been set so high by the brands, it raises expectations.
iPhones are considered to have the best cameras in the smartphone world. The iPhone 11 Pro is equipped with two rear cameras and an ultra-wide lens. This feature enables you to take breathtaking landscape shots at wide-angle and beautiful portraits.
The Deep Fusion technology from Apple shoots every detail, even in adverse lighting conditions.
The Galaxy s20 is also packed with camera rich features such as 108MP primary wide lens and 12 MP ultra-wide shooter. With its three rear cameras, optical telephoto lenses, and 30x optical zoom that can catch up any detail in a picture., the s20 speaks for itself.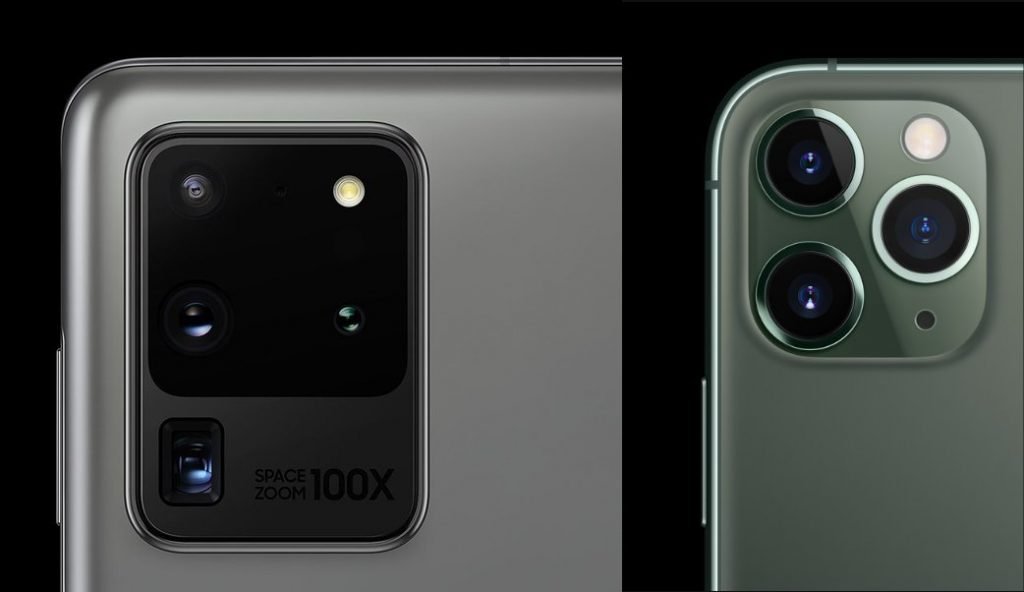 Some added features of the s20 are the Single Take option that allows you to take a series of portraits or ultra-wide photos, short videos, all at the click of a button. It can also capture videos of 8K resolution even though you would need to have a screen that supports such high resolution.
The iPhone can be the best option if you are merely content with outstanding pictures or videos and don't want any extra features. But the Galaxy s20 can be handy if you are really into video editing, or you love to play with some fancy upgrades that the phone provides.
Even though it is packed with so many features, there seem to be some problems with the auto-focus.
Read Also: Best Power Bank Charger For IPhone – The Top 10 List
Price
The Samsung Galaxy s20 puts the iPhone to shame in terms of pricing. The iPhone is the affordable one in this lot as it stands at AU$ 1,399 (64GB); AU$ 1,649 (256GB) and AU$ 1,999 (256GB).
While the Galaxy s20 is at AU$1,999 for the 5G version, this makes it more expensive than the iPhone 11 Pro Max 64GB.
Performance.
With an A13Bionic Chipset, the iPhone 11 Pro Max works better and faster even though it has a 4GB RAM.
The Galaxy s20 with a 12GB RAM runs on the Snapdragon 864 chipset from Qualcomm.
This is an area where Android gets beaten up by iOS. So, in terms of speed and performance, the iPhone 11 is faster.
Software
The iPhone 11 comes with the iOS 13, while the Galaxy s20 has the Android 10. Both of these phones run on their innovative software, but iOS seems to be more refined.
With constant updates from Apple that can be used in models starting from iPhone6, iOS has become top-notch. Features such as 3D Face Id that uses biometric technology, the Dark Mode, and security provided by Apple make it a better catch.
Whereas the Galaxy s20 has a 2D Face Lock, and the fingerprint sensor seems somewhat inaccurate.
Read Also: Xiaomi Mi Band 4 Review – Value For Money Fitness Tracker
Battery life
The Samsung Galaxy s20 can pull up around 12 hours of constant use at one charge if the screen refresh rate is 60Hz. If you set it to 120 Hz, the battery life will get reduced.
But the reverse charging feature helps the charger to charge the phone fast while simultaneously charging other Samsung devices. This feature cant is found in the Apple handsets.
The iPhone 11 can also last for almost 12 hours of screen time, while the battery does its job of charging the device fast.
Data Sharing and security
In terms of sharing files and security, both iOS and Android have their perks and loopholes.
iOs can be easy to use and more secure, whereas Android can be more customized, but it is not so safe.
The iPhone 11 has Apple air-drop for file sharing that runs on many models of Apple. While the Galaxy s20 has Quick share to share files but its usage is limited to a few models of the Galaxy series.
In terms of security, both phones have invested in high biometric technology. The s20 has an in-screen fingerprint sensor, and the iPhone 11 Pro Max requires a Face Id that is in 3D.
5G connectivity
The Samsung s20 has 5G connectivity, which can be advantageous a few years from now. Even though its 5G, the speed won't be as fast as you would expect. It will be fast than 4G but not theoretically as fast as 5G, while it would take a year or two to see an iPhone that has 5G speed.
Digital Assistants
The iPhone 11 has Siri, and Samsung s20 has Google Assistant and Bixby as AI-powered digital assistants.
Conclusion
Both the iPhone 11 Pro Max and the Samsung Galaxy s20 are two of the best flagship smartphones in the market right now. With amazing features and specifications, these two have raised the bar for future competition.
They are packed with features that will satiate your inner gadget-savvy soul provided you are ready to pay for the high price tag they come with.
You can check out both these phones at Phonebot www.phonebot.com.au. as they both are currently on sale at Phonebot.
---
So, what do you think about our Samsung S20 Ultra Vs iPhone 11 Pro Max comparison guide. Have we covered all their features. If you have any friends that are not sure which smartphone to buy, why not sharing this Samsung S20 Ultra Vs iPhone 11 Pro Max article with them. We are sure that they will appreciate it.