Welcome to our Sonos Roam Review. The Sonos Roam is Sonos' proposal for an ultra-portable smart speaker designed to deliver great sound at home and on any adventure.
Fully connected to your Sonos system via WiFi at home and automatically switching to Bluetooth when on the move, the Roam's powerful, customizable sound exceeds expectations for a speaker of this size.
Its easy setup, easy control and new smart features make music enjoyment easier than ever, wherever you are. Weighing less than half a pound, Roam's sleek yet durable design is ideal for the home, the yard, and anywhere else you find yourself.
Sonos Roam Review
A truly smart speaker
Simultaneous WiFi and Bluetooth connectivity makes the streaming experience incredibly simple. When you're at home, Roam connects to your system and streams over WiFi, and when you leave the house, it intuitively switches to Bluetooth and automatically reconnects to your mobile device.
With a brand new feature called "Sound Swap", by holding down the Play/Play button on the speaker, you can transfer music to the nearest speaker in your system – making it easy to transfer music between rooms.
Seamless connectivity also unlocks Bluetooth streaming for your entire system via the Sonos app, which lets you group any of your Sonos speakers you want in Roam when streaming via Bluetooth.
Roam works with dozens of streaming services, including Sonos Radio, and is easily controlled with the Sonos app, your voice from Amazon Alexa, Google Assistant and Apple AirPlay 2, or directly from your favorite music service app.
Made for long journeys and harsh situations
Weighing less than 0.43kg and measuring 168X62X60mm, Roam fits in any bag and can accompany you anywhere and is ready to create the soundtrack of your day with up to 10 hours of continuous playback on a single charge.
You can easily charge it with a specially designed Sonos magnetic wireless charger (sold separately), or any Qi wireless charger, or using the included USB-C cable. When not in use, Roam goes into sleep mode and its battery can last up to 10 days.
Roam is also ready for any adventure. With an IP67 rating, it's dust resistant and completely waterproof. The silicone lids protect it from drops and bumps.
Design that stands out
Available in shadow black or lunar white, Roam's simple triangular shape and understated style make it ergonomic and suitable for any room in the home. Combining elegance and durability.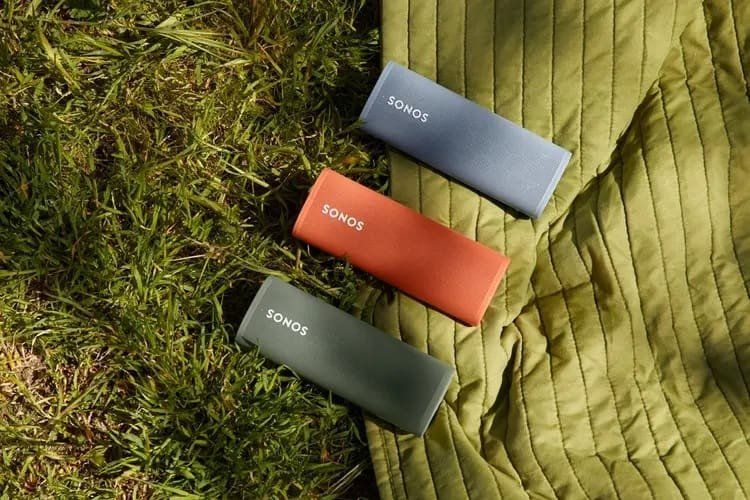 Carefully designed acoustic architecture delivers rich, detailed sound with the clarity, depth and fullness you'd expect from a larger speaker. And all this when it fits into even the smallest corner of your room.
Automatic Trueplay is now available for streaming over both Bluetooth and Wi-Fi, meaning Roam is always tuned in for the best listening experience in any environment.
Related: The Best Bluetooth Speakers: Portable Speakers for any Budget
Final Take
We hope you enjoyed our Sonos Roam review. If you're looking for a portable speaker with great sound quality, the Sonos Roam is definitely worth checking out.
This little guy is waterproof, drop-resistant, and has a long battery life – perfect for taking on picnics, hikes, or trips to the beach.
Plus, it's easy to control using the buttons on top of the speaker or your voice. And if you already have a Sonos system at home, the Roam will work seamlessly with it.
Ready to take your music on the go? Get Sonos Roam and Start exploring!
Yo, check our other product reviews.
---
Techodom's mission is to bring to the surface the most useful, expert recommendations for things to buy in the vast e-commerce landscape. We try to update the links as often as possible, but please note that deals may expire and all prices may change. Each editorial product is independently selected and reviewed. Techodom may earn a commission if you make a purchase through one of our links.
---