If you are looking for an outdoor pizza oven, then our Top 10 Outdoor Pizza Ovens article will narrow your options to the best pizza ovens that are available in the market today.
Pizza is arguably one of the simplest and most delicious meals or snacks to throw together. But while takeaway is always within reach, pizza connoisseurs may wish to have greater control over the quality and craftsmanship of their favorite dish.
How can you accomplish this? With the right outdoor pizza oven, of course! To ensure you make the pizza of your dreams every time, let's dive into the top 10 outdoor pizza ovens to consider for your culinary adventures.
Top 10 Outdoor Pizza Ovens
1. The Chicago Brick Oven 750 Hybrid Stand Oven
The CBO-750 Hybrid Stand Oven is a high-quality outdoor pizza oven that offers dual-fuel capabilities (for wood burning or gas burning needs) and a convenient build for wood storage.
With the ability to handle temperatures of over 1000°F and a perfectly crafted body that retains heat, you're sure to make the ideal pizza every time with this oven by Chicago Brick Oven.
---
2. The Forno Bravo Primavera Outdoor Pizza Oven
Modern products are effective, but few are as attractive or authentic as the Forno Bravo Primavera Outdoor Pizza Oven.
Small and easy to install in any outdoor kitchen, this pizza oven by Forno Bravo gives you the ability to prepare authentic wood-fired pizzas in a matter of minutes with a speedy heat-up time and excellent heat retention.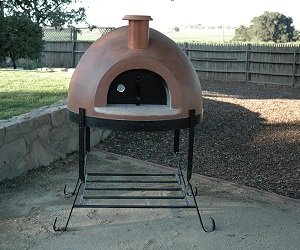 ---
3. The Oven by Summerset
Sleek and efficient, The Oven by Summerset is the best option for those who wish to bake pizzas or more in their backyard.
Prep the food on the side, turn your oven on, and get ready for the delicious results!
---
4. Alfresco's Pizza Oven Plus
Are you looking for the pinnacle of pizza perfection? If so, look no further than Alfresco's Pizza Oven Plus products.
The Pizza Oven Plus takes pizzas to the next level with its modern craftsmanship that quickly heats your pizza to get the most delicious bake or roast.
Whether you like built-in or freestanding pizza ovens, the Pizza Oven Plus can do it all.
---
5. The Karma Oven by WPPO
Whether you're looking for freestanding or built-in, stainless steel or colored, The Karma Oven by WPPO is a flexible oven type that can support all of your baking needs.
Just pick your favorite option and fire it up!
---
6. The Bertello Outdoor Pizza Oven
Most pizza ovens limit you to two types of fuel. Not the Bertello Outdoor Pizza Oven!
With the Bertello, you can cook with wood, gas, wood pellets, and charcoal, all while getting the perfect bake in this attractive freestanding oven.
If you are fancy for a homemade cup of coffee along with your homemade pizza, you might want to check our guide for the Best Coffee Maker With Grinder Under 100 Dollars. Also, if the smoke from your outdoor pizza oven, manages to slip through your house, this article on air purifiers for smoke under $100 is a must-read.
---
7. The Lynx Napoli Outdoor Oven
The Lynx Napoli Outdoor Oven is a monster oven with 400 square inches of baking space, accurate controls to help you reach the ideal temperature, and modern features to help you cook, even in the dark.
If you want an oven that is stylish and efficient, go with the Lynx Napoli pizza oven.
---
8. The Gozney Roccbox
The restaurant-grade, duel-fuel Gozney Roccbox is a great option for beginners.
With high temperatures, a built-in thermometer, and insulation that keeps the heat in (plus silicone that keeps the heat from making the outer surface untouchable), the Gozney Roccbox has everything you need to enjoy your pizza-making journey.
---
9. The ilFornino Professional Plus Wood Fired Pizza Oven
Although the ilFornino Professional Plus oven may look unassuming, this high-end pizza oven combines high-grade stainless steel and ceramic to help you retain heat and cook your pizza more effectively.
Additionally, it comes with adjustable surfaces and additional space to prepare your food. What could be better than that?
---
10. The Smokeless Charcoal BBQ Grill by GarrettWade
If you're looking to break away from traditional pizza ovens and try something new, you should consider a smokeless charcoal BBQ grill. Unlike other pizza ovens, this grill uses forced air to help you prepare foods no matter where you are.
This is a fun choice for you if you love the outdoors and adventure: you can easily pull out your smokeless grill to prepare your favorite campfire pizza recipes to add some creative options to your camping dinners.
Bottom Line
When it comes to pizza, you should never settle for subpar quality. Instead, get the perfect bake every time with the top 10 outdoor pizza ovens listed above!
If you've found our top 10 outdoor pizza ovens guide helpful feel free to share it. It will really help us grow and we're sure your friends will love it as well.
Check Also
---
Techodom's mission is to bring to the surface the most useful, expert recommendations for things to buy in the vast e-commerce landscape. We try to update the links as often as possible, but please note that deals may expire and all prices may change. Each editorial product is independently selected and reviewed. Techodom may earn a commission if you make a purchase through one of our links.
---