Everything you need to know to make the best decision when buying an electric shaver. In this electric shaver buying guide, we'll explain everything you need to know to buy the perfect electric shaver for your needs.
If you're thinking about getting rid of your beard, are bored of shaving with a razor and foam or want to get rid of the hair on your body, it's time to get an electric shaver too.
There are many reasons why you might want to get an electric shaver. Maybe you don't want to have a mustache and beard or unwanted hair growth on different parts of the body. Maybe you're just bored of the old-fashioned combination of razor and foam, which leaves your skin harder and sometimes injures it.
So, if you're considering getting an electric shaver, then there are a few things to keep in mind that will help you make the best choice for your needs. For example, it's a good idea to avoid using a face shaver on the body, or a body shaver on the face, although there are machines that are meant for both.
Generally, shavers are divided into 2 categories, depending on their mechanism, and 3 categories for how they are powered. Let's take a look at them.
Types of Electric Shavers
Foil Electric shavers
These are electric shavers that have rotating cylindrical heads on top, called foils. Each machine contains holes inside, which "catch" the hairs for the blade to cut them a short distance from the skin.
This type of shaver is recommended for those with sensitive skin, as the hairs are cut very short, and can also be used for corrections and details on beards and moustaches.
When you should buy a foil electric shaver?
If you shave every day, this type of shaver is the best for you, as you can either keep your beard in the same shape or keep your skin hair-free.
Usually the blades on these machines last from 6 to 36 months, so always make sure to check on their condition and any need for replacement.
Recommended Foil Electric Shavers
Kemei Titanium Double Foil Shaver
Andis 17150(TS-1) Pro Foil Shaver
Rotary electric shavers
This type of shaver has been rising in popularity in recent years. It has circular rotating heads with small blades on their tips and is best for faces or bodies with curves because of its design.
Why you should buy a rotary shaver?
These shavers are more water-resistant, which makes them ideal for those who don't shave often, as they don't need much maintenance and they cut "wild" hairs better, which are not maintained. This type of machine doesn't cut hairs closely, so it needs a cleaning at regular intervals.
Recommended Rotary Electric Shavers
Philips Norelco Shaver 2300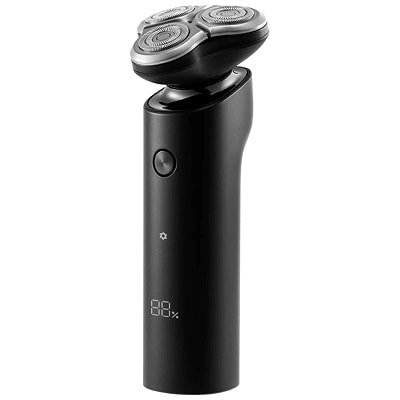 XIAOMI MIJIA Electric Shaver S500C
Power supply
Electric shavers are divided into 3 categories of power supply, which cater to different people and usage scenarios. Of course, a cordless shaver will be more expensive than a corded one, so if you're on a budget, one of these 2 options may be more suited to your needs.
Corded shavers
The simplest shavers, but perhaps the most uncomfortable, as they always require a connection to an electrical outlet to work.
On the plus side, of course, is the fact that they won't suddenly stop working halfway through the process unless their power supply is cut off.
Cordless – Battery Powered Shavers
These are shavers that work without a direct connection to a power outlet, but with batteries that fit, usually at the bottom.
They are more convenient, since you don't need a free outlet to plug them in, but they run the risk of running out during shaving and you have to have new batteries to keep working.
Cordless – Rechargeable Battery Shavers
These shavers are also battery powered, but rechargeable, which means you just have to remember to charge them between uses.
Some simply charge with a cord, while others have a special stand so you can remember to leave it there and not in random places. There are more expensive models, which also have a case that holds an extra charge, so you can take care of yourself even on long trips.
Recommended Rechargeable Battery Shavers
SweetLF 3D Rechargeable Electric Shaver
Panasonic ARC5 Electric Razor for Men
Wet or dry shaving?
In the past, most shaver models were suitable for dry shaving, meaning you couldn't use foam, gel or even water during the shave.
Nowadays, most models on the market don't have this issue, meaning you can use whatever foam or gel you need with them, which not only makes shaving easier for you and your skin, but also makes maintaining your machine easier.
That's because you can conveniently use water to clean it, as many models have detachable parts for easier access to the areas that need cleaning.
Keep in mind the size and weight of the machine
Like anything that you'll need to use on an almost daily basis, it's a good idea to keep in mind the size and also the weight of the shaver you choose.
You should be able to handle it comfortably for quite some time, without it tiring you out due to its weight or being uncomfortable to hold due to its design or size.
This is more important with shavers that use batteries (rechargeable or not), since that's where their weight adds to the weight of the device.
Electric Shaver Buying Guide – Bottom Line
When buying an electric shaver, it's important to consider factors such as the type of shaver (foil or rotary), the features offered, and the price.
You should also think about your own shaving needs, such as whether you have sensitive skin or a heavy beard, as these can affect the type of shaver that will work best for you.
Ultimately, the best electric shaver for you will depend on your individual preferences and needs, so it's important to do your research and read reviews before making a purchase. You can check our top 7 electric shaver picks here.
If you liked our Electric Shaver buying guide, we have a ton of such helpful guides here. We urge you to check them out.
More Buying Guides
---
Techodom's mission is to bring to the surface the most useful, expert recommendations for things to buy in the vast e-commerce landscape. We try to update the links as often as possible, but please note that deals may expire and all prices may change. Each editorial product is independently selected and reviewed. Techodom may earn a commission if you make a purchase through one of our links.
---