Welcome to our Skatro Mini Cruiser Review. If you are searching for a good looking, easy to ride mini-cruiser, this Skatro Mini Cruiser Skateboard will blow your mind. It measures 22″ x 6″ inches and is made of high-quality injection mold plastic. All users are satisfied with their purchase.
Only con? A beginner may take some time to find a balance on it.
Continue reading our Skatro Mini Cruiser Review and learn more why this is one of the best mini cruisers you can get your hands on.
Skatro Mini Cruiser Features
Pros
Cons
Let's analyze Skatro Mini Cruiser's specifications and main features.
Specifications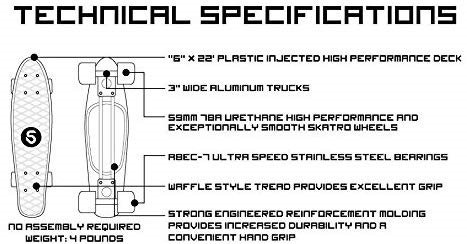 Skatro Flexy Technology
Skatro Team developed a manufacturing process that ensures optimal flex on every single Skatro Board. This technology ensures the board has the perfect amount of flex so that it can absorb bumps on the terrain similar to how a car suspension absorbs bumps on the road. It results in a top-quality ride that you'll find smooth and easy.
The Skatro Board is perfect for anyone who wants to experience the excitement of skateboarding but doesn't want to deal with the bumps and falls that often come with it. With its smooth ride, the Skatro Board makes it easy to enjoy skating without having to worry about getting injured. So
Skatro Ultimate Abec 7 Bearings
Skatro Ultimate Abec-7 bearings are made from Bearing Steel. Unlike carbon steel, which is what traditional bearings are made of, bearing steel is a significantly harder metal, which helps reduce friction as bearings rotate. Reducing friction is important to smoothen the rotation of the wheels, and so to increase the speed.
Also, with traditional carbon steel, sooner or later the bearings would lose their ability to produce a smooth rotation because the metal structure eventually gets distorted from general wear and tear. Bearing steels are capable of taking much more physical abuse so that you never lose performance.
All these features make the SKATRO Mini Cruiser a very durable product.
Free T-tool with every purchase
With every Skatro Mini Cruiser purchase you get for free this cool T-tool that hooks on the cruiser for lifting it and moving it with ease.
T-tool is a very handy little gadget that is perfect to have when your cruiser is not in use. It can also come in handy for tightening or loosening the bolts on your skateboard truck.
Also, it allows you to perform easier some of the most difficult stands
All Components Are From Skatro!
Skatro designs every component for its boards, including trucks, wheels, bearings, screws, and bolts. No parts are outsourced from other companies.
This isn't as unimportant as it may seem: designing every single component allows Skatro engineers to have full control over the entire production process of their boards.
This can ensure that all the components of the final product work in 100% harmony so you can achieve exceptional performance on your Skatro Board.
Light Weight – Perfect For Commuting
The Skatro Board is lightweight, and compact in size, can fit in almost any backpack so that you can take your board on the subway, plane, train, bus, and just about anywhere with ease and convenience.
Its compact size makes it the perfect option for those who are looking for a board that won't take up too much space.
This makes the Skatro Mini Cruiser perfect for commuting.
Reliability
Every Skatro Board that leaves the manufacturing facility goes through a thorough 16 point quality control inspection. This way, the company makes sure to deliver a product with zero defects. For this reason, Skatro offers a 100% money-back guarantee for 30 days if you are not satisfied.
Skatro Mini Cruiser Reviews
Check what this Skatro Mini Cruiser owner has to say about her experience with it.
Here's another great one.
I bought 3 of these skateboards for my granddaughters, age 9 and 6 year old twins. I did research these as best I could as I wanted them to enjoy learning to cruise on a skateboard and wanted boards that would help them learn and give them confidence. There are cheaper boards but apparently some tend to veer off to one side and others with them not rolling smoothly and the wheels being too tight. I know that these problems can be resolved but I don't know enough about adjusting things and with the Skatro boards, they were perfect straight out of the box. This was just as well as the 3 girls were on them straight away. They can all balance quite well as they have roller boots and heelies and my 9 year old got it straight off. I had watched a you-tube video about how to begin and how to place your feet and by shifting your weight, how to change direction. I am so pleased as the girls are obsessed with their boards and learning new things every day. They are feeling "really cool" and Nana is "the best"!!

– Liz H, Amazon (Verified Purchase)
And another one
Final Take – Skatro Mini Cruiser Review
The Skatro Mini Cruiser is a great beginner's skateboard. It's small and lightweight, making it easy to carry around, and it comes with everything you need to get started.
The deck is made of durable plastic, and the trucks and wheels are made of high-quality metal. The board has a smooth ride and is very stable, even at high speeds. The only downside is that it's not very versatile — it's not good for doing tricks or going off-road. But if you're just looking for a board to cruise around on, the Skatro Mini Cruiser is a great option.
Not only do the boards look great, but they ride incredibly well too. Skatro's unique truck design provides a stability and smoothness that is unmatched in the industry. Combined with high-quality wheels and bearings, Skatro boards provide an experience like no other.
I hope you enjoyed our Skatro Mini Cruiser Review. If you have something to add, leave a comment below, Also, share this post if you think it is useful to others.
This product is featured on our guide with awesome stuff to buy that are 100 dollars or less
Read Next
---
Techodom's mission is to bring to the surface the most useful, expert recommendations for things to buy in the vast e-commerce landscape. We try to update the links as often as possible, but please note that deals may expire and all prices may change. Each editorial product is independently selected and reviewed. Techodom may earn a commission if you make a purchase through one of our links.
---