Welcome to our Viewsonic VX3258-2kc-MHD Review. By the end of this review, you will learn the good and the bad of this gaming monitor, and it will help you make an informed decision on whether buying it or not.
Viewsonic VX3258-2KC-MHD Review
Viewsonic is a monitor manufacturing company as well as other products related to visual technology, which has a long history in this area, as it is already in its 3rd decade of life. Its remarkable proposals strike a balance between highly satisfactory specs and affordable price and certainly the 32-inch Viewsonic VX3258-2KC is a curved gaming monitor that if anything is of huge interest.
RELATED: Creative Sound Blaster G3 Review [2020]
Curvature
As usual, gaming monitors follow a little bolder design lines than screens in the most mainstream category. That's why the curvature of Viewsonic's 32-inch 16:9 monitor (1800R) is undoubtedly one of its most remarkable features.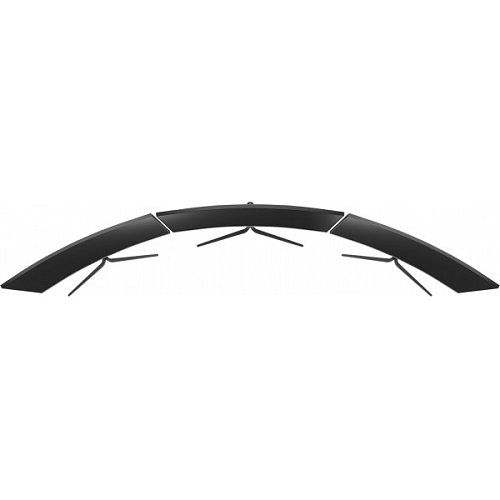 The curved design essentially achieves better viewing angles and eliminates the fade phenomena of the image when the user moves his eyes from the center of the screen.
External Appearance
Looking more closely at the external appearance of the Viewsonic VX3258-2KC it is obvious that Viewsonic seems to take a more minimal approach with the frames not being the most thin that exist but in no way bother.
Weighing in at 5.8 kg it can comfortably be "hosted" in any office. In addition, the construction quality is quite good and the base with the metal feet and the stand robust, however, the ergonomics somewhere "suffers" and certainly could have done a better job that would clearly give more points to the potential uses of the monitor.
For example, the inclination of the monitor is only 15 degrees, and it is not possible to rotate, nor is there any possibility for a VESA mount.
RELATED: 8Bitdo Sn30 PRO Plus Review (2020)
Back of the Screen
As for the back of the screen, the choice of glossy surface is a "double-edged knife", as on the one hand it leaves a premium feel, however, you should be prepared for a lot of "annoying" fingering and dust, which has the bad habit of sitting in certain places.
Staying at the back we can take a look at the available ports, and will undoubtedly not disappoint you, as the Viewsonic VX3258-2KC comes with two HDMI 2.0 ports, two Display Ports, and a headphone output. Maybe adding a USB hub was ideal and added value, but you can definitely survive without it.
On the back "inhabit" two solid speakers, which offer total power at 5 watts (2×2.5) and offer quite satisfactory performance in your games and movies. Finally, on the side, there is also a mini control joystick that allows you to set all monitor settings.
RELATED: Redragon K570 Review – Backlit Mechanical Keyboard
Specifications
Viewsonic's 32-inch curved gaming display has everything the modern gamer needs to enjoy their games, offering a game experience much better than 1080p. So it offers QHD resolution 2560 x 1440 pixels and 144Hz refresh rate, along with response time at just 1ms (MPRT), contrast ratio at 3000:1, and brightness at 300 cd/m2.
Detailed Specs
DISPLAY Monitor Size: 32"W (31.5" Viewable)
Panel Technology: VA TFT LCD
Resolution: QHD 2560 x 1440
Display Area: 697.344mm (H) x 392.256mm (V)
Aspect Ratio: 16:9
Brightness: 250 cd/m² (Typ)
Contrast Ratio: 3000:1 (Typ)
Dynamic Contrast Ratio: 80,000,000:1
Viewing Angles: 178 degrees / 178 degrees (Typ)
Response Time: GtG: 5ms (typ)
Colour Gamut: 85% of NTSC (Typ)
Undoubtedly, the above specs allow every gamer to enjoy the games of "The way its means to be played" as long as it has the right system, without annoying blurring or Input lag and smooth movement in most cases. In addition, Viewsonic's gaming proposal supports AMD FreeSync technology, which means even better results in a frame rate for Radeon GPU users.
Testing
By trying out a series of titles such as Overwatch and Anthem that can reflect the effectiveness of a monitor's response times, we don't hide from you that we were completely satisfied with the end result.
What we found is that the Viewsonic VX3258-2KC does not seem to suffer from blurring, ghosting, or screen-tearing phenomena and there is absolutely no problem with fast movements and the intense mess that traditionally happens in an online shooter game.
Also, the combination of flicker-free mode with low blue-light feature certainly allows for long gaming sessions without noting the phenomenon of "tired eyes" that certainly shocks many gamers who love to sit in front of their screen for many hours.
---
Highest Rated Gaming Monitors
---
Image Quality
What we found is that while in the field of speed and response, Viewsonic's gaming monitor is doing great, where it "loses" somewhere is in image quality, even though colors are distinguished for their vibrancy (with 88% NTSC and 120% sRGB color range).
This phenomenon is common, however, in monitors that have MVA panels and which, while offering better response times and improved traffic, necessarily "sacrifice" detail in image quality.
Looking at the overall representation in the above-mentioned games, the black color is at good levels, but ViewSonic's proposal admittedly does much better work in the brightest colors and in the representation of the brightest surfaces.
Of course, the existence of the curved-screen greatly enhances the overall immersive experience offered by Viewsonic VX3258-2KC, so the only certainty is that the difficult audience of gamers will be pleased.
RELATED: The Best Gaming Keyboards For 2020
Settings
Finally, the available settings offer a number of useful special presets, which essentially adapt the monitor to a number of scenarios such as Game, Movie, Web, Text, Mac, and Mono modes.
The specific presets you can choose on-the-fly essentially enrich gamma, color heat, black color rendering, and a number of other options for the best possible result, which is cut and sewn to the individual user's measure.
Pros & Cons
Conclusion
Although the Viewsonic VX3258-2KC-MHD has some omissions mainly in terms of design and ergonomics, it can offer all that the modern gamer needs to triumph in his gaming sessions.
It may not incorporate the most perfect and flawless Panel on the market and its image is not the most detailed and crisp ever, it nevertheless achieves the golden intersection between good build quality, fast response times, and smooth motion.
With a price playing between 400 and 500 dollars, it is a fairly reliable and interesting choice for the average gamer.
IF you enjoyed our Viewsonic VX3258-2kc-MHD Review, feel free to share it with the rest of the gaming community.
---
Related Products
Read Next
---
Techodom's mission is to bring to the surface the most useful, expert recommendations for things to buy in the vast e-commerce landscape. We try to update the links as often as possible, but please note that deals may expire and all prices may change. Each editorial product is independently selected and reviewed. Techodom may earn a commission if you make a purchase through one of our links.
---