Ok, we get it.. You want it all.
You are looking for cool things to buy that are cheap and useful at the same time.
Don't worry, we got your back. Scroll down of our selection of some of the coolest things you can purchase that will not cost you an arm and a leg. Most importantly, these products are also super useful for anyone you may decide to gift them.
👋 Hey, If you are looking for products that are not useful, check our article on 11 Bizarre White Elephant Gifts Under $30.
Cool Things To Buy That Are Cheap And Useful
LEVOIT Air Purifier
Breathe cleaner, healthier air with the LEVOIT Air Purifier in your room. This air purifier is characterized by its HEPA filter that catches allergens, dander, pet hair, mold, smoke and large dust particles, removing 99.97 percent of any airborne particles.
It has a silent operation that allows it to work in the background without disturbing your peace.
---
Novelty Place LED Shoelaces
Stand out at the party with the Novelty Place LED Light Up Shoelaces.
These shoelaces light up in either red, white, or green depending on which laces you put on, and they come with three light-up modes: slow-flashing, fast-flashing, and always-on modes that are sure to catch everyone's attention.
---
Lazy Snack Bowl
Enjoy your favorite movies and TV shows while snacking away on your favorite nuts and candies with this Lazy Snack Bowl.
The bowl serves as a support for your phone to keep it upright and has a snack bowl in the front to make it easier to snack. With the bin beneath it, you can discard candy wrappers, nutshells and more.
LIFX A19 Wi-Fi Smart LED Light Bulb
EveryDrop Water Dispenser
VicTsing Cool Mist Humidifier Bedroom
Bissell Cleanview Upright Bagless Vacuum Cleaner
DoorJammer Portable Door Lock
Hideez Keez
Seneo Wireless Charger
Dikale 3D Pen with PLA Filament Refills
This 3D Pen offers great and nice artistic opportunities to kids and even adults. It comes as a 3D Pen with a PLA refill to lengthen its usability and effectiveness. It has a one-button operation for an easier and faster work rate.
The Dikale 3D Pen has a 12 color PLA which is made dry and fresh in the Pen Box by a vacuum. The pen can go off completely or sleep automatically when unused for some time and this is a safety function for kids. The pen is compatible with both PAL and ABS. Click here to read our Dikale 3D Pen review.
Polaroid Snap Instant Digital Camera
Looking for an innovative and efficient pocket-size digital camera to capture memorable moments? You need to consider this Polaroid camera. You can get quality pictures snapped and shared fast and seamlessly with an intuitive camera that is capable of 10-megapixel ability. Check our Polaroid Insta Print Review here.
The Polaroid digital camera can print pictures automatically or store them in an external memory card up to 32 GB.
BlissLights Sky Lite – LED Laser Star Projector
Make any room in the house one that is absolutely out of this world when you turn on the Bliss Lights Sky Lite.
Using precision glass options, a direct diode laser, and holographic technology, the light instantly projects a beautiful starfield atop a stunning blue nebula cloud for a far-out experience.
Samsung T5 Portable 500GB SSD
It's compatible with most computers and cables as it comes with ports for USB type C to C and types C to A cables.
Ztylus Plus Car Emergency Tool
It has a spring-loaded glass breaker, seat belt cutter, and even a nice and innovative USB charging port as it serves an everyday function in addition to its primary use of providing an emergency escape from danger.
Water Resistant Audio Sunglasses
One of the greatest things to buy for under 100 dollars. Enjoy pleasant walks outdoors listening to your favorite tunes without the discomfort of headphones with the Water Resistant Audio Sunglasses.
These comfortable and lightweight sunglasses offer protection from the sun while playing music close to your ear from any of your favorite sources, including Pandora, Spotify, iTunes and others.
---
EYEFLASHES LED Glasses for Parties
If you are looking for things to buy that will turn heads at a party you should definitely get one of these one-of-a-kind EYEFLASHES LED Glasses.
These LED glasses are sure to catch the eye of festival-goers with the different digital decorations that can be chosen to scroll across the front of the lenses by choosing from the plentiful patterns on the app.
---
Tinwoo Smart Watch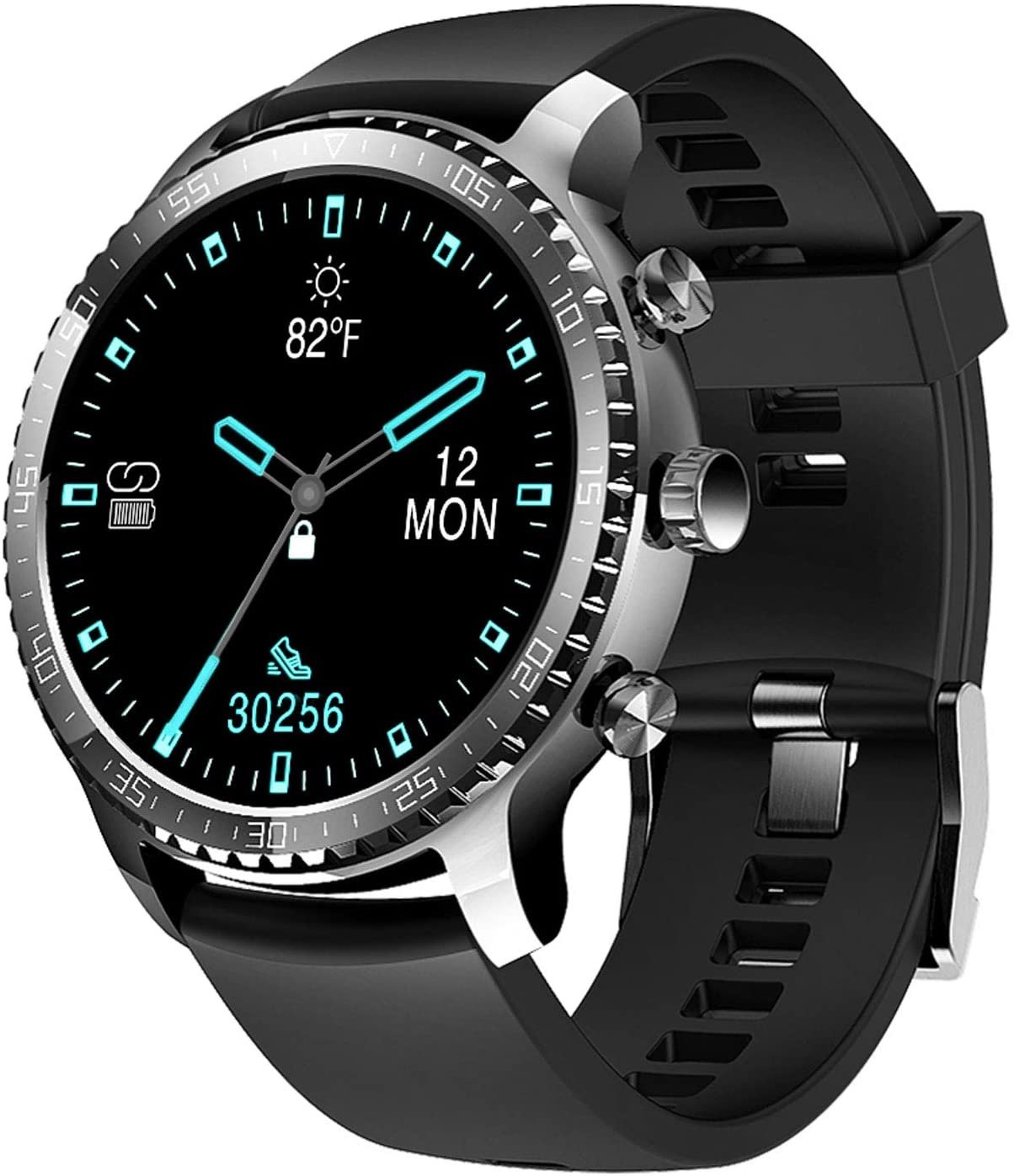 Look your best with the handsome and stylish Tinwoo Smart Watch on your wrist.
This wristwatch tells you more than just the time as it also offers fitness watch functionality to count your steps, calories burned, distance walked and more. The temperature and date and other data can be read easily on both the watch and the mobile app.
---
Revisit your favorite vinyls both old and new with the Victrola Vintage Suitcase Record Player.
This stylish retro three-speed record player features a suitcase design that not only gives it visual interest but also makes it easy to tote around. This all-in-one player features built-in speakers and requires no additional equipment.
---
Hamilton Beach Automatic Jar Opener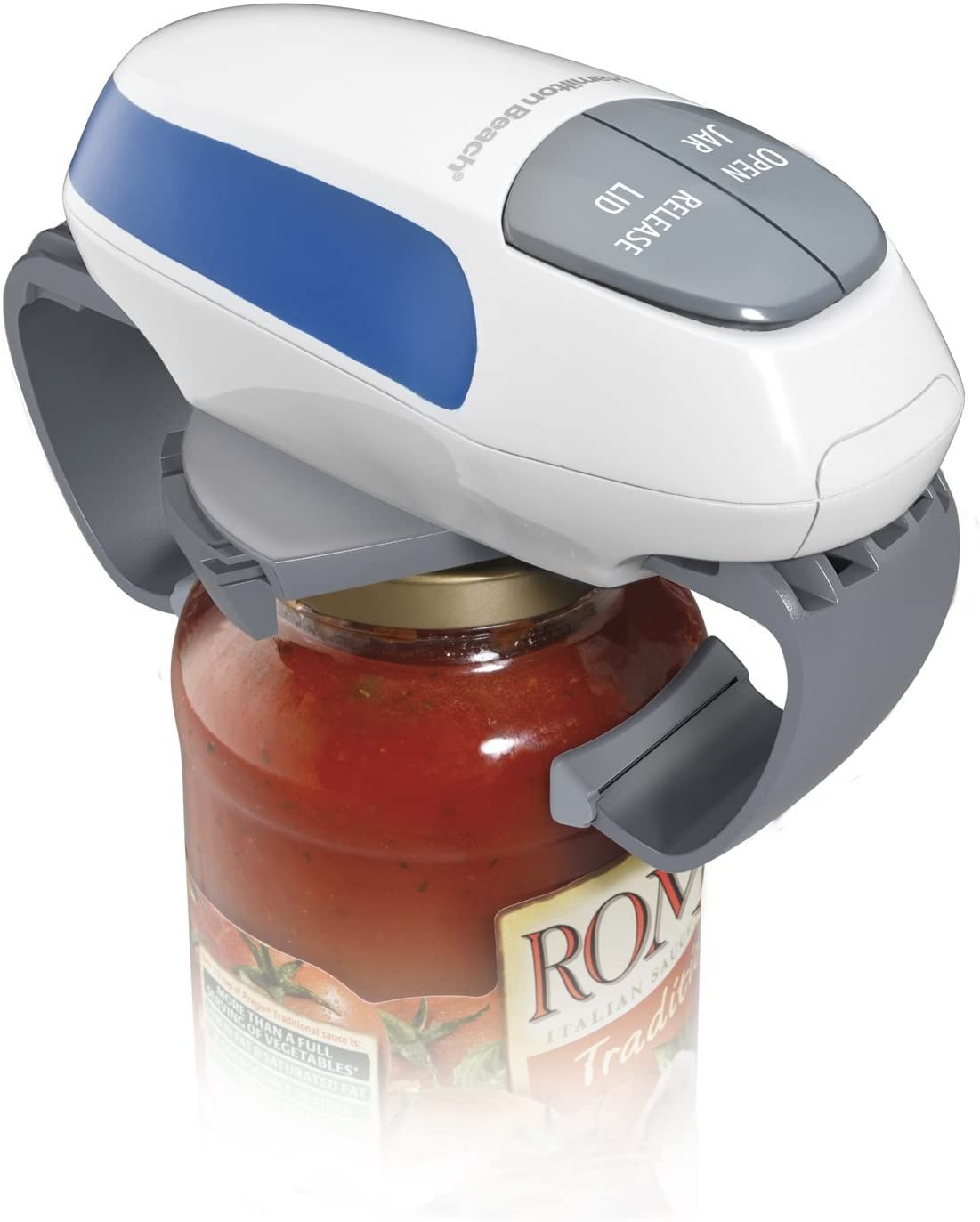 Never again struggle with opening a jar when you use this Hamilton Beach Open Ease Automatic Jar Opener.
The jar opener twists open even the tightest of lids with the push of a button, removing it in seconds. It is compact and easy to store when it is not in use.
Car Travel Heating Mug
Enjoy warm coffee on your commute to work with this Car Travel Heating Mug that keeps your hot drinks from running cold, no matter how long you drive.
You can set the temperature to any preferred level and keep the liquid inside of the BPA-free 304 stainless steel mug perfectly warm.
---
Xiaomi Redmi 30W TV Speaker
Enjoy your favorite TV shows and movies with sound clarity like nothing else before it when you have the Xiaomi Redmi 30W TV Speaker.
This standalone speaker bar can be placed below your mounted TV and then connected to it through an AUX cord or Bluetooth, which means you can also connect it to a phone.
YAMAY Fitness Tracker Smart Watch
Make your active lifestyle work for you with the YAMAY Fitness Tracker Smart Watch for both Android and iPhone. The smartwatch is able to attach to any type of smartphone and will relay important stats to you as you go about your workout routine or your run.
Yamay Smartwatch features a bright HD screen that shows information like the number of steps you've taken, how many calories you have burned and even tracks your heart rate. Read our Yamay Smartwatch Review here.
Redragon K570 Mechanical Gaming Keyboard
Maximize your gaming efficiency while making your gaming station more visually appealing with this Redragon K570 RGB Backlit Mechanical Gaming Keyboard.
The keyboard features a beautiful RGB backlight that can color your keys in any assortment and combination of colors you choose.
Each of the 104 keys on the keyboard is mechanical and tactical so that you can enjoy 100 percent anti-ghosting to ensure every move you make in-game is accurate and purposeful. Check our full Redragon K570 review here.
Green Vivid Waterproof Flameless Electric Lighter
Ember Temperature Control Smart Mug
Senso Bluetooth Headphones
Jetboil Zip Camping Stove Cooking System
JBL Charge 3 Waterproof Bluetooth Speaker
☝️ Check Also: Best Bluetooth speakers: portable speakers for any budget
Mpow Bluetooth Headphone over Ear
☝️ Check Also: Best cheap headphones: your guide to the best budget headphones
Get a leg up in your next nerf battle with the Nerf N-Strike Rayven CS-18 Blaster complete with 18 glow-in-the-dark darts and an 18 clip system that will limit how often you have to reload.
Best For: Boys who want to have fun.
Enjoy total peace with the power of the Bose QuietComfort Noise Cancelling Earbuds engineered with the most effective noise-canceling technology yet.
Best For: Everyone who owns earbuds of lesser quality.
Moen N214R0BL Nebia
Enjoy a more calming and soothing shower when you choose to install the Moen N214R0BL Nebia in place of your standard showerhead.
Best For: People who value a good shower.
GoPro HERO7
Ever miss a moment of the action when you bring the GoPro HERO7 to capture life in 4F HD video. This digital action camera is stable and waterproof.
Best For: Extreme sports and outdoor enthusiasts.
G-MARK Karaoke Wireless Microphone System
GameSir X2 Mobile Gamepad
Bond Touch Bracelet
LEADLEDS 12v Car Sign
Ninja Professional 72oz Countertop Blender
Alocacoc Cup Cooler
Vankyo Leisure Lux Led Portable Projector
AUKEY USB 20000 mAh Power Bank
☝️ Check Also: Best power banks: portable chargers to keep your gadgets going
Final Take
What? You didn't find something to purchase from this list? But these are the coolest things to buy that are both cools and useful.
Never mind, is you are still looking for cheap stuff to purchase, check our article on the Top 100 BEST Things to Buy With 100 Dollars [Updated for 2022].
On the other hand, if you did enjoyed our recommendation of cool things to buy that are cheap and useful, feel free to share and like this article.
---
Techodom's mission is to bring to the surface the most useful, expert recommendations for things to buy in the vast e-commerce landscape. We try to update the links as often as possible, but please note that deals may expire and all prices may change. Each editorial product is independently selected and reviewed. Techodom may earn a commission if you make a purchase through one of our links.
---